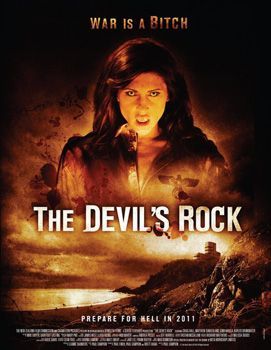 Paul Campion is a visual effects artist turned director. Having honed his artistic skills on such high-profile blockbusters as The Lord of the Rings Trilogy, X-Men: Last Stand, 30 Days of Night and Clash of the Titans, he first turned his hand to directing with the short films Night of the Hell Hamsters (2005) and Eel Girl (2008). July 2011 sees the release of his first feature, The Devil's Rock, and Paul kindly took some time out to talk to Charlotte Stear about his experiences of making the film.
Charlotte Stear: You have a very impressive visual effects back catalogue. Was directing always something you wanted to venture into?

Paul Campion: Not initially. I grew up wanting to work in special effects, pre-CGI when everything was practical - stop motion animation, prosthetic makeup, matte paintings on glass and models and miniatures. I ended up as an illustrator although my aim was always to work in the film industry. It was only when I went to work on Lord of the Rings that I started getting interested in directing and telling stories on film, and started to realise that I wanted to be working on my stories, rather than working on other people's films.
CS: With The Devil's Rock being your first feature length film, were you nervous about the new direction you were taking?

PC: Not at all. I made my first short Night of the Hell Hamsters back in 2005 and from that point on the goal was to become a professional director. Although I kept working in visual effects (as Peter Jackson said - always have a 'Plan B' if the directing doesn't work out) I was putting all my energy into directing and learning the business side of the film industry and what's necessary to become a working director.

CS: Where did you get the initial idea for this film?

PC: It was purely by chance, during a trip to Guernsey in 2009 where I saw one of the big German WW2 fortifications there and also heard about the "Bad Books", which are books of witchcraft from Channel Islands folklore.   I just put the two together, combined them with Special Boat Service commando raids on the Channel Islands and Hitler's obsession with the Occult and came up with the story.

CS: The film is set during the Second World War, why did you choose this particular era and, did that then inspire the story?

PC: It all goes back to the initial idea for the film, the whole thing developed as horror film set in the Channel Islands in WW2, there was never any decision to make a WW2 film first, or to make a horror film and then decide to set it in WW2.
CS: The film uses a small cast; did you ever worry how that would work on screen?

PC: Yes, absolutely. The problem is how can you maintain an interesting story for 90 minutes with so few actors and so few locations. But we only had a very limited budget so there just wasn't the option of adding more characters to the story.   The challenge was writing a story that would hopefully keep the audience engaged within the budget limitations. A big inspiration was David Slade's Hard Candy, which is just two actors in a single location for most of the film, and also Alfred Hitchcock's Lifeboat, which is set entirely in a lifeboat, although he did have more characters so that opens up more opportunities for more relationships and conflict between the characters.

CS: How long did the shoot take and what was your budget like?

PC: It was a gruelling 15 days, but that's all the time we could afford with the budget we had. There wasn't an option to do lots of overtime or days of pickups or re-shoots later, we had to get everything we needed shot in those 15 days, and apart from 6 hours overtime we finished every day on time on budget, which was down to the hard work and professionalism of the cast and crew.

CS: Did you get "hands on" with the effects in this film?

PC: On set I was always in there with the blood and gore, usually trying to add more blood wherever I could. There was supposed to be much more blood in the film, particularly all over the sets, but we just didn't have enough money for more. I think we used up 10% of our production design budget on the blood alone.   For the visual effects I worked closely with the visual effects team, initially creating concept art for each VFX shot, then doing a lot of matte paintings and compositing. I think I did more matte paintings on this film than I've ever done on a feature film.

CS: What kinds of horror films inspire you today? (Especially visual effects wise!)

PC: Recently inspirational horror films have been few and far between for me. I thought Let the Right One In was incredible, I loved Sam Raimi's Drag Me to Hell (wish he'd gone back to his Evil Dead roots and thrown a bit of blood and gore around though), Zack Snyder's Dawn of the Dead remake was a lot of fun, and the original Japanese Dark Water, Ringu, Ju-on, and the Pang Brothers' The Eye, Frank Darabont's The Mist, Guillermo Del Toro's The Devil's Backbone, & Blade 2 and Neil Marshall's Dog Soldiers and The Descent. Generally for inspiration though I always go back to the same few films: Alien, American Werewolf in London, The Exorcist, Rosemary's Baby, The Thing, Evil Dead 1 & 2, Day of the Dead and Dawn of the Dead, The Haunting, Don't Look Now, those are the horror films that have really inspired me.   There aren't any recent horror films that have inspired me on the visual effects side, mainly because CG just doesn't work in horror films, you need latex and real blood to make a horror film work.   Blade 2 for me probably has the best use of visual effects recently but that's only because it's mixed in with practical effects and makeup, and Guillermo Del Toro is a master at mixing techniques to achieve the right effect.

CS: I loved the music that was used to create suspense; you have a very unique style and way of creating tension. What did you want the audience to be feeling when watching The Devil's Rock?

PC: The music is all down to Andrea Possee the composer, and so much of that helps create the tension, usually when it's very subtle and underplayed. She did the music for my first short film Night of Hell Hamsters so it was great to finally be able to work with her on a feature.    Ultimately you want the audience to be enjoying the film - it's a horror film so you want them to be tense, you want them to be scared. It's very difficult to do because audiences have seen it all before, so if we succeeded even a little bit that's a big compliment. The worst thing you can do as a filmmaker is make a movie that doesn't create any reaction at all from the audience - I'd rather make a film that people hated than something they were indifferent to and forgot about as soon as they've left the cinema.

CS: Looking back to the start of making this film, what kind of things have you learned from your new position behind the camera?

PC: Firstly it's trust your cast and crew and let them do their jobs and contribute to the whole process. Film-making is a collaboration from start to finish, and the best thing you can do as a director is hire the best people for the job and then step back and let them do their jobs. The other thing is to trust my instincts on set. When you're shooting it's a high pressure environment and you're constantly struggling against time to get the shots you need. So many times I compromised a shot or didn't shoot something because there wasn't enough time, and every time I regretted it. Had we spent just a few more minutes trying to get those shots they would all have helped to improve the film, so I'll be a lot more insistent next time when there's a shot that I know we really need.

CS: Will you be venturing there again? What are your future plans?

PC: I hope so! My aim is to be a working director. I have a lot of project at various stages of development, from low budget zombie films, a contemporary crime/action/thriller to a true WW2 story all the way up to big budget fantasy and sci-fi projects. At the moment it's really a question of taking it step by step and getting the second project financed and up and running.

CS: Thank you so much for your time!

PC: My pleasure. Thanks for the interest in the film!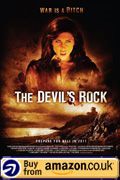 Want to share some news? Click here to hit us with it!