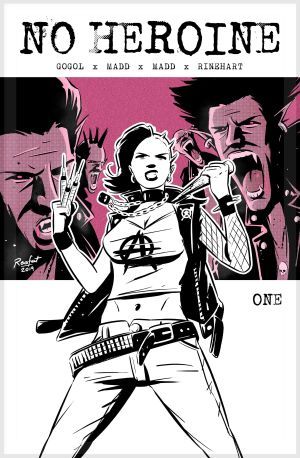 Pulling No Punches - Frank Gogol Talks No Heroine
Interview conducted by James Ferguson
Buffy the Vampire Slayer debuted decades ago and it influenced an entire generation of creators. Frank Gogol is one such creator, putting that influence to work in No Heroine, an upcoming series from Source Point Press following a recovering addict turned monster hunter. It's illustrated by Criss Madd, colored by Shawna Madd, and lettered by Sean Rinehart. I had a chance to speak with Frank about the book, the Buffy influence, and more.
Drugs. Vampires. Punk rock. Clawing her way to her 90th day sober, Kayla sets out to find her missing friend, Sid - the one person she knows can keep her on the straight-andnarrow. The only problem? The gang of heroine-dealing vampires that have him. From the writer of 2019's breakout indie hit Dead End Kids comes a story of a young woman's recovery journey and one hard truth: not everyone is cut out to be a hero.
James Ferguson: Buffy the Vampire Slayer is a clear influence on No Heroine. What is it about that series that helped lead to the creation of the comic?

Frank Gogol: Buffy was my first storytelling love way back when I was just 9-years-old and No Heroine is my love letter to Buffy, but told my way.
The best part about Buffy, for me, was that it tackled some heavier topics while using monsters as a metaphor and did it well. Even at a very young age, I was extremely aware that what I was watching was special and different and it's very much in the DNA of how I write now. Grief, my first book, was a collection of shorts that dealt with heavy topics and wrapped them in genre stories. Dead End Kids was about childhood trauma but told as a 90's murder mystery.
And No Heroine, on the surface, is a punk rock, Buffy-esque monster hunter story. But at its core, it's the story of a young woman who is a recovering drug addict and who is trying to make up for the pain she caused her family when she was a junkie.
JF: Kayla is not your traditional hero. How would you describe her mental state as she heads into a world of monsters on her road to recovery?
FG: Having grown up with addict parents and having watched some of my close childhood friends become addicts too, I was very interested in telling a story that doesn't wholly demonize or overly sympathize with recovering addicts. I wanted to take an honest look at addiction recovery.
Kayla's not a good person, but she wants to be -- and I think that's kind of her appeal. By the time the story picks up, she's about 90 days clean, but in her not-so-distant past, she's hurt a lot of people and even though she's trying to do the right thing, that doesn't mean she's going about it the right way or for the right reasons or that she's done hurting people.
Click image to enlarge
JF: Are vampires public knowledge in No Heroine? Or are they only known to the underground?

FG: You know, it's an idea that's not exactly discussed in the book because it wasn't particularly important to the narrative, but to me, No Heroine is set in a world where vampires and other monsters are public knowledge, but a lot of people, like in the real world, kind of turn a blind eye and pretend like everything is okay.
For some people, it's just easier to ignore the monsters that exist and because acknowledging it makes it real.
JF: How did the creative team come together for No Heroine?
FG: The team, and the story really, came together because of Criss. Criss and I, when I lived in New Jersey used to share a local comic shop (Comic Crypt in Eatontown). We'd always been friendly and vaguely aware of each other's work. Then I moved to San Francisco at the end of 2017.
Flashforward half a year and we're both tabling at a con outside of Philly. We catch up one night at the bar and we get to talking and the conversation ends with Criss saying that we should jam on something together one day. At the time I didn't have anything in the pipeline and I was getting ready to write Dead End Kids, so we left it open ended but agreed that we'd both love to work together.
That Sunday night, I got on the plane to fly back to San Francisco and by the time I got off the plane six hours later, I'd written the first script. My want to tell a Buffy story, thinking about my personal history, and looking at pages of Criss' art all coalesced and No Heroine kind of burst out of me.
So Criss was the initiator. He brought Shawna to the table for colors. I brought Sean (who has lettered pretty much all of my work) and Ahmed, who'd previously done some variant covers for Dead End Kids.
JF: What else can fans expect from No Heroine?
FG: Action. Lots of action. But also a ton of heart. Ultimately, No Heroine is a very dark book that deals with a very real topic and it pulls no punches, but it's also a hopeful book in the end.
So for anyone who's a Buffy fan who liked Dead End Kids, or who's just looking for a dope new story to check out -- No Heroine is going to land in a big way.
Horror DNA would like to thank Frank Gogol for taking the time to speak with us. No Heroine #1 is set for release on June 24th, 2020.