Jetpacks on Dogs - Matt Miner & Christopher Peterson Talk Death Trap
Interview conducted by James Ferguson
I love comics because it's the only place that you'll get a story like Death Trap. Sure, you can have crazy movies or TV shows, but where else are you going to get a haunted muscle car, fish girls, and a sideshow freak crime family in one place? Death Trap has all the things I never knew I wanted in a single book and it's currently on Kickstarter. I got a chance to speak with writer Matt Miner and artist Christopher Peterson about the book and all the insanity it contains.
James Ferguson: On a scale of one to ten, how crazy is Death Trap?
Matt Miner: It's f'n bananas. How about that? It's got a haunted muscle car; circus freaks and a temperamental dancing bear; conjoined twins; and a girl teamed with her dad's ghost and out for revenge against a crime family of carnies. It's gonna be nuts. On a scale of one to ten? The scale says "one at a time please" because Death Trap broke it.
Christopher Peterson: Crazy is a pretty good term to use – 'non compos mentis' probably describes it even better. The best part of Death Trap is that it's created out of mind, allowing me or us to just have whatever and it works.
"I decided to put a jetpack on a dog if that's ok."
"Yeah, that works."
Was it in the script? Was it plotted? No, but this world and story allows it – we step out of our minds and just let it carry us. But if you needed a number, I can't go lower than 17.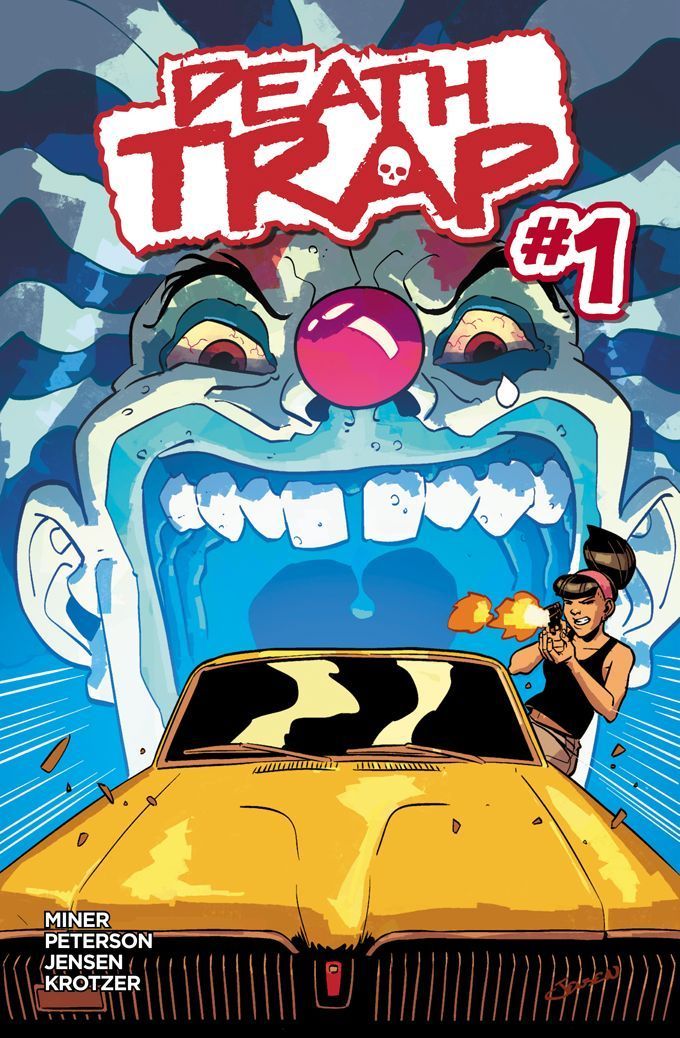 Click image to enlarge
JF: There's a lot to take in with Death Trap with everything from a circus crime family and methed-out carnies to a dancing bear and crab twins. Is there anything you couldn't squeeze in? Maybe a chainsaw-wielding clown or a paraplegic trapeze artist? Oh shit. Are those spoilers?
MM: There's no amount of crazy we won't put in this book. We just added a rocket-powered pit bull in a jetpack and a mermaid/fish girl who's so old she still wears one of those old-timey judge wigs. This book is bonkers and fun in exactly the kind of thing sure to give everyone a reprieve from the 2019 brand of real-life anxiety and darkness.
CP: There are probably a few things we can't add. We basically came up with a whole new story while making the characters and art for this one that we said we just had to put aside – we only have so many pages. The funny thing is how they sometimes are created "I don't even want to draw legs" and then we create three new characters without legs (having some other form of ambulation for their lower body); "Welp, I guess that's going in a new comic."
JF: The car in Death Trap is very specific: A 1968 Mercury Cougar. What is the significance of this car?
MM: That's the car I'm gonna buy when the book hits the BIG TIME, baby.
CP: That's all Matt. It obviously signifies the importance of finding the perfect car that has the least artistic reference out there to use while drawing this comic.
JF: Death Trap is described as a love letter to carspoitation and revenge films of the '70s and '80s. What are some highlights of that era you'd recommend?
MM: Carpsloitation: anything and everything from the more introspective and thoughtful. Vanishing Point to the bonkers road action of Cannonball. I think Death Trap would land somewhere around the 1974 classic Gone in 60 Seconds and the genius filth of Death Race 2000. All my favorite revenge movies are so problematic in some ways, but so damn satisfying when the blood starts to spray. They Call Her One Eye, Last House on the Left, hell even Lady Snowblood. I love that one so much I have her blood spattered face tattooed on my arm.
CP: Here's where mine differ. Growing up, my 'carsploitation' consisted of Herbie and Dukes of Hazzard – I loved both those shows/movies. Herbie Rides Again, Herbie the Love Bug and (sorry not sorry) Herbie Fully Loaded (it has its own charm that I can't deny, but disqualified for being from 2005). I'll throw Mad Max and The Duel in there though. I guess Mad Max is more of a crossover of those two genres. My revenge movies slide the other way also, mostly being westerns like Outlaw Josey Wales and Hannie Caulder. Looking at Matt's and mine, we both bring our own sides to the table to make this special blend that seems to work out for us – like coffee or fried chicken batter or some other food-related metaphor.
Click image to enlarge
JF: There are some pretty cool rewards available for this Kickstarter, including getting drawn into the book as a bobblehead figure on a dashboard (which I really want!). What else can fans expect from the campaign?
MM: We have stuff available for every budget, and a lot of ways readers can put their own fingerprints on the book, including customizing a vanity plate, or being drawn in as a whole character. Plus we have all levels of book rewards, book packs, and special Kickstarter variant covers that won't be available when this beast hits comic stores.
CP: We're offering some pretty dope 'services' also. For those looking at creating their own series but just getting it together and looking at ours and others coming from Kickstarter thinking, "How can I get going with this?", we've got script reviews, character designs, and cover creation.
Horror DNA would like to thank Matt Miner and Christopher Peterson for speaking with us today. The Kickstarter for Death Trap is in full swing at the time of this writing.