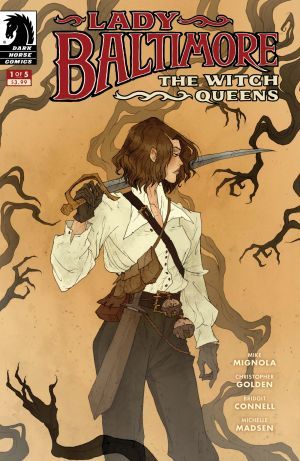 Skilled, Strong & Fierce - Christopher Golden Talks Lady Baltimore
Interview conducted by James Ferguson
The Outerverse has been started and continues to expand with the release of Lady Baltimore: Witch Queens from Dark Horse Comics. Writers Mike Mignola and Christopher Golden are joined by artist Bridgit Connell and colorist Michelle Madsen for this new tale picking up years after Lord Baltimore's death as the battle against evil rages on. I had a chance to speak with Golden about the project and the connected Outerverse.
Once she was Sofia Valk, living in a village overrun by evil. In time she became Lord Baltimore's most trusted ally. Now, more than a decade after his death, Europe has erupted with the early battles of World War 2 and dark forces are rising again. With witches, vampires, and Nazis on the march, Sofia must embrace the title of Lady Baltimore! But can she fight monsters without becoming a monster herself? Horror genius writing team Mike Mignola and Christopher Golden reunite, with stellar art by Bridgit Connell and colors by Michelle Madsen as they return readers to the world of Baltimore.
James Ferguson: How would you describe Sofia Valk, aka Lady Baltimore?
Christopher Golden: She's a woman who comes from a simple, rural background in Estonia who could never have imagined what her life would become. As a very young woman, she was married off to an abusive husband who died and came back to torment her further after his death…which led to her first time meeting Lord Baltimore. Sofia wasn't a trained fighter, but she quickly became not only skilled and strong and fierce, but also the glue that held Baltimore's team together. She was the one he trusted, his real confidante, the one with the clearest vision of the big picture. Now, thirteen years after his death, she's still an ordinary woman in the sense that she's a fragile mortal being with no special ability. But she's tough and resilient and determined, she's learned how to kill monsters a thousand different ways, she's surrounded herself with dedicated allies, and she's a hell of a lot smarter than the rest of us. There's darkness rising in the world, both supernatural evil and human horror, and Sofia is not going to stand aside. While war is growing across Europe, she's going after the biggest evils she can find, digging in, planning to exterminate it or die trying. That's who she is.
JF: How do you and co-writer Mike Mignola get the words on the page? Do you talk it out together or maybe go back and forth on drafts?
CG: It really differs from project to project. I have something coming up that I can't discuss just yet that started with a really detailed story idea from Mike, while other things are story ideas of mine. We'll get on the phone and work out a lot of details, sometimes he'll send notes, then generally I'll write up drafts that we'll go through so the plot is completely broken down first before moving to script stage. Then it's another round. The phone calls are the best and most fruitful parts of the process because things tend to get born from those calls that wouldn't exist otherwise. I'll have an idea that Mike hates at first, but comes to love, or he'll have an idea that I can't see fitting into the story, but then later will realize there's a perfect way to make it work. It really helps that we share a certain frame of reference and a love for folklore, so we get to kind of speak in a certain amount of shorthand about this stuff. "And then of course…" this happens or that happens. The Outerverse just keeps growing from those conversations.
JF: There are some pretty terrifying creatures in the first issue. How did the designs for these come about?
CG: The scripts usually have some significant detail about what the monsters look like, and why they look that way, but they don't become a reality until Bridgit draws them. With the first and second issues especially, she did initial designs and sent them to Mike. Seeing the emails going back and forth in which they were figuring out exactly how some of the monster designs would look was just such a pleasure. The sketchbook section of this book is going to have some really cool stuff.
JF: Lady Baltimore is part of the recently announced Otherverse, tying together this world, Joe Golem, and much more coming soon. How does it feel to be map out this exciting new universe?
CG: It's a thrill, really. Mike and I knew partway through the Joe Golem comic book that this really was its own mythos, its own universe. It happened organically, with us just talking about whether the two things were in the same world, and then asking why they couldn't be, and then quickly seeing how the connective tissue had already been laid down, completely unintentionally. By the time we started planning the last two volumes of Baltimore, we knew we were working toward this Outerverse. And so the moment in which Baltimore destroys the Red King became the same moment that caused the cataclysm referred to throughout Joe Golem, and the moment we realized that…it all exploded from there. But what we really wanted was a playing field on which all of the concepts and characters we were inventing could join together, something that felt more like a cohesive whole, and when we talked about Lady Baltimore, we knew that would be the new playing field. In this mini-series, and the associated Outerverse one-shots and two-issue series, we get to explore the whole history of what this world is and its mythos and concepts—and we get to crash all of these characters, some previously introduced and some brand new—together for the first time. Now I just want to explore as much as possible. I can't wait for readers to see what we're up to.
Horror DNA would like to thank Christopher Golden for taking the time to speak with us. Lady Baltimore: Witch Queens #1 from Dark Horse Comics is available now at your local comic shop and digitally through ComiXology and Amazon Kindle.