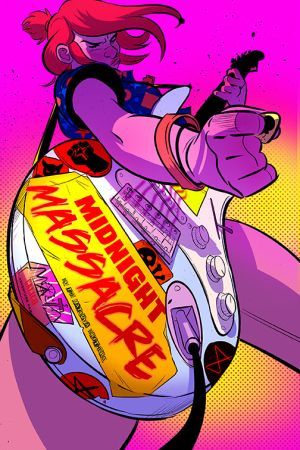 Spooky And Absurd – Ben and John Matsuya Talk Midnight Massacre
Interview conducted by James Ferguson
Midnight Massacre was a sleeper hit when it was released digitally in 2019 from Action Lab: Danger Zone. This June, the series from Ben and John Matsuya is getting collected in a graphic novel for the first time and I cannot wait. I had a chance to speak with the creators about the book and their approach to this horror / comedy comic.
When the corporate executives of a theme park conjure real monsters for their Halloween "Midnight Massacre" spectacular, all hell breaks loose - literally. It's up to a jaded games employee and her friends to terminate the devil and save the park.
James Ferguson: Horror and comedy are two genres that are very close. How did you approach Midnight Massacre, blending them together?
John Matsuya: I agree. There's actually a thin line that separates horror and comedy. Most things that are truly horrific, require you to laugh at as a coping mechanism. It's like the nervous laughter--a natural reaction--when faced with a scary trailer or getting ready for a horror maze.
Ben Matsuya: Our story takes place at a Halloween themed amusement park, so it's inherently both spooky and absurd. Some of the greatest monsters in all of history have an element of silliness to them that make them loveable like the Creature From The Black Lagoon, Michael Myers, and even Ghostface from the Scream movies.
JM: Our comic tries to play up the silliness in the horror scenarios and play up the horror in everyday existence.
JF: Were there moments you decided to be more on the scary side than the humorous side?
JM: Our instinct is to go more comedy than scary. We highlighted horror where it could be relevant to you. For example, if you watch Jaws, you can leave the theater and have a certain level of confidence that you're not going to run into a giant shark ever in your life. But the second-guessing of a decision you made or a choice you didn't make… that is something that haunts you.
The scariest aspect of Midnight Massacre is the realization of being stuck in stasis: Our main character, Amy confronts the facts of her own existence. She's stuck in a passionless job, too paralyzed to follow her passion, grow, and take chances. That's a fear that might resonate more with readers than say, a fear of a half-man/half-pig butcher who wants to mete out punishment as a form of revenge for eating all of his hog brethren. That's in the comic too!
JF: There's a good variety of monsters and demons on display in Midnight Massacre. How did you decide on what to put in and their designs?
BM: I wanted to get a good variety of monsters and demons in there and when you have a whole theme park full of monsters, you can mix our original monsters whose existence have a thematic purpose with a lot of homages and easter eggs.
Some of my big inspirations are classic favorites like the old Universal Monsters, Edward Scissorhands, and Freddy Krueger. We really love cults, so there's a good dose of H.P. Lovecraft and satanic lore showcased here. Slashers are a lot of fun. Animals that hunt humans is a pretty unsettling concept to me.
JF: How much of your personal experiences are in Midnight Massacre?
JM: It's funny to say, but it is pretty semi-autobiographical. Ben worked in a theme park as a games employee during a month-long Halloween festival. I had a soul-sucking office job. If you've ever been stuck in a dead-end job and wanted to break out and find a way to pursue your passion, you might relate to that experience, cause we've been there: that's the environment where we created, wrote, and drew the comic book. So while the physical manifestation of these spooky wraiths and unholy beings are imaginary, the struggle to break free of your comfort zone against overwhelming odds is definitely something we hope readers find familiar.
We also grew up together watching a ton of movies and reading a lot of comic books, so there are a lot of fun nods to all sorts of monsters that we'd have like to see roam a haunted maze.
JF: Would the monsters in Midnight Massacre improve your worst job?
JM: My worst job was at a call center. You do the math.
BM: (laughs) Oh yes. If the monsters didn't kill the customers, I would hope that they would have the decency to at least kill me.
Horror DNA would like to thank Ben and John Matsuya for speaking with us. Midnight Massacre is set for release at your local comic shop on June 23rd, 2021 and at bookstores and Amazon on July 6th, 2021.