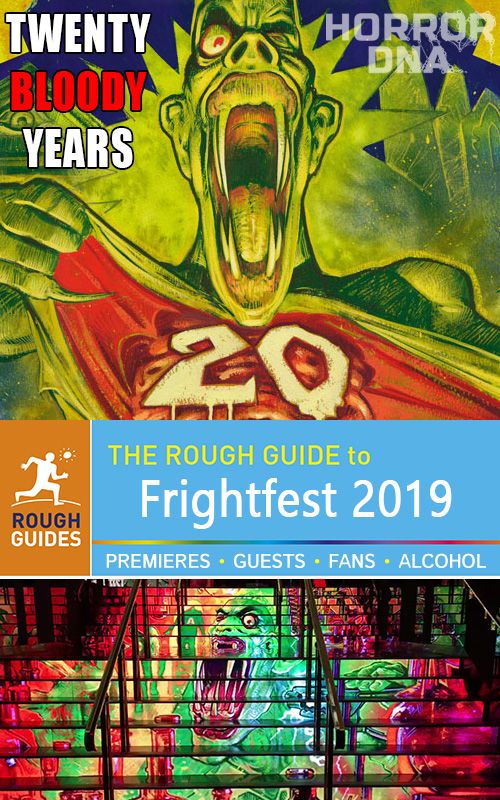 Click image to enlarge.
The Rough Guide to Frightfest 2019
Frightfest, no doubt about it, is the UK's leading genre festival. Taking place each August Bank Holiday weekend since 2000, and growing in popularity and scope with every passing year, it attracts fans and celebrity guests from all over the world. 2014 saw the festival move from its home of many years, The Empire, a few doors up to the Vue Leicester Square. For the first time, the huge crowd once housed in the gargantuan Empire Screen 1 was split into three smaller screens at the Vue. As it turned out, it worked really well, with staggered start and end times and a rotating main screen program, the first-floor bar area was always alive with conversation and debate (and a few plugged ears by those who didn't want to hear about films they hadn't yet seen). Added to the three main screens were two further Discovery screens offering a much greater capacity than the ones at the Empire.
2016 saw the festival move from the West End of London to Shepherd's Bush where it took over the entire Vue Cinema there. The move was forced as a result of refurbishment works at the festival's home for the previous two years.
In 2017 the festival returned to its spiritual home at the Cineworld Leicester Square (formerly The Empire) with a slightly reduced capacity in its main (now IMAX) screen. All full festival pass holders are now housed in the main screen, sponsored by Arrow Films. Day and individual ticket holders are seated in the smaller screen next door, sponsored by Horror Channel.
In addition to the main screens there are three Discovery screens, making a vast array of films available to ticket holders. One Discovery screen is located at Cineworld and two further screens are at the Prince Charles Cinema, just a few strides away. Choice of viewing this year is unprecedented.
So, you've got your weekend or day pass sorted (individual film tickets will go on sale at a later date, check http://www.frightfest.co.uk/tickets.html for details) and now you need to get in gear for the biggest horror weekend of the UK calendar. Getting organised can be a daunting task if you've never been before (or even if you have), so we've put together a guide based on our own experiences that may help you to survive this behemoth of a weekend. Be under no illusions: watching five days of films back to back can be a feat of endurance, albeit a hugely enjoyable one, but a few simple pointers can make it a little easier. Ready? Let's go.
Tickets
Frightfest operates a 'single seat' concept for its passes, which means if you hold a day, weekend, or full festival ticket then you'll be in the same seat for the duration. Learn to love it, it'll be your home for the weekend. Tickets are available in three options: The first, and arguably the best option, is the weekend pass which gives you full access to all screenings over the weekend. Day passes give the same access, restricted to the day (or days) you choose. Finally, there will be tickets available for individual films, but if you want the full Frightfest experience you really need to be spending some time there. You can check the full programme of events in the Frightfest Schedule. Ticket prices are as follows:
Festival Pass £210 (now sold out, but check the Frightfest Forum for ticket sales/wants)
Thursday Day Pass – £38
Friday Day Pass – £70
Saturday Day Pass – £70
Sunday Day Pass – £59
Monday Day Pass £59
Single Film Ticket - £14.50
All passes are subject to a booking fee
Weekend and day passes were released for sale on Saturday 6th July at 12.00pm online. Full details of ticket options/prices on the Frightfest website. With a weekend or day pass, you get a special code which allows you to book tickets for the Discovery screens at no extra cost. Details of this will be announced closer to the festival.
Some of the wide variety of films showing at the 2019 festival
Accommodation
Unless you're lucky/unlucky (delete as appropriate) enough to live in central London, you're probably going to need somewhere to stay, right? Student accommodation of a good standard is available in multiple locations through LSE Vacations. If you're travelling with friends then you could look at splitting the cost of a private property rented through AirBnB.
Slightly further down the scale would be one of the many London hostels, although you'll potentially sacrifice the privacy and security of your own room for the lower price of sharing a dorm with strangers. You can search and book hostels through Hostel Bookers.
If you prefer a few more home comforts and can stretch the budget a bit, then a hotel is a much better option and one that I go for each year. The downside to hotel booking is the closer you get to central London, the higher the price usually is. A neat way to cut the cost of your hotel stay is booking through Hotwire, a 'secret hotels' site that keeps the exact details of the accommodation secret until after you've booked. You can order its search results by distance to your preferred area, making it easy to choose a hotel that falls within budget and within a reasonable distance. There is also a fairly new concept by Premier Inn called Hub. These are modern hotels with compact rooms that still provide all the conveniences of a conventional hotel room. Additionally, the hotel price comparison website Trivago, checks multiple websites to get the best price for the room you want. Be careful to compare like for like as it will often give a price that doesn't include breakfast (for instance) to get the price down. Also consider joining the hotel's free loyalty scheme where available, as they will sometimes offer preferential rates to members. Finally, don't forget you can always speak directly to the hotel and try to blag a better deal. They have to pay commission to aggregator sites and may well benefit more from offering you a better price.
Travel
If you're not within easy walking distance of Leicester Square, or you just want to get around London, one of the quickest options is by the London Underground. To keep your costs in check, purchase an Oyster Card on any of the stations and top it up with cash as required. It usually works out much cheaper than buying individual tickets for each journey. You can also use it on the London Bus network, which may be handy if your only late travel option is a night bus. If you have Google Maps on your smartphone or tablet, then using the public transport option when searching a route will show you the bus options and the nearest stops to your start point and destination.
If you're like me and can't fathom the sprawling mess of a London Underground map, then an app like TubeMapp by MX Data (Available free for both iPhone and Android from the App Store or Google Play Store respectively) is an ideal way to plan tube journeys. Simply input your starting and terminating stations and it'll tell you exactly which line to take and any changes you need to make. Note that the night tubes only run on Friday and Saturday, so if you're staying late (after 12pm) then you'll need to look at alternative transport (h/t @ZoboWithAShotgun)
If you're foolish enough to take a car into London, be prepared to sell a kidney. Parking is very, VERY expensive. As are Taxis, but Uber has now taken that world by storm and can offer a much more cost-effective way to travel. Get the app for your phone, sign up and if you're in a pinch you should be able to hail one of the many Uber drivers in London with a couple of clicks.
In addition to the parking, remember that the London Congestion Charge applies in Central London Mon-Fri 7am - 6pm. For more details go here.
Come to Daddy, starring Elijah Wood, will open the festival

Festival Time!
With the mundane necessities out of the way, let's talk about what to expect after you stumble into Cineworld on the Thursday evening. When you look around the lobby, you might be forgiven for thinking that there's some kind of posh event or a wedding being held there. There'll be an abundance of suits and evening gowns, waistcoats and polished shoes, maybe even top hats and canes. Fear not, this is a Frightfest tradition; many fans choose to dress in their finery for the opening night mostly for fun, but also to show respect to the forthcoming festival. There's no requirement to dress so smartly of course, and the same people in top hat and tails will probably be decked out in jeans and t-shirt for the remainder of the weekend. Dress however you're comfortable.
Thursday evening is your warm-up; a taste of what's to come. Three films for the evening and nothing to worry about in the Discovery screens, this is as relaxed as it gets. Enjoy this as much as you can, because the subsequent days will pass by in a blur of darting between screenings, conversations, debates on what to see next, food and drink, all capped off by far too much time spent drinking into the early hours at whatever drinking hole is adopted this year (more on that later). It's exhausting, but it's great.
The World is Your Oyster
Or at least a good portion of the cinema is. Frightfest 2019 will boast five screens showing back to back films throughout the weekend. The two main screens will present a rolling schedule of the bigger profile films and premieres, plus personal introductions from celebrity guests.
Tickets for Discovery Screen films will be made available on the run-up to the festival and will be bookable online. There are usually some available on the day too; check with the ticket desk to see if any have been made available. On the flipside, if you know you're not going to make a Discovery screening, please, please let the staff know and release your ticket. That way other fans may get a chance to see a film they're desperate to. Discovery tickets are free to pass-holders, but you may find there are a shortage of tickets for films that are particularly anticipated. Get in there early!
Auditorium Etiquette
When you find your seat, congratulations, you've now discovered the relatively small patch of upholstery that's going to house your bum for many, many hours. Get to know it intimately, for it shall serve you well over the weekend. You'll also notice other, like-minded individuals who you're going to be spending a lot of time with, so get to know them too. If you're a lone attendee, then breaking the ice with your row-mates is a good way to have a less insular experience. The vast majority of Frightfesters are friendly folks, who'll happily chat away and debate the merits of the films with anyone who cares to strike up conversation. Don't be a wallflower, be a friendly waffler - but save it for between the screenings.
Start times for films are usually pretty good for running to schedule, so turn up on time so you don't create a Mexican wave along your row while getting to your seat. Disturbances during the films are frowned upon and quite apart from anything else it shows a lack of consideration for your fellow film fans. Keep the noise to a minimum and that includes noisy food wrappings and conversations about what's happening on screen. And if you have a mouse bladder, try not to quaff too much before a screening, or you'll be up to go to the loo in the middle of a film too. Cineworld's screens are licensed, so it's permissible to take your beers (purchased at the bar) in with you, although the previous advice about keeping the peace still stands; once you pop, you can't stop.
TURN OFF YOUR BLOODY PHONE - Those new to Frightfest will not be aware of how strongly this is frowned upon. It's only common sense, the message gets louder every year and yet still people choose to whip out their smartphones and check messages during films they might not be that interested in. Those that ignore this rule will find out to their detriment how strongly the crowd feels about it. If you check your emails during a film, expect to be heckled, often with some choice language, or even removed from the cinema if you're a persistent offender. Show the films and the crowd the respect of keeping your phone in your pocket. There's plenty of time for texting in between screenings.
Personal hygiene is a tricky subject, so let's just say that Lucio Fulci t-shirt you wore on day one isn't going to smell too clever by Saturday evening - especially if you don't use the facilities in your accommodation. It sounds almost ridiculous to say it, but there are always a rare few who tend to hum a bit more as the weekend goes on and it's not pleasant if you have to sit beside it. Pack a few extra shirts, start your day with a shower and a squirt of deodorant wouldn't go amiss.
Bullets of Justice one of the many films to search out in the Discovery screens.

Break Times
Breaks between films can vary between 15-20 minutes to an hour or so. The toilets in the cinema will be crowded during the shorter breaks, so it might serve you better to find some nearby public convenience and get a bit of fresh air. On the longer breaks you might want to venture out and grab a bite to eat. There are always a number of fast food places nearby, but it's really not great to live on junk all weekend. Fortunately, food is one of the most ubiquitous commodities in London and you're only a few minutes away from many different choices.
Chinatown is literally just behind The Empire and offers an array of eateries from sit-down meals, to buffets. Reviews vary, so pick your restaurant carefully. There's also a Japanese restaurant, The Tokyo Diner, close to The Prince Charles Cinema, which offers decent food at reasonable prices - and as per Japanese culture, no tipping. Other eateries popular with Frightfesters are:
I'd also suggest visiting a Tesco Metro, such as the one a few streets away near Covent Garden (22-25 Bedford St, Covent Garden, London WC2E 9EQ) where you can stock up on easy and reasonably healthy food and drinks at wallet-friendly prices. Within the cinema, the usual snacks are available such as popcorn, hot-dogs and nachos. The most useful thing on sale is the Costa coffee, many gallons will be drunk to keep people awake over the weekend. There's usually a Frightfest discount arrangement for cinema food, but really, who wants to live on that for five days?
Lobby, Guests, Organisers
In the shorter breaks, the lobby becomes an extremely busy area - often much to the surprise of the 'regular' cinema-goers. It can also get quite warm in there, so feel free to step out for a breath of fresh air (or carcinogenic smoke if that's your bag). If you happen to be skipping a film, then the lobby becomes a relative sea of tranquillity where a few other horror fans will be hanging out, and you may even get to bump into one of the festival guests or the organisers Ian Rattray, Greg Day, Alan Jones and Paul McEvoy. Don't feel cautious about approaching anyone, the organisers love to hear feedback from the fans (although they may be rushing about between films, sorting out last minute problems) and the celebrity guests are there to mix with their audience. You'll also find that the press interviews are frequently done during screenings in the roped off area of the lobby, so keep your eyes peeled and you never know who you'll spot.
If the urge to spend takes over, there's always been a reasonable-sized merchandise stand in the lobby to part you from your hard-earned cash for horror movie books, DVDs, Blu-rays and other memorabilia.
After Hours
Once the final film of the evening closes you'll have the choice to either trudge back to your accommodation or continue the party at the official after-hours venue of Frightfest. This has always been The Phoenix Artists Club where you'll definitely be rubbing shoulders with horror luminaries from London and beyond. Beware if you're not an early riser though; the last film usually ends around 1am and with an hour or so (or more!) of cheeky snifters in the pub you'll be eating into valuable sleeping time.
If your option is to head home and rest, be aware that you're in a major city late at night. In the years I've been attending Frightfest I've never had any issues and there's usually lots of people around in the brightly lit streets. Stay on the main roads and walk or travel with a friend if you can. London's no more dangerous at night than many other capital cities, but a certain amount of common sense should be exercised.
Heading Home
Once the festival wraps up on Monday 26th August you'll have a slight feeling of emptiness in your life as you part from the kindred spirits and barrage of screen violence that's been fed through your eyeballs for the past five days. You'll be tired, your backside will be numb, you'll have eaten too much crappy food, drank too much of the wrong things and your bank balance will be looking as unhealthy as a tray of stale cinema nachos. But damn it, you'll have had the time of your life.