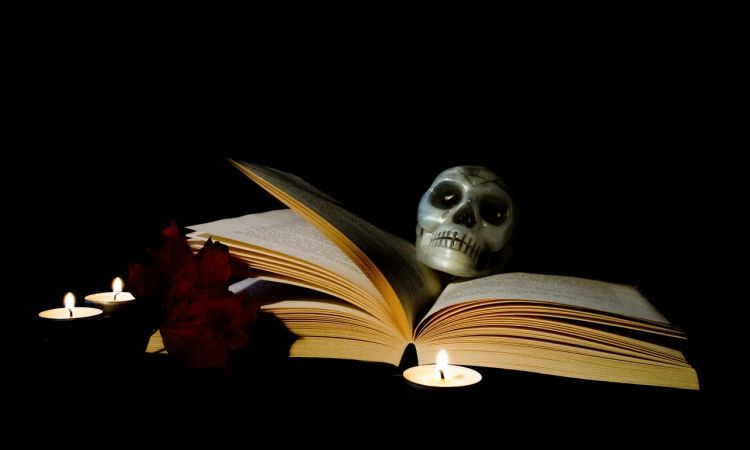 Tony's Five Years of Reviews on Horror DNA
Written by Tony Jones
The 22nd of July (2022) marks the fifth anniversary of the date my first review was published on Horror DNA, Stephen King's Gwendy's Button Box. It also coincides with my birthday. To celebrate the double occasion, I have brought together ten books I have reviewed and totally loved (the list could have been substantially longer and it was a heartache whittling it down). My Horror DNA profile has over eight pages of reviews, so there was plenty to choose from, many of which have previously featured in my annual top tens, which date back to 2017. So, this particular list can be taken as a 'best of the best.'
Some of my favourite ever authors feature in this ten, including Adam Nevill, Robert McCammon and John Connolly, all of which have enough great fiction to dominate any 'best of' list, never mind choosing a single book. There is also terrific representation of both indie and up-and-coming authors and I was delighted to include Andrew Cull, Mark E. Fitch and John Hunt. You never hear much about horror comedy, and it is not easy to get right, but Leo Darke totally nails it with the wacky Lucifer Sam. There are many authors here who definitely deserve wider audience exposure, none more so than the formidable duo of Hank Early and David Peake with imaginative, original, and distinctive voices always deliver essential reads. Finally, a shout out to the Folk Horror movement, from which nobody does it better than Andrew Michael Hurley.
The ten novels are presented in alphabetical order by author.


A Book of Bones by John Connelly

Although A Book of Bones is a stone-cold masterpiece because it is book seventeen in the supernatural detective Charlie Parker series, I would not recommend jumping straight into it. This sprawling stunner of a novel picks up the action one month after its predecessor The Woman in the Woods. Any newbie who randomly dropped in on the series at this point would surely struggle to figure what is going on, as it is a genuine sequel in that the long story arcs become more prominent and the vicious villains from book sixteen are back and even nastier than before. This is an incredibly ambitious late entry in the series, which has a vast array of characters, even more than normal, with much of the action taking place in England after Charlie Parker and his sidekicks go hunting for revenge after the events at the conclusion of The Woman in the Woods.

Having Charlie Parker wandering around London is a strange business and at one point his friends Angel and Louis are drinking in a pub in Balham (trying to buy a gun), about a 20 minute walk from where I live! This is a long way from the forests and snow of Maine, USA, where the books are usually set. A massive amount goes on in this fantastically convoluted tale, which involves the murder of a young woman on an ancient moor in north England, with the story also being seen from both the killer and the police's perspective. The drive of the plot is not about who the murderer is, and this plays out for the most part without anything to do with Parker, who heads to London to try to recover sections of an ancient book and find an old adversary from earlier in the series. One might argue that some elements of the larger multi-book story arc ended with A Book of Bones, but there are still plenty of others waiting to be explored in further installments. If you are going to try these books I strongly recommend taking a year out of life and reading them in order, you will not be disappointed.


Remains by Andrew Cull

Remains is absolutely drenched in bleakness with an overwhelming feeling of hopelessness until its final tragic moments and is one of the most striking haunted house novels I have read in recent years. There can be nothing worse than losing a child, and the plight of Lucy Campbell, whose son Alex was murdered nine months before we pick up the story when she is about to be released from a psychiatric hospital after a breakdown. Lucy finds herself driving past the house where the murder took place and feels the house pulling her and hopes that perhaps that something of her son is still inside its walls. Shockingly, she buys the house. This is not a wise decision and leads to the type of horror which exists at the corners of your vision, creeping just out of sight, or lurking in the shadows.

Set over a relatively short space of time, this beautifully-paced book, which has a minimal but amazingly effective story, is soaked in ambiguity and gripped on every level. Remains cleverly refuses to overplay the supernatural element and for the most part, the horror and reality of grief is more than enough. It is not an action-driven novel, but it still has some outstanding scenes; you'll wince in a car-crash sequence where supernatural powers might be at work, and another corker where a wardrobe lurches and inexplicitly falls down the stairs. Haunted house novels are dime a dozen and it is extremely hard to produce something new in a bulging genre, but Andrew Cull breathes new life into a familiar trope with an incredibly grim book which keeps its intensity going until its haunting final paragraphs. Remains is a stunning novel from one of the rising stars of the horror genre. Last I heard, Cull has been editing a horror anthology, but I hope he has a new novel for us soon.
Lucifer Sam by Leo Darke


Lucifer Sam is both one of the dumbest and funniest odes to heavy metal and the dark arts I have ever read. There are more musical references than you can poke a stick at, and unbelievably, even the long-dead cult heroes Sid Vicious (Sex Pistols), Stiv Bators (Dead Boys), Philthy Animal (Motorhead) and Brian Jones (Rolling Stones) make guest appearances! This is a metalheads dreamboat of a book and it is unlikely anyone else will enjoy it so much as fans of the air guitar. The story is a particularly stupid one; mid-flight, phenomenally successful (but very boring) heavy metal band 'Cat 'o' Nine' disappears into thin air whilst above the Indian Ocean. Amazingly, they reappear some months later, but they are not quite the same band, but hardly anyone smells a rat except for the novel's hero, a singer in a struggling metal pub band.

If you go into this book in the right frame of mind you will have a lot of fun, it really does not take itself too seriously and features the most beautiful musical comebacks with the struggling pub band fighting to save the world with rock and roll (even if they're crap). Lucifer Sam has an ending which is so cool you'll be pumping those devil-horned fingers in the air as we head to Wembley Arena for the biggest gig in years. Rock and roll baby, it's so good it would get even Angus Young strutting his famous duck-walk. Darke has since written Pandemonium: Book One in the 101 Ways to Hell, which is fun, but not a patch on Lucifer Sam.
In the Valley of the Devil by Hank Early


I had the immense pleasure of reading Hank Early's In the Valley of the Devil directly after its predecessor Heaven's Crooked Finger and I strongly recommend you read the full trilogy in the correct order, which concludes with Echoes of the Fall. All feature the same characters, locations, and the sequel is a tremendous development of the original. If you've never read any 'Hillbilly Noir' before, this is the perfect starting point. It's an atmospheric fusion of mystery, thriller and with a lurking sense of the supernatural tapping in the background. I rank this trilogy alongside the absolute best Southern Gothic has to offer and the leading character Earl Marcus is a mass of wild contradictions and an outstanding creation.

Set in a mountainous and rural part of Georgia, Heaven's Crooked Finger opens with private detective Earl Marcus receiving a time-stamped photograph of his father in the mail, the problem is his old man is dead, a funeral he chose not to attend. Once this complex mystery is solved, Earl returns with In the Valley of the Devil and a new complex mystery soaked in local danger and intrigue. Prepare to meet Old Nathaniel, part boogieman, part spooky legend, whom the locals believe is behind the disappearance of several local Black people. Once again, Hank is sucked into a dangerous and exciting mystery. One can only hope that we have not seen the last of Earl Marcus and that he bounces back for a fourth mystery. Hank Early also writes as John Mantooth and whichever name he uses, he is simply an outstanding writer and I cannot wait for Holy Ghost Road, which is released by Cemetery Dance later this year.
Boy in the Box by Marc E. Fitch


Four lifelong friends head to the Adirondack Mountains (upstate New York) for one last party of drinking and hunting before Jonathan Hollis gets married, and there is a terrible accident. If you do choose to read this book, hold onto your hat and prepare yourself for one of the most brutal of journeys which is topped only by the killer finish. The last sentence remains imprinted on my brain and the spiderweb of deceit which leads to that horrific final page is hard to shake off. The story takes its time dragging us back to the original events in the mountains and opens with the funeral of Gene Hendrickson, who was one of the four best friends on the trip first time around. At the funeral, Jonathan Hollis meets his former friends and they share with him a shocking revelation which brings the earlier incident back into full focus, being seen from Jonathan's point of view.

Boy in the Box is drenched in guilt and you will not read a better novel where one single moment can define, blight and ruin lives. The man who returns home from the mountains is a mere shell and you can feel his disintegration. Coombs' Gulch is an outstanding location; even before anything goes up the crapper it just feels wrong. Its descriptions are perfectly pitched, from the lack of wildlife to the warnings the locals give to the holidaymakers. The men stare into the darkness of the forest and although nobody says anything, none are prepared to wander far from the safety of the cabin. I would have done the same; this place is terrifying. The supernatural element is managed subtlety and beautifully worked into a gripping story. Not everything is spelled out, but the writing is so skilled it does not need to be, with the reader looking between the lines for further answers or clues. This is an outstanding horror story where the sense of deep dread slowly tightens around the reader like slow strangulation. Unmissable and I hope Marc has something new out soon.
The Tracker by John Hunt


This author was one of my top discoveries of 2018. The Tracker is about as unpleasant as personal hauntings can possibly get and the entity here makes Freddie Kreuger look like a right wuss. In sporadic moments there are flashes of eye-opening violence which are going to have you gulping, but it's so beautifully written and crucial to the plot it never comes across as exploitative. Trashy it may be, but I found it so addictive I started it on Friday evening and finished this genuine page-turner on Saturday morning.

A guy called Taylor walks into a police station to hand himself over to the cops, knowing the police are hunting him. During his interrogation, it is revealed he is the chief suspect in four brutal murders. Much of the first half is told via the interrogation between detective Owen and Taylor, who claims he did not commit the grisly killings. The book then enters flashback mode and Taylor's retelling begins right after the recent death of his mother when a sinister shadow begins to stalk him. Soon a terrifying game of cat and mouse between this supernatural being and Taylor will have you glued to the page. The Tracker is neither deep, long, or overly complicated and in its 182 pages throws the kitchen sink at the bruised reader with plenty of fun twists along the way. Brutal but classy, pulp horror at its finest. I would also highly recommend Doll House (2017) and Off the Grid (2019), two other terrific page-turners from Hunt.
Starve Acre by Andrew Michael Hurley


Set in the wilds of remote North Yorkshire, Starve Acre revolves around the death of a child, which is revealed in the opening pages, so the story is ultimately even bleaker than the location. The first narrative follows the events leading up to the death and the second a few months afterward. Both sections are harrowing reads, especially as the death itself dominates both threads but is described in only the vaguest of terms until the end. On one level, Starve Acre is a study of the grief felt by Richard and Juliette Willoughby and how they cope with the loss of their five-year-old son Ewan, but there is much more to it than that. Richard and Juliette inherited Starve Acre from his parents and although he does not particularly wish to return to his childhood home, his wife persuades him to do so and not long afterwards Ewan's behaviour becomes unpredictable, with signs of cruelty, and there is a brooding sense that something is not right. What makes this even more powerful is the reader knows right from the beginning about the death and what follows centres upon the journey towards this horrific event and the shocking fallout.

Developing bad dreams and fear of the dark, Ewan claims to hear a man called 'Jack Grey,' who sounds like a boogieman from English folklore. These sequences simply crackle, and the fear experienced by the child is palpable, especially as the reader knows what calamity awaits around the corner but not how it will play out. Much of the supernatural element is exceptionally subtle and kept low key until well into the story, and the scene, for example, with the hare in the pram is hard to shake off. If you ever read this book, you will know exactly what I mean. With exquisite pacing Starve Acre heads towards an outstanding ending which, with savage imagery, lives long in the memory. Note that there are two slightly different versions of this book on the marker with slightly changed endings, bleak and bleaker! The Loney (2015) and Devil's Day (2017) are also great but, Starve Acre remains my favourite.
The Listener by Robert McCammon


The legendary Robert McCammon continues a literary path which remains almost impossible to pigeonhole with The Listener, an outstanding supernatural thriller set in the Great Depression of 1930s America. For many years he has ranked amongst the finest writers of dark fiction and The Listener sits comfortably amongst his best. As this is a standalone novel, this is the perfect place to start if you've never read McCammon before.

John Partlow is a conman (a grifter) who weasels cash from poor unfortunates by scanning the obituaries in local newspapers and then turning up at the door of the deceased trying to sell 25c Bibles to the family for $5. This con escalates into a much nastier one: the kidnapping of a little girl. However, Partlow and his accomplice snatch a child who has the weird ability of hearing the thoughts of other people with the same gift. Recently, the little girl has been communicating with a young Black man called Curtis, who treats his affliction as a curse. But when she calls out to him for help, what can he do? How can a Black man help a white girl and all the suspicion which surrounds it in 1930s America without sounding mad or raising suspicion? The Listener is a powerful character-driven novel with a subtle supernatural angel, a very tight plot, which will be devoured in a couple of days. You'll love every exquisitely crafted sentence. The quality of McCammon's fiction is well documented, but I would also like to give a shoutout to The Border (2015), which is an amazing blend of science and apocalyptic fiction which often flies under the radar.
The Reddening by Adam Nevill


Longtime fans of Adam Nevill will devour this brutal tale and if you have never previously read this author, prepare to discover one of the premier back-catalogues in the world of horror. Whilst out paragliding, Matt Hull stumbles upon the entrance to a cave which leads to the excavation of an archaeological site that was once a location of ritualistic mass slaughter. The discovery of the caves is only one sequence in a complex conspiracy in this terrifying novel set in the coastal region of the south of England. Before long, the gripped reader is led on a merry dance on what horrors lurk within the caverns which exude weird unnatural noises. Once you come across the truly freaky 'Red Folk,' you are not going to forget them again in a hurry or go rambling on isolated south of England hill walks.

I'm amazed that after eight previous novels, Nevill can still produce refreshing new fiction that does not tread over old ground, which could be very easily done. Fans are bound to make their own comparisons and there is a tiny similarity to House of Small Shadows, but only in a broad folk-horror sense; but there is a slightly bigger connection to another personal favourite of mine, the masterpiece Last Days. The plot is a complex one, which effortlessly moves over time periods with several strands which pull together as the brutal body-count rises with the novel heading towards an outstanding climax revealing what 'Reddening' and its cryptic variations really means. The Reddening is a beast of a book and if you would rather try something shorter then dig into Cunning Folk (2021), which is about half the girth, but just as good.
Corpsepaint by David Peake

The astonishingly bleak Corpsepaint is a riveting and lyrical read which had me hypnotised from beginning to end. I love intelligent, highly original horror novels, which are enveloped within layers of menace and nihilism, and this had it all. I also dig plots which have strong musical themes, and Corpsepaint genuinely bleeds music. The main character Max is better known as 'Strigoi,' famous in the black metal scene for recording three ground-breaking albums with his band 'Angelus Mortis' much earlier in his career. The subsequent years have not been kind to him and he is now a washed-up drug addict, tired of hearing fans constantly harking back to these classic albums he now despises.

The novel opens with Max hooking up with Roland, a young but talented drummer who is accompanying him to Ukraine to record his latest comeback album with famously reclusive cult act 'Wisdom of Silenus,' who reside in a compound in a remote forest. Max and Ronald journey across a broken Europe; but what fates await upon their arrival? This incredible novel throbs with astonishing levels of darkness right until its brutal and shocking apocalyptic ending, which fits uncomfortably within the fractured world we live in. This classic deserved significantly more publicity than it received in the horror press when it was originally released and should be seen as a masterpiece in literary and musical nihilism.
This page includes affiliate links where Horror DNA may receive a small commission at no extra cost to you.