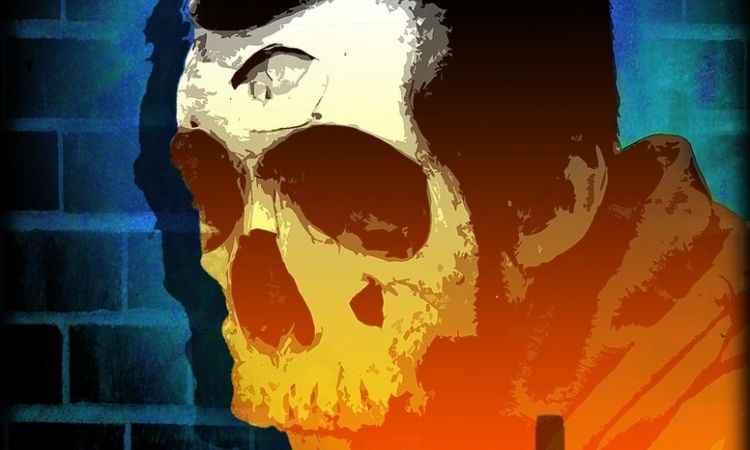 Tony's Top 10 Horror Novels of 2018
Written by Tony Jones
I've reviewed many books across three horror sites this year and read a good few others along the way. As always, it has been a pleasure writing for Horror DNA and I hope you have the chance to explore a few of my selections. Choosing ten favourites has been a tough task, but here goes a fantastic mix of household horror names and those hopefully destined for greater things. They are not ranked in any particular order, except for the Jonathan Maberry and the David Peake novels, which were my two outright favourites of this year.
Glimpse by Jonathan Maberry

The horror powerhouse Jonathan Maberry's "Glimpse" is my favourite novel of his since zombie epic Dead of Night. I read Glimpse way back in January and this terrific concoction of nightmare horror and dark fantasy has more scares than a bad trip, setting a VERY high bar for the remainder of the reading year. Rain is a three-years-clean drug addict, who when heading for a job interview borrows a pair of cracked reading glasses from a lady on the subway. Through this break in the lens, she briefly sees a different reality. Completely freaked out, she heads to her interview only to discover she is 24 hours late. Rain has lost an entire day, almost like it has been erased, and from that moment on, strap yourself in for a Maberry-style rollercoaster.

This page-turning twister thriller drives head-on into a dreamland of nightmares and the monsters which lurk just out of vision. Glimpse also has one of the finest villains I have come across an age; this dude 'Doctor Nine' is so nasty, many are too scared to even say his name. When the nightmare creations start seeping into the real world, things go from bad to worse, then to god awful. If you've never tried Maberry before, this is an excellent jumping in point; a perfect blend of supernatural horror and thriller, loaded with larger than life characters, which is unrelenting from start to finish.
Corpsepaint by David Peak

The astonishingly bleak Corpsepaint ranks amongst the finest releases of 2018 and is a totally riveting and lyrical read which had me hypnotised from beginning to end. I love intelligent, highly original horror novels, which are enveloped within layers of menace and nihilism, and this had it all. I also dig plots which have strong musical themes, and Corpsepaint genuinely bleeds music. The main character Max is better known as 'Strigoi', famous in the black metal scene for recording three ground-breaking albums with his band 'Angelus Mortis' much earlier in his career. The subsequent years have not been kind to him and he is now a washed-up drug addict, tired of hearing fans constantly harking back to these classic albums he now despises.

The novel opens with Max hooking up with Roland, a young but talented drummer who is accompanying him to the Ukraine, to record his latest comeback album with famously reclusive cult act 'Wisdom of Silenus', who reside in a compound in a remote Ukrainian forest. Max and Ronald journey across a broken Europe; but what fates await upon their arrival? This incredible novel throbs with astonishing levels of darkness right until its brutal and shocking apocalyptic ending, which fits uncomfortably within the fractured world we live in. I regret only giving Corpsepaint 4.5 stars when I reviewed it earlier in the year on Horror DNA, as it clearly deserved the full five stars. This masterpiece deserved much more publicity than it received in the horror press and is essential reading.
The Tracker by John Hunt

This author was one of my top discoveries of 2018. The Tracker is about as unpleasant as personal hauntings can possibly get and the entity here makes Freddie Kreuger look like a right wuss. In sporadic moments there are flashes of eye-opening violence which are going to have you gulping, but it's so well written and crucial to the plot it never comes across as exploitative. Trashy it may be, but I found it so addictive I started it on Friday evening and finished this genuine page-turner on Saturday morning.

A guy called Taylor walking into a police station to hand himself over to the cops, knowing the police are hunting him. During his interrogation it is revealed he is the chief suspect of four brutal murders. Much of the first half is told via the interrogation between detective Owen and Taylor, who claims he did not commit the grisly killings. The book then enters flashback mode and Taylor's retelling begins right after the recent death of his mother when a sinister shadow begins to stalk him. Soon a terrifying game of cat and mouse between this supernatural being and Taylor will have you glued to the page. The Tracker is neither deep, long, or overly complicated and in its 182 pages throws the kitchen sink at the bruised reader with plenty of fun twists along the way. Brutal but classy, pulp horror at its finest.
Ghost Virus by Graham Masterton

Down the years the legendary Scotsman Graham Masterton has written many crazy horror novels, however, this has to be his first featuring haunted clothing! It's stupid, nasty, crazily over the top, but also flows incredibly well with a narrative which blends horror and crime and perfectly. You have to have some sympathy for detectives Pardow and Patel, charged with investigating a seemingly random collection of murders in south London, which soon takes them into the supernatural world.

The author throws in some terrifically gruesome and shocking kill scenes, including a primary school teacher throwing kids out an upper floor window; a guy that gets nails hammered into his eyes (and then disembowelled) for snoring; a little girl eating her pet dog; and a dude getting his arms and legs twisted off whilst walking home after a night on the town. Ghost Virus is loaded with a full tank of horrors; ranging from the insidious paranoia when the supernatural infection begins to creep inside various characters to the full-blown adrenalin rush of fear with an astonishing apocalyptic conclusion. The thought of being attacked by a killer cardigan sounds dumb beyond belief, but in the hands of Graham Masterton anything is possible. I loved it.
The Listener by Robert McCammon

The legendary Robert McCammon continues a literary path which remains almost impossible to pigeonhole with The Listener, an outstanding supernatural thriller set in the Great Depression of 1930s America. For many years he has ranked amongst the finest writers of dark fiction and The Listener sits comfortably amongst his best. As this is a standalone novel, if you've never read McCammon before, this is the perfect place to start.

John Partlow is a con-man (a grifter) who weasels cash from poor unfortunates by scanning the obituaries in local newspapers and then turning up at the door of the deceased trying to sell 25c Bibles to the family for $5. This con escalates into a much nastier one: the kidnapping of a little girl. However, Partlow and his accomplice snatch a child who has the weird ability of hearing the thoughts of other people with the same gift. Recently, the little girl has been communicating with a young black man called Curtis, who treats his affliction as a curse. But when she calls out to him for help, what can he do? How can a black man help a white girl, and all the suspicion which surrounds it, in 1930s America without sounding mad or raising suspicion? The Listener is a powerful character driven novel with a subtle supernatural angel, a very tight plot, which will be devoured in a couple of days. You'll love every exquisitely crafted sentence.
The Hunger by Alma Katsu

Based on a true story, the disappearance of a large wagon train heading west towards California in the mid-1840s, Alma Katsu has made a superb job of recreating the hard and dangerous life of the prospectors. For much of the perilous journey there is a vague suspicion of something nasty tracking the ninety or so travellers, many of whom were ill-prepared for the perilous 2000-mile journey. If Dan Simmons decided to tackle the American frontier period, he may well come up with something like "The Hunger" and that's high praise indeed. Full of colourful period detail, exquisitely researched, and although it moves at a slow pace, it is totally captivating.

This is a superbly thoughtful novel, which stretches the limits of human endurance, and there is more than one kind of 'hunger' within the story. Its strength lies in the vivid depiction of the pioneers searching for a dream, unknown of the nightmare awaiting down the trail. Turning a factual event into a winning novel is tricky, adding a convincing supernatural angle is even more difficult, but the author pulls it off admirably. It's possible readers of traditional historical fiction may not like the direction the novel heads in the final 25% of its grueling 400 pages. But, hey, that's their loss.
Where the Cats Will Not Follow by Stephen Stromp

I have a soft spot for genre-bending novels which defy classification, and Stephen Stromp's Where the Cats Will Not Follow fits that bill perfectly. Prepare for a strange and heady fusion of fantasy, horror, surrealism and the continual bleeding of a nightmarish dream world into our own reality. Or is it visa-versa? That's part of the charm of this quirky tale, it is really is hard to tell. There are numerous very bizarre sequences, ranging from flying cars, slinky tree women, metal forests, to mini tornadoes made of metal, shredding unsuspecting policemen into dog meat. Stephen Stomp's vision is totally intoxicating.

Opening with a kidnapping, for much of the narrative the childhood and formative years of the three main characters is the focal point. Told in flashback, this is the backbone of the plot and covers many years of their lives and both their dreams and nightmares. On one level it's an entertaining coming-of-age story with two brothers growing up together, and on another it's a subtle examination of the brothers' manipulation of each other. But who is using who? Ayden is quiet, withdrawn and an easy target at school whereas his brother is confident and not afraid to use his fists in defending his younger sibling. Nothing is quite what it seems, and the author keeps many of the cleverer plot developments nicely shrouded, especially where the novel heads with a high-quality climax.
In the Valley of the Devil by Hank Early

I had the great pleasure of reading Hank Early's In the Valley of the Devil directly after its predecessor Heaven's Crooked Finger and I strongly recommend you read them in the correct order. Both feature the same characters, locations, and the sequel is a tremendous development of the original. If you've never read any 'Hillbilly Noir' before, this is the perfect starting point. It's an atmospheric fusion of mystery, thriller and with a lurking sense of the supernatural tapping in the background. I rank these two books alongside the very best Southern Gothic has to offer and the leading character Earl Marcus is a mass of wild contradictions and an outstanding creation. Set in a mountainous and rural part of Georgia, Heaven's Crooked Finger opens with private detective Earl Marcus receiving a time stamped photograph of his father in the mail, the problem is his old man is dead, a funeral he chose not to attend. Once this complex mystery is solved, Earl returns with "In the Valley of the Devil" and a new mystery. Prepare to meet Old Nathaniel, part boogie-man, part spooky legend, whom the locals believe is behind the disappearance of several local black people. Once again, Hank is sucked into a dangerous and exciting mystery.
The Pale Ones by Bartholomew Bennett

The Pale Ones is a superb literary horror novella which slowly and subtlety builds tension with an uneasy developing sense of the uncanny over 120 very strange pages. It's also a book about books (and I love those) and a treasure for bibliophiles. The unnamed narrator is a second-hand book seller who meets another trader called Harris, whom he goes drinking with. Harris offers the narrator a temporary partnership to accompany him to Yorkshire (north England) on a book buying expedition. He promises him a sizable percentage of the profits and the first pick of the rarities they are sure to find on their journey. The narrator gets much more than he bargains for when the two men go on a strange odyssey in far flung charity shops.

The narrator is unintentionally funny, which is great writing, and I found myself sniggering as he is continually given unwanted books, with not a rarity in sight. Neither is the narrator particularly likable, but he is so skilfully written that does not matter a jot. It's quite hard to pinpoint exactly why I think The Pale Ones is so good; it is probably a combination of many things; an expertly paced plot, their expressive descriptions of their journey (and the books), not to mention the odd balls they meet along the way. But I suppose the overriding strength was the way in which the two characters bounced off each other. The narrator really does not like Harris, but in his revulsion, is still drawn to him in an unpleasant way. Strangely beguiling and very difficult to categorise.
Skullface Boy by Chad Lutkze

The two hours I spent reading Chad Lutkze's novella Skullface Boy were an absolute delight. It's a deceptively simply told tale, loaded with humour, soul, heart and numerous larger-than-life characters which drift in and out of the narrative. None are bigger than Levi, the 'Skullface Boy' of the title, a teenager you are going to fall in love with. Told entirely from Levi's point of view, before long you'll be a resident in his head, rolling with the punches, and smiling at the ups and downs of his crazy odyssey in hitching from Denver to California. It's not really a horror novel, but don't let that put you off, this quirkily told road trip ranks amongst the best weird fiction releases of 2018.

Levi wants to escape Denver and hit the beaches of California, searching for the father he is sure lives there. He's a sixteen-year-old boy with little money, no life skills or travel experience, so it's going to be tough. He also has a skull for a face, a strange unexplained bone deformity, so his journey is no plain sailing. It might be tough for Levi, but it sure is fun for the reader. I also felt this book has a potential Young Adult (YA) audience, as it has a great but simple hook to suck kids in, "It's about a kid with a skull for a face". This funny, heart-warming and ultimately life-affirming book also finishes in the best possible way. Sometimes we all need a happy ending and I loved it.
Tracing the Trails: Reflections on the Works of Stephen King by Chad A. Clark

If you've been counting, you'll realise this is number eleven on the list, but as it was published late in December 2018, I'm featuring it as my 'Top Tip' for 2019. It's also the only non-fiction entry on my list. Tracing the Trails is an outstanding study of the fiction of Stephen King which originated as a blog in which Chad Clark reviewed all the fiction of Stephen King in chronological order over a number of years. It has been converted into this outstanding personal look into the fiction of one of Clark's favourite authors, whom he has read since he was a boy. This is not an academic study, more an observant and exceptionally knowledgeable look as King's fiction and his world, from the point of view of a fan and fellow dark fiction writer.

Clark's unassuming and knowledgeable voice is superb company over the duration of Tracing Trails; he does not preach, pretend to know everything, or even expect you to agree with him. He merely explores King's fiction, makes countless clever observations and gives any self-respecting King fan considerable food for thought. Clark also reviews every novella, short story and shares his thoughts on his favourite film adaptations. There are also a few guest essays from other horror authors and an introduction by Richard Chizmar. This is the best book I have ever read about Stephen King and essential reading for serious fans.