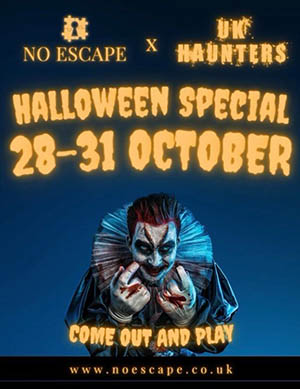 No Escape Halloween Special
Horrifying London Escape Rooms
Written by Ryan Noble
Halloween is just around the corner and if you love being scared silly while solving puzzles, a collaboration between No Escape and UK Haunters will have you fleeing through the streets of London this October with their No Escape Halloween Special, running from 28-31 October…
What's the No Escape Halloween Special?
The No Escape Halloween Special are eerie, spooky, and downright devilish escape rooms waiting to be experienced in London from Thursday to Sunday, Halloween itself! And, if you want a night to remember, you'll be there.
There's a creepy collection of escape rooms on offer here, all including brand-new storylines and live actors to create an immersive experience unlike any escape room you'll have done before.
A range of intensity levels also means you can choose an escape room based on your own bravery—or the bravery of any friends you bring along—going from more puzzled-based escape rooms with a few scares to in-your-face frights where actors are even allowed to touch you… Quick check-up from the Dentist, anyone?
Test your wits, bravery, and sanity in escape rooms that put you face to face with:
A sadistic Dentist—like pulling teeth, in a good way!
A Murderous cook—you might be on the menu…
A Demented Killer—could we expect anything less at Halloween?
A horde of Flesh-Eating Ghouls—can you disarm a bomb before they descend upon London?
The Possessed Dolls of the Haunted Toy Store—dolls, clowns, all your favourites.
Crime boss turned Zombie, unless you can break them out of prison in time!
An escape from the meat locker of Butcher—let's get into this one, shall we?
With locations all over London, it turns out you're never far from the next experience you'll need to talk through in therapy, and isn't that just how we like it?
So, let's get into the meat of the Butcher escape room I got to try for myself.
Click image to enlarge.
My experience with the Butcher…
From the minute you walk into the location of your chosen escape room, the scene is set. Before you even enter the escape room itself, the team at reception is in on the act, setting the tone with a tale of missing friends, thwarted police detectives, and grisly murders. Even the health and safety messages are given a horror spin, which is a nice touch.
As soon as the door slams behind us—"us" being me and a handful of horror press journalists, soon to go from strangers to survivors of a shared experience—the atmosphere is overwhelming in the best kind of way.
We're immediately facing Jessica through the bars of a small locked room—the girl who's been missing for weeks—chained to the wall and screaming for her life. It's up to us to reach and free her from the Butcher's lair and having a live actor with you from the get-go (albeit a feature that's unique to the press night) adds a sense of urgency and immersion not felt in previous escape rooms I've tried.
What comes next is a series of puzzles that really get our collective brains going as we work our way through the three areas of this particular Butcher escape room. I won't be saying too much about these puzzles for obvious reasons, but there's something for everyone, so you may want to build a team that can tackle anything, from logical thinking and shrewd observation skills to number-crunching.
All the while, the Butcher lurks (and growls) nearby, sometimes banging the walls around us without warning while we try to solve a combination lock hiding a clue, other times walking directly into the mix and going about his business, moving body parts between rooms—it is his job, after all—and at other times, still, he just… watches. Silent. Unnerving. This is somehow the worst of all, and as we soon learn, an on-the-fly acting decision shaped by our reactions to scares.
Since we also got to go for a drink and a chat with the UK Haunters and No Escape team after the experience, we got to hear about the thought process of the actors involved. There's no set script here… If you're not reacting to certain scares, they just might switch things up until they find what keeps you up at night. You've been warned.
Even with the Butcher keeping a beady eye on us, we made it out with 5 minutes to spare—with the occasional clue, I have to admit—but will you be so lucky?
Click image to enlarge.
Whose sick minds created these escape rooms?
Well, the sick minds of UK Haunters, Dan Brownlie and Jessica Brownlie.
After creating the first feature film to be shot in the award-winning scare attraction The London Bridge Experience & London Tombs—titled The Tombs—Dan and Jessica turned their attention to England's haunt and scare attraction scene, getting into all the gory details in their feature-length documentary, UK Haunters.
With all this knowledge of scare attractions, it was only natural that they teamed up with No Escape, an equally award-winning entertainment business and the largest escape room brand in Greater London with 7 games across 4 locations.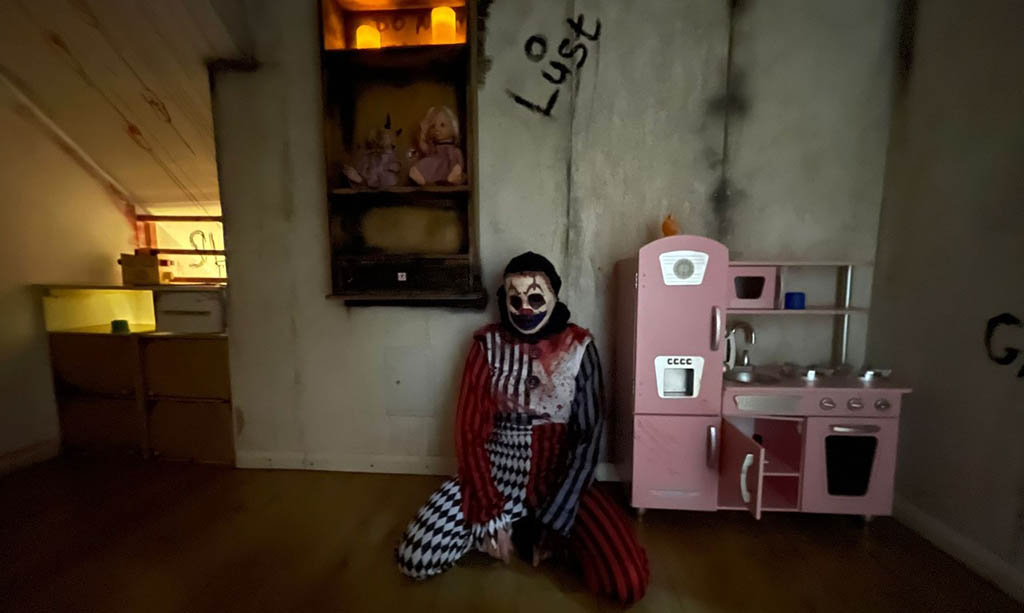 Click image to enlarge.
Get your haunt on…
Ultimately, these escape rooms are built by and for horror fans, and it's an experience you're going to love being locked in. Whether you make it out alive is another matter…
If this sounds like your kind of haunt, get your bravest friends together from Thursday 28th to Sunday 31st October and head to No Escape London, where you'll find all kinds of puzzles, scares, and memorable nights waiting for you.
A big thanks to UK Haunters and the team at No Escape London for inviting us along to this one-of-a-kind event. It was great to see behind the scenes of the horror and see your passion for scares come to life.
Click images to enlarge.
This page includes affiliate links where Horror DNA may receive a small commission at no extra cost to you.