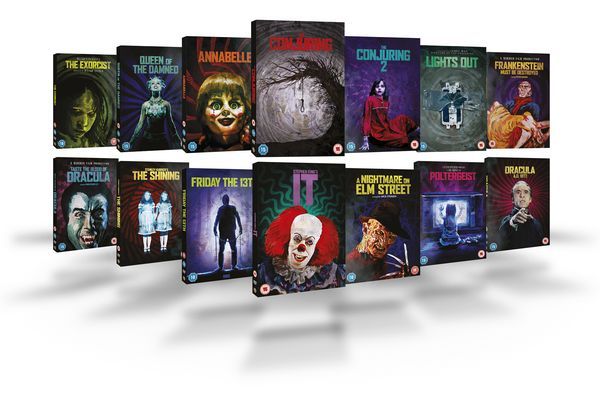 WARNER BROS HALLOWEEN PUMPKIN CARVING PARTY
Written by Simret Cheema-Innis
Halloween week certainly kicked off in festive style when Horror DNA was invited to the Warner Brothers Halloween Pumping Carving Party where I managed to get well and truly slicing, DISCLAIMER: no blood involved, except from intravenous themed cocktails.
The event was to promote the rereleases of classic horror movies from their New Horror Line, such as Taste of the Blood of Dracula, Frankenstein Must be Destroyed, The Exorcist, Nightmare on Elm Street, Poltergeist, Dracula A.D. The Shining, Friday the 13th and the original IT movie, to name a few.
Arriving at the Dead Dolls House, and climbing those many stairs to get to the secret party hideaway, I was very happy to be welcomed by Warner Brother delegates guiding me to the bar. The room was filled with rows of long dining tables and an abundance of pumpkins neatly placed on the table tops like creepy children sent to an after-school detention club. Guests sat chattering away and most of them were dressed in costume awaiting the night's activities to unravel.
Click images to enlarge.
Unsure of what to expect as such, I took my colourful cocktail and resigned myself to a place at one of the long tables soaking in the vibrant atmosphere and making pumpkin-carving-friends along the way.
The pumpkin session began with an introduction by Fruit and Vegetable Artist/Chef Nasima Khatun (www.fruitima.com), who explained that we would be carving horror-character faces into the pumpkins. As she stood in front of her own examples of intricately carved pumpkins with horror icons, and it was clear that we would have our work cut out for us.
Nasima then handed out carving pens/knifes along with paper templates of various characters for us to choose from. We had to stick the template onto the pumpkin using a glue stick and slice around the template, creating an outline. This could also include the eyes and the mouth. Once this was done, the idea was to work on the detail.
Click images to enlarge.
Using a scalpel requires a much-learned skill, you have to go in at an angle in order to create shapes, so delicately approaching the surface almost side on was the way to go, rather than plundering the tip vertically. This way, the blade is easier to manoeuvre into the pumpkin flesh, gliding freely to create the more detailed aspects of the design. It was still quite difficult to get into the motion, because pumpkin is quite hard to slice through, but I did my best and it certainly helped that Warner Bros team kept plying me with cocktails as I worked like an elusive Trojan to complete the task.
There were some really incredible designs made from other guests and even for those who weren't sure what to expect, nobody gave up.
Nasima and Warner Bros staff were supportive from start to finish, providing a fun, carefree environment for us to do something perhaps many of us hadn't done before. We even got a goodie bag, packed full of tie-in items; a Pennywise vinyl figure, Annbelle DVD, a mini pumpkin and yummy sweets.
Thanks Warner Brothers for such a fun night and we look forward to your next one!
Click images to enlarge.