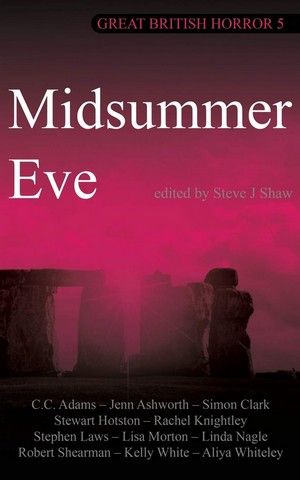 Great British Horror 5: Midsummer Eve
Written by Rachel Knightley
Women in Horror Month 2021 coincides with the paperback release of Great British Horror 5 from Black Shuck Books, on the 13th of February. Six out of eleven of the authors are women – and one of them is Horror DNA writer and presenter Dr Rachel Knightley. In this series of interviews, Rachel catches up with her colleagues to delve into how they approach writing horror and what they love about the genre.
Aliya Whiteley
I was drawn to horror through exploring things I'm afraid of – which is pretty much everything – and the sense of freedom in being able to explore things we're told we shouldn't talk about. I never feel freer than when I'm writing horror. I love everything genre related generally and the sense of boundaries that come with genre quite often, developing and fiddling about with them. And horror does have that great set of boundaries, maybe more so in movies. Quite often you know what you're going to get – the creepy music, don't go down that path or let's split up – I love the sense people know what's going to happen and if it doesn't, then you take their expectations and go off in a completely different direction. Horror's so great for that. So it's a mixture of exploring things I'm interested in and fiddling about with genre boundaries.
I would say my parents were quite careful about things I watched when I was young but not really the things I read. So I was allowed to read freely, there was the sense that reading is always fine. I remember reading James Herbert's The Rats at a very young age and going "wow, that's quite exciting, lots of things happening that I haven't seen before". I really got the taste for horror from that. But even before, horror plays a large part in children's books. The way we don't normally think about it, but horror is definitely there from an early age. I loved Molly Hunter's A Stranger Came Ashore. Things with moments of extreme horror for children I was really drawn to. I think I've always seen horror in things that wouldn't normally be labelled as horror and been drawn to it from that point of view.
What horror is to you is very personal. I wouldn't class many of the things I write as outright horror – I think other people might find it horror – but "weird" is the category that comes up a lot. There's very few things I read now that horrify me and maybe that's just because I've read a lot of horror and you get desensitised in a way, but I think it's more because of the opportunity to explore difficult, dark concepts.
I loved the concept behind Midsummer Eve. I approached it kind of thinking I don't know if I can write a horror story in that sense, but Steve [Shaw, editor] said "That's okay, just write one of the stories that you write" and that's what I did. When I got my copy of the book and read through it felt like, oh, right, it doesn't stand out as not being a horror story. There are horrific concepts within it, so that's fine. In terms of a concept, Midsummer Eve is an incredibly strong one because it ties into areas of paganism and the book does explore that as well as go off in different directions in different ways, with loads of great voices doing lots of different things. I do see why things get labelled the way they do, in terms of selling it to publishers, but horror can be in so many different places and we don't have to label it. It's everywhere and we're driven by it in so many ways.
If you think you're not a horror fan I'd I'd recommend Dapnhe Du Maurier's Rebecca. That slides into gothic horror. I got given an old, battered copy of Rebecca, as a teenager, and fell in love with it.
| | |
| --- | --- |
| | Aliya Whiteley's novels and novellas have been shortlisted for multiple awards including the Arthur C Clarke award and a Shirley Jackson award. Her short fiction has appeared in Interzone, Beneath Ceaseless Skies, Black Static, Strange Horizons, The Dark, McSweeney's Internet Tendency and The Guardian, as well as in anthologies such as Unsung Stories' 2084 and Lonely Planet's Better than Fiction. Her noir/horror novel The Loosening Skin will be published in the US in February 2021, and her science fiction/horror novel Skyward Inn will be published in the UK and US in March 2021. You can find her website here: https://aliyawhiteley.wordpress.com |
Linda Nagle
In terms of horror writing, I want to say I fell into it: I'd always written, but refused to call myself a writer for some reason. My first commission was based on a Facebook comment I'd made on someone else's page that the publisher saw and found funny; he thought I had a voice and that I should use it. So, he asked me to write a story for him, and it was a success. Most of my stuff is commissioned; I tend not to submit. I don't know whether that's a confidence issue, but I feel I don't tend to fit, I'm not very commercial.
Before then, I was very lukewarm about writing – I didn't love it, but I was always doing it. I thought that was the default, that that was what people did: write all their feelings down, in poetry and so on. But I had a massive love for Shakespeare, so he's found his way into a load of my stuff: it sounds cheesy, but he's a part of me. All my favourite authors are, because I've lived and breathed them for years – hence my story in Great British Horror being of that persuasion.
For me, horror was always where the best stories were. I've always loved horror, and grew up on all the classics—Hammer Horror, and what have you. Horror is where all the great stories are, because it's the dark side of humanity.
Speaking of Shakespeare, King Lear is my absolute favourite; it is a complete horror. That's nothing to do with the eye gouging: even without having anything physical happen, horror can be high art. Horror lends itself well to creativity; the impossible can happen. For something like Lear, that's the realness of it. It is everything. It's theatre, it's prose, it's poetry, it's performance, it's language, it's the dark side of human nature.
Decades ago, publishing was mainly for white men. Now, anyone can do it, from anywhere. Indie publishers have had a lot to do with that. My first publisher (who commissioned my story from the Facebook post) said he didn't like horror, but he did like my voice and asked me to do a story for Tales from the Female Perspective. Mine was an alternative history thing and I gave a weird reason why WW1 had started, so maybe that could be called horror. I like to let loose and bang out whatever comes out of my fingertips and that was very structured, which is not how I write, generally. I often think how different it would be if you put a story from the beginning of your career next to one from now and something from the middle. Your voice changes.
If someone isn't a horror fan, I'd first ask "What makes you think you're not?", then ask them what their favourite films are and look at the horror elements. One of the greatest films ever made? Robocop. It's sci-fi, it's drama...you've got The Terminator, which is essentially a slasher flick, so if people say they don't like horror, what is it they think they're watching? I think a big part of horror is how you identify with it, so whether you're watching Shakespeare or even the typical tropey woman-running-away-from-a-bad-guy-and-she-trips, that kind of thing, it's because you don't want to fall and trip when there's a bad guy chasing you, so a lot of it is how you connect with the viewer or the reader. I think that's the nail on the head of horror: you have to get to the root of what bothers someone —and often, that's the little things.
Great British Horror 5: Midsummer Eve will be released on 13th February.
This page includes affiliate links where Horror DNA may receive a small commission at no extra cost to you.