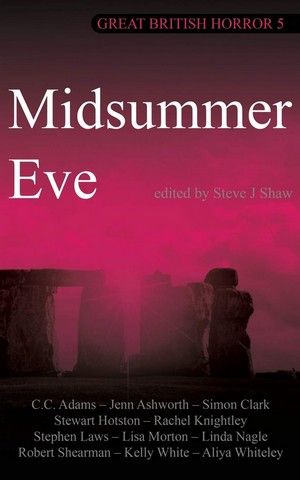 Great British Horror 5: Midsummer Eve
Written by Rachel Knightley
Women in Horror Month 2021 coincides with the paperback release of Great British Horror 5 from Black Shuck Books, on the 13th of February. Six out of eleven of the authors are women – and one of them is Horror DNA writer and presenter Dr Rachel Knightley. In this final installment of her series of interviews, Rachel catches up with another of her colleagues and gives her own account into how they approach writing horror and what they love about the genre.
Kelly White
I've been writing as far back as I can remember. I was always making up stories when I was little. My grandparents were really influential in helping me with my writing: my nan bought me a second-hand typewriter and I used to type stories on scrap paper and give them to her. In terms of horror, it's always been there in the background. When I was little I was fascinated by witches – I'd have the Horrible Histories magazines and things like that – but it wasn't until I got to uni that I realised it was what I wanted. I did an MA in Creative Writing at the University of Birmingham and started really exploring. I tried writing what everybody else was writing and I just wasn't enjoying it; I was already enjoying creeping people out so I decided to keep doing that! That was where it started.
I submitted one of the stories from my MA dissertation to Night Watch Press. That was the first story I submitted anywhere: I couldn't believe it was accepted. Steve Shaw had just taken it over, editing the Playthings and Pastimes anthology. Steve has been brilliant in welcoming me into the fold, and being in Great British Horror feels like a really great place to start. I'm really grateful to have the opportunity. So that was kind of the start of things. I did have a flash fiction piece published in 101 Fiction, setting myself a challenge because I'd never written anything that short before. When I'm writing I tend to try and set myself a challenge because that keeps me interested; if something's too easy I lose interest. I've really started to take writing more seriously, as time allows, but trying to write when you're working can be a challenge. But I enjoy horror so much!
Horror allows you so much scope. With Midsummer Eve, as I'm fascinated by the found footage genre in horror film, I was trying to see if I could use that structure in a story and how that would work with manipulating reader expectations. So I came up with the overall arc and then used the camera footage sections of the story to play with expectations and try to drop hints about what was going to happen.
It's one of those things that still bothers me: I go into Waterstones or Foyles and make a beeline for the horror section and women still aren't there. The household names – Anne Rice, Shirley Jackson – are, but you often find that women horror writers are shelved in the main run of general fiction. They're not labelled as horror. There seems to be a reluctance to use the term. To make it more accessible to a wider audience, I'd love to see more women represented on the shelves because that's where the public are going see them. I know it made a difference to me being able to see those anthologies. I remember going round charity shops when I was little and picking Stephen King books off the shelves. That was my gateway into horror. But to have anthologies where there were female writers visible was really important. It showed me they were out there. I hadn't read much horror by women: it wasn't very visible when I was growing up. Gemma Files was one of the early ones for me: I read her short stories and thought "Wow, these are really good," and Helen Marshall was another one. Then I found Shirley Jackson. I kind of came to it sideways and I started consuming as much of it as I could.
I think there's still a squeamishness, a pervading public perception that horror is all blood and guts. Yet really it's such a huge umbrella term with so many variations. Every time somebody asks me what I write I will say horror and get "Oh, what's a nice girl like you writing stuff like that for?" and I do it now knowing I'm going to get that reaction. It makes me laugh inside. I've never tried to fame myself as anything other than a horror writer because I'm comfortable being in that genre and that space. I find it quite funny when people don't understand why. I really do think that bookshops have a lot to answer for, in how things are labelled: when I started reading adult fiction I came to fantasy first and it wasn't until my uncle started giving me Stephen King novels that I understood. Although they're under the fantasy genre, the golden monkey in Northern Lights gave me nightmares! Even when I wasn't focusing on horror I was picking it up.
There's still this perception it's all going to be horrible and nasty, when actually some of the best horror has a lot of hope in it. I think even I came with preconceptions: when I first watched The Blair Witch Project I didn't understand it. At the end I thought, "Well that doesn't make sense". It wasn't until I watched it a couple of years later I realised what it was doing and how much more of an impact it had for holding back. For me it's less about not realising something was horror and seeing horror everywhere. My brain always picks up on creepy things, on horror, so I tend to recognise it if I see it. I love Japanese horror – The Ring, Dark Water, Pulse – and they're very cathartic stories. The characters go through something and they come out the other end. Dark Water especially: when I first watched that I was so blown away by it. It was the first horror film that had me terrified and crying at the same time. I was in awe of the fact that something could do that and that's what I want to be able to do. With horror, you're on a journey and you come out the other side. It's cathartic. The best horror for me you feel better at the end of it, not worse.
Rachel Knightley
If horror was "fear fiction" the way romance is "romantic fiction", I think I'd have found it a lot sooner. I was in the middle of a PhD involving gothic and domestic noir, but still with the preconception that being a horror fan just meant watching people's limbs fall off. My first horror story was written as a dare. It won first prize in the competition I entered and I realised why I'd loved writing it, what clicked for me: writing about fear, facing and exploring it. Not only is horror so much broader than I realised; it includes all of what were already my favourite things in literature and film. It made me realise how much you learn from what scares you if you explore it rather than block it out. Horror is us going into our own minds and looking all the what ifs in the eye. That's massively therapeutic.
There's nothing like fear to get you to understand yourself better. Rather than all the energy that goes into avoidance – "I mustn't look over there, la la la" – it takes you to examine the dark corners of your own mind. If you know what a character fears, what they're avoiding, you know who they are. The essence of drama is sex and death, the two great sources of conflict, so it's natural that horror gets the big moments in any story, no matter what genre it's officially in. And there's nothing like conquering fear to make your feel good about yourself. Which is why horror, fiction about fear, contains so much hope. In the end it's a celebration of survival and personal evolution.
I was terrified by fairly unterrifying movies as a child. The image of the Beast of Darkness in The Neverending Story, looking out of the crumbling wall at Atreyu still chills me because I remember what it felt like seeing it for the first time. Mirrors scared the hell out me, partly thanks to Labyrinth and partly at around the same time my grandmother died and in Jewish tradition we cover the mirrors. I thought I didn't like horror but knew I loved gothic: Knightmare and Count Duckula, approachable gothic, and sexy and surreal stuff like The Rocky Horror Picture Show and Yellow Submarine. I saw stage adaptations at my local theatre of The Exorcist and Frankenstein, and the first stage adaptation of Andy Nyman's Ghost Stories. I made my partner of the time keep all the lights on when we got home despite being well into my twenties!
I loved nineteenth century gothic fiction, the secrets within families, and I love it now in domestic noir. Maggie O'Farrell's intergenerational mysteries where the reader is the only one to fit all the pieces together; Liane Moriarty's incredibly dark and incredibly funny stories that do great horror despite having book covers so non-threatening you don't expect it: surprising you with huge issues and monstrous villains wrapped in everyday life. What I enjoyed in Jane Eyre and Wuthering Heights I love in Jason Arnopp and Audrey Niffenegger: what we don't acknowledge about ourselves, the ghosts in all our mirrors and monsters in our attics, need facing if we're to lay them to rest. We all have fears and regrets and if you don't look them in the eye they stay in those dark corners.
In all my stories I like to write from the point of view of 'other'. It might be gender, sexuality, geography… any changed specific allows you to approach the universal more freely than if you're limited to yourself. We're all built with the same emotions, so while an individual's fears, hopes, passions, phobias, and prejudices might differ from yours, the fact that we have them means we connect.
I guess the fear that motivates me most, and what my Midsummer Eve story is really about, is time slipping away. Long summer days that seem to stretch on forever, and the idea days like this will come around again but we won't be there to see them, is a haunting feeling I'd always wanted to explore. And while I've never found a body by a pond (not a spoiler as it's paragraph one!) this was a chance to channel that sensation of moments we want to capture and never can, that all you can try to do is be fully present. What I hope comes across is not the fear of death, but fear of what gets left unsaid or done. I think the idea of courage to be yourself as fully as you can, life beginning at the end of your comfort zone, is important to me because if not you'll be haunted by the version of yourself you could have been.
Great British Horror 5: Midsummer Eve is released on 13th February.
This page includes affiliate links where Horror DNA may receive a small commission at no extra cost to you.