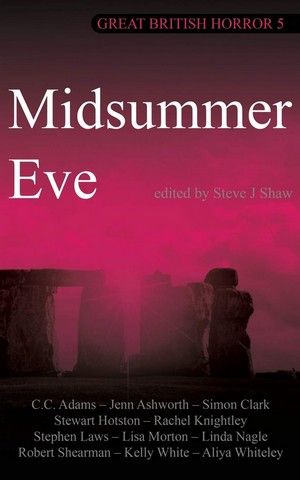 Great British Horror 5: Midsummer Eve
Written by Rachel Knightley
Women in Horror Month 2021 coincides with the paperback release of Great British Horror 5 from Black Shuck Books, on the 13th of February. Six out of eleven of the authors are women – and one of them is Horror DNA writer and presenter Dr Rachel Knightley. In this series of interviews, Rachel catches up with her colleagues to delve into how they approach writing horror and what they love about the genre.
Lisa Morton
I always loved horror and was lucky in having very indulgent parents, so I always say I was the weird little girl who when Halloween came around wanted to be the monster, not a princess, right from the beginning. When I was growing up, it was that golden age of horror movies on television: I got to see all of the great universal classics and grew up loving all the classic monsters. My mom and I would stay up watching these movies, my dad and I would make monster models together, so it was in my DNA right from the start. I sought out the horror classics; I was reading Poe from a very young age. I had a cousin who was a librarian who sent me a box set of HP Lovecraft in my teens; I devoured that and kept reading.
The person who was really influential on me was a local LA writer named Dennis Etchison back in the early eighties. I read a story collection of his and actually knew him before reading him, which was interesting because I was part of the local writing scene and Dennis was very influential in it. When I read his collection it just absolutely exploded possibilities in my head. At that point I had not written any horror prose. I had been thinking about it, but that the ideas I had were just not a thing that anybody would want to read and then I read his collection and it was just exactly the kind of stuff I wanted to write. Dennis became a lifelong friend and was something of a mentor to me, so I was incredibly lucky in that regard.
At one point I really wanted to be a screenwriter. When I was 15 I saw The Exorcist and this was during its initial release and it's very hard now for people to understand what the impact of that movie was with a sold out audience in 1974, it was incredible. There has not been a movie that has done that to an audience since. I mean people were screaming, fainting and fleeing the theatre in droves and passing out and it was an absolute gamechanger for me. The first time I saw it I didn't even watch the movie that much, I was just looking at the people in the theatre and thinking, "Oh my God this is amazing" and it was instantly what I wanted to do. Up until then I actually had wanted to pursue anthropology weirdly enough, I mean I was very young and I didn't completely understand what any of it meant and my mother was very indulgent in taking me to see this R-rated horror movie that had caused such a stir, but after that I knew I had to be a writer so I specifically pursued screenwriting for a while. Certainly The Exorcist was a humungous influence on me and continues to be to this day, it's such a perfectly crafted movie. I read voraciously as a kid and that's something I miss because now I'm writing I have so much less time to read for pleasure. I read everything from classics of literature. I absolutely loved Wuthering Heights and Jules Verne, HG Wells and Sir Arthur Conan Doyle. I loved The Lost World as much as Sherlock Holmes. In fact, I started reading at the age of three and in the beginning we would check out the maximum number of library books each day, everything I could get my hands on as a kid.
One of the reasons I've always tried to be proactive in helping newer writers, especially women, I think so many of us are told to take a back seat. When I was growing up in the 60s and 70s it was absolutely a thing, you would turn on a television set and all the women were secretaries or wives or mothers. Still my main piece of advice to newer writers and especially to my writing friends is: be bold, don't take that back seat, go out there and be proactive in both your writing and business.
Be yourself. Take the brakes off, put your authentic self out there in terms of your voice but also in terms of business. One thing I have heard from a lot of writer friends is they will talk about an anthology they want to get into or submit to and I'll say simply, "Did you ask them? Did you query them?" and they'll say, "Oh I couldn't do that", and that's one of my main uses of "Be bold". Yes you can do that, don't let your cultural conditioning hold you back on that, go ahead and ask the editors, query the publishers, this is what your male counterparts are doing and they're selling their work because of it. It's one of those things I think is hard for men to understand, that part of being a woman is at least for. Those of us of a certain age, and I'm so happy to think that maybe that is changing, it is hard for you to put yourself out there and you have to overcome that and just go for it.
Midsummer Eve it's actually a thinly disguised metaphor for climate change. One of my approaches to writing is trying to make a story about something that I feel really deeply about, and that one came out as a story about climate change even though it is within the framework of this particular festival celebration, Midsummer Eve. This very British setting involves a lot of folklore, it's almost close to folk horror in some ways. I also wanted to give my protagonist a really difficult choice and I don't want to give anything away so I don't have to use that dreaded phrase of 'spoiler alert', but it definitely brings climate change into it. Part of this gigantic decision she has to make at the end, so part of that was the genesis of that story and why it was so much fun for me to write. Things I care a great deal about are obviously the most fun to write. I was approached by Great British Horror to be the "token American" for volume five. I was very happy to do it and it was a fun story to write. I often think of myself as a secret Brit, most of the things I really love – my favourite TV show, my favourite singer – are all British.
I'm often amazed more writers don't touch on this and throughout my writing career I wish more horror writers would handle certain topics that are relevant and contemporary and when I bring that topic up it's interesting how many writers respond with, "Well I don't wanna get preachy", and my response to that is a good writer is not going to sound preachy. It's always been important to me to talk about current topics in horror fiction, where you can somewhat disguise what you're talking about, but also point out just how fearful some of these events are.
I always tell people some of my favourite stories came about through me hearing about something and approaching the editor and saying, "Hey can I submit a story even though I hear you're full?" or, "I hear you're only taking stories from other writers" or whatever and they usually say, "Sure I'll look at one". You just have to be proactive with your career and with your writing. Go ahead and try handling major things that are happening in our world I don't understand why people shy away from that.
Great British Horror 5: Midsummer Eve is released on 13th February.
This page includes affiliate links where Horror DNA may receive a small commission at no extra cost to you.