2-Headed Shark Attack DVD Review
Written by Robert Gold
DVD released by The Asylum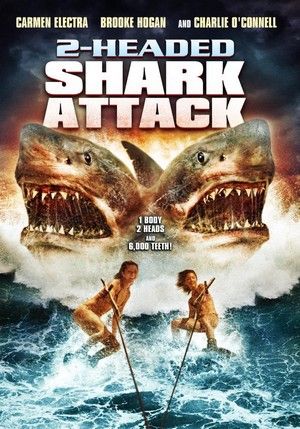 Directed by Chris Olen Ray
Written by Edward DeRuiter and H. Perry Horton
2012, Region 1 (NTSC), 85 minutes, Not Rated
DVD released on January 31st, 2012
Starring:
Carmen Electra as Dr. Anne Babish
Brooke Hogan as Kate
Charlie O'Connell as Professor Babish
Morgan Thompson as Laura
Geoff Ward as Cole
Review:
When a ship carrying a group of indistinguishable dipshits on a semester at sea manages to collide with a mega-shark, the resulting chum signals the arrival of a giant two-headed beast and mayhem ensues. It appears that learning how to properly operate a sextant will have to wait since the boat is taking on water. Luckily, a nearby atoll (actually an island) outfitted with numerous structures, including a house and a chapel, offers sanctuary to a handful of students and their professor in search of scrap metal to patch their hull. Bad news continues as the double header follows these yummy sexy bodies into the shallowest of waters where mayhem ensues once again.
Macguffins rule the atoll and so much time is spent trying to locate scrap metal that when the kids find a pair of motor boats, the search is dropped. This discovery is so exciting that these brainiacs forget they arrived in a similar boat, and it never occurs to them that they now have three vessels that could take them off the now sinking island/atoll. Apparently the shark can strike the coral base of the atoll and cause earthquakes, which demonstrates that land is merely a flotation device. While these antics play out, Brooke Hogan's character Kate manages to overcome her fear of water and weld the bottom of the ship without leaving a mark while the crew continues to follow orders given in English, even though neither speak the language.
Within the first five minutes we get our first glimpse at the best looking shark CGI this side of an X-Box 360 game and, for those with a love of giant Muppets, the practical shark looks even better. During my screening, we affectionately named this big rubber bastard "Buttons" after his unmistakable eyes. While Buttons is indeed quite ferocious in appearance, don't worry as the overly flexible-bendy teeth insure actor safety as they insert themselves into its goofy maw.
Carmen Electra, Charlie O'Connell, and Brooke Hogan headline this romp-and-chomp adventure while countless supporting players die by CGI. How much danger anyone is truly in depends on which camera angle is being favored, as perspective is the first casualty here. Students standing on the beach can clearly follow the action at sea over a mile away and the shark that pursues them changes size from a 45-foot monster to the smallest little bastard that can fuck up a three-way in a lagoon. Electra still looks good (and knows it), O'Connell appears happy for the opportunity to work, and Hogan gives her best to offer some depth to her character and is probably the strongest actor in the bunch.
The beauty of a film called 2-Headed Shark Attack is that this motherfucker is essentially critic-proof. This is the best two-headed shark film I will see all year and I don't think I am being too glib with this remark. With Chris Olen Ray (son of legendary auteur Fred Olen Ray) at the wheel, this film could go one of two directions and it wisely goes down the fun path. There's enough blood, boobs, and silly beast to satisfy the cravings of anyone who would plunk down 90 minutes of their life to watch this based on title alone.
This is a movie that deserves its own drinking game, as there are some truly wonderful elements to keep an eye out for. "Spiking the lens" is when an actor commits the sin of looking directly at the camera during a take, and viewers will have ample opportunity to play a round or two here. The highlight comes when an actress manages to do this three times in five seconds.
Carmen Electra's round of the game offers two options: a) count the number of times she stretches or arches her back while posing…um, sunbathing (an act so intense that her character cannot hear the coast guard radio assist calls a few feet away), b) look for the repeated footage (either lingering beauty shots or better still her repeated dialogue urging others to "get out of the goddamn water!")
All of this actually adds to the fun of this film and I look forward to whatever director Chris Olen Ray gets to make next, possibly a sequel to his previous venture Mega Shark VS. Crocosaurus!
Video and Audio:
The Asylum delivers another respectable 1:78 anamorphic transfer retaining the original aspect ratio. Colors are strong and black levels solid, as the image holds a sharpness that should please most viewers.
Audio options include a 2-channel stereo mix for anyone playing the film through television speakers, or a more aggressive 5.1 surround option that will make audiences believe they are being pursued by a shark with two heads.
Special Features:
The Asylum celebrates fifteen years in the business with a greatest hits montage that starts the disc. You cannot skip ahead… but why would you want to?
The original trailer is offered within the usual assortment of upcoming titles showcased in a trailer pool that invites viewers to check out more awesome Asylum releases.
Next up is a brief featurette taking a behind-the-scenes look at the making of this film, with ample interviews from the crew. Director Chris Olen Ray is on hand for a quick sound byte, but is never really interviewed, nor does he volunteer any advice along the way.
A gag reel reveals that nobody was in serious danger of shark attack from this production.
Grades:

Movie:
Video:
Audio:
Features:
Overall:
This page includes affiliate links where Horror DNA may receive a small commission at no extra cost to you.