2001 Maniacs Movie Review
Written by Rosie Fletcher
DVD released by Momentum Pictures (UK)
Directed by Tim Sullivan
Written by Chris Kobin and Tim Sullivan
2006, R2 (PAL), 110 minutes, Rated 18 (UK)
Starring:Robert Englund as Mayor Buckman
Lin Shaye as Granny Boone
Jay Gillespie as Anderson Lee
Marla Malcolm as Joey
Dylan Edrington as Nelson Elliot
Matthew Carey as Cory Jones
Gina Marie Heekin as Kat
Brian Gross as Ricky
Mushond Lee as Malcolm
Bianca Smith as Leah
Review:
Tim Sullivan's movie has a lot going for it on face value. It's produced by Raw Nerve, a production company made up of horror heavy weights Eli Roth (Cabin Fever, Hostel) Scott Spiegel (Evil Dead) and director, writer and producer Boaz Yakin (Remember the Titans). It stars Robert Englund (Freddy Kruger from A Nightmare on Elm Street), Lin Shaye (There's Something About Mary) and features Playboy Model Crista Campbell, as well as a wealth of gorgeous girls and number of cameos from, among others, Eli Roth, Kane Hodder (Jason X), Peter Stomare (Fargo), and John Landis (although only in the deleted scenes for Landis, unfortunately). It's a remake of Hershal Gordon Lewis' 1964 gore classic, 2000 Maniacs and it comes with a whole extra Maniac.
Set in America's deep south, 2001 Maniacs tells the story of eight All-American kids diverted to a town full of freaks and weirdos. Lead by the one-eyed Mayor Buckman, the townspeople are preparing to celebrate the "Guts and Glory" jubilee.
A small town, a sinister secret, rituals, celebrations, a place that seems to exist outside the parameters of the modern world: this is the film's set up. But don't come expecting The Wicker Man. Don't expect something akin to The Texas Chain Saw Massacre or Deliverance, either. Despite the heavy-handed references, 2001 Maniacs is a million miles from both. It's a horror-comedy and the plot and set up are barely anything more than bookends around some gory set-pieces and gratuitous boob shots (not that there's anything wrong with that, per se). And, to the film's credit, the opening is fairly brief and the killing gets underway without much delay.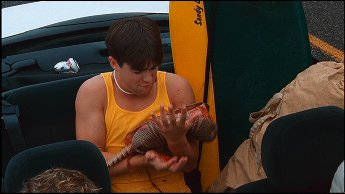 2001 Maniacs looks good, and the effects are well realised for splat-stick gore with minimal CGI. The acting is mostly poor, especially from the kids and the young townsfolk, but I've seen worse, and Lin Shaye and Robert Englund do go some way to redeeming this with their particular style of camp weirdness. The script is pretty appalling and the one-liners are so-bad-they're-bad. The fact that they're delivered by various different members of the cast, often with no sense of rhythm or pace, means that these lines feel horribly crow-barred in. It's not that there's just one character that is a cheesy-punster as a personality trait, it's more like the whole town has been taking humour lessons from James Bond. The exception to this is perhaps the minstrels who provide music and sometimes act as a sort of Greek chorus, taking a similar role to The Violent Femmes in There's Something About Mary – not terribly original but funny and a nice touch.
As a reviewer, I'm constantly questioning and re-evaluating everything I've written, in an attempt to introduce some sort of quality control. I'm terrified I'll rate something poorly because I'm in a bad mood, or well because the PR person was nice to me. 2001 Maniacs made me think hard about myself — I was afraid I'd lost my sense of fun, that I'd grown weary of guts and gore. It made me think back to a low budget British indie flick called Evil Aliens. It is as stupid as it sounds. It's full of eyeball eating, anal-probing, stomach-churning gore as well as unnecessary nudity and terrible gags. It's not a great film, but it brought a smile to my face. Because where Evil Aliens had flair, humour and heart, 2001 Maniacs is tired, derivative and formulaic. I knew where I was supposed to laugh, where I was supposed to feel shocked, when the boob shots were coming, but the whole thing just felt a little cynical to me.
When it comes to the crunch, I didn't especially enjoy 2001 Maniacs — I thought it was cheesy, puerile, pointless and not much more. But it's not trying to be much more, and I know there'll be a lot of people who want something easy going, gory and silly and would enjoy this for what it is — a film full of breasts and beheadings made for couches full of boys with beers. It wouldn't be very fair to criticize 2001 Maniacs for being simply what it is, so instead I criticize it for being horror-by-numbers — an attempt to cash in on a genre standard without having to be brave, or innovative, or clever, or new. All of the required scenes are here but not one stands out, and not even Robert Englund can save it.
Special Features:
There are quite a few special features on this DVD package. There's a documentary Inside the Asylum: The making of 2001 Maniacs which is worth a watch, whether you enjoyed the film or not. It's worth it for the sheer weirdness of Giuseppe Andrews, who plays Harper Alexander, and talks about how he hates horror films and wants to make a movie about horse poo. It also has lots of info about how effects were done, and why certain decisions were made, as well as plenty of screen time with the actors, director and with Eli Roth.
There's a short film of Tim Sullivan giving an award to John Landis at a horror festival, which mainly involves Tim talking about how much he loves Landis. It's fine. We all love John Landis.
There's a set of deleted scenes and outtakes. After the opening deleted scene with John Landis, which is definitely worth a look (see above), I struggled to tell where some of these scenes were different to what was in the movie. If you liked the film, it's more of the same. If not, don't bother.
There's also some amusing audition footage — not terribly flattering to the actors, especially as some of them aren't a great deal better in the film.
Commentary tracks are available from Tim Sullivan and Robert Englund, and Tim Sullivan, writer Chris Kobin and producer Chris Tuffin. Both are interesting and include background stories, info about the cast and point out some of the references in the film. There is a little bit of over-lap between the two but generally speaking the first track with Englund is the more upbeat, frenetic and fun, and the second is perhaps more technical and calmer. It's interesting to hear what Englund has to say but the high energy can get a tiny bit annoying over the during of the whole film (depending what mood you're in).
I'm not going to grade picture and sound because this was a screener but I will say it looks and sound pretty flawless to me — there are unlikely to be any problems here.
This page includes affiliate links where Horror DNA may receive a small commission at no extra cost to you.