A Cure for Wellness Movie Review
Written by Ren Zelen
Released by 20th Century Fox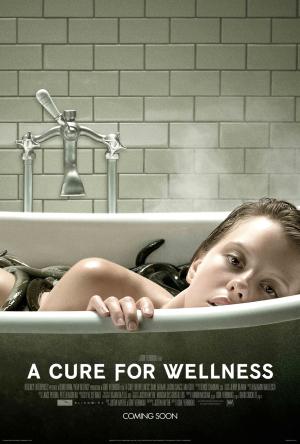 Directed by Gore Verbinski
Written by Justin Haythe and Gore Verbinski
2016, 145 minutes, Rated 18 (UK)
Released on 24th February 2017
Starring:
Dane DeHaan as Lockhart
Jason Isaacs as Volmer
Mia Goth as Hannah
Ivo Nandi as Enrico
Adrian Schiller as Deputy Director
Celia Imrie as Victoria Watkins
Review:
What a delightful coincidence that the young actress in Gore Verbinski's latest feature A Cure for Wellness should be named Mia Goth. Never has an appellation been more appropriate.
A Cure for Wellness proves to be an audacious, intoxicating, feverish piece of cinema - administering copious doses of Freudian symbolism and classic Gothicism, referencing the tales of Mrs Radcliffe right down to Leroux' s Phantom of the Opera, and for good measure, it has lots and lots of slithery, slimy stuff, with a particular penchant for eels.
If you're not a fan of things Gothic, or if you suffer from ichthyophobia, this may not be the film for you, unless you enjoy being in a cold sweat. There is no shortage of hot and cold sweating in A Cure for Wellness.

When young-gun executive Lockhart (Dane DeHaan) is ordered to travel to Switzerland by the ruthless board of his Manhattan office to retrieve Pembroke (Harry Groener), their company CEO, he gets much more than a severe case of jet-lag.
Pembroke proves to be rather unwilling to be retrieved, as he has retreated to a mysterious and remote sanatorium and vowed never to return to the empty life of materialism, mercenary greed and big-city business.
The pale and pasty DeHaan is well suited to the role of the workaholic Lockhart - sleep deprived and hyperactively chewing on Nicotine gum, ever attached to his phone and laptop. We could scream in frustration as he remains compulsively scrutinising his devices, oblivious to the stunning views as he is driven through the mountain roads of the Swiss Alps.
Verbinski portrays the world of corporate Manhattan as monochrome and drab, populated by besuited, grasping, cold-blooded operators. The 'Wellness Spa' that Lockhart travels to - nestling amongst woods and meadows in the Swiss Alps, and located miles from civilisation (or cell phone signals) - appears by contrast, rather as a beautiful Shangri-La.
However, notwithstanding the stunning vistas, we immediately realise that all may be far from well at the 'Wellness Spa'. As they drive up to the mountain where the spa is located, Lockhart distractedly makes conversation with his driver who eagerly imparts the colourful history of the place; built on the site of a castle that was burned down two hundred years ago by horrified and outraged villagers when they discovered that its lord was indulging in transgressive and ungodly activities and seizing the surrounding peasantry for fatally nefarious purposes.
Lockhart's pushy, cocksure manner proves to be his undoing, as he blusters into the spa insisting that he remove his CEO and leave within 20 minutes. Intent on getting his way, he absentmindedly signs the papers thrust in front of him and leaves in a huff when told to return later on that evening, as 'visiting hours are over'.

Soon after leaving Lockhart is involved in a serious car accident and wakes up back at the spa, with his leg in a cast. He meets the ominously imperturbable director, Dr. Heinreich Volmer (Jason Isaacs) and unthinkingly follows instructions to drink plenty of the spa's waters to keep hydrated. Thwarted in his immediate plans, Lockhart begins to explore the institution's deeper levels trying to find the elusive Pembroke.
Director Verbinski and his co-writer Justin Haythe take their time in unravelling the unhealthy secrets of the spa and have immense fun displaying its malevolence with a wealth of febrile and hallucinatory imagery. Soon, an innocent drink of water becomes distinctly sinister, and a steamy sauna becomes a descent into delirium.
Lockhart gradually (very gradually) begins to piece together a mystery. Stimulated by clues from Mrs Watkins (Celia Imrie) a patient who loves puzzles, he attempts to find out what might be unusual about the spa waters and the special 'vitamins' that are regularly taken by Dr Volmer and Hannah (Mia Goth) his special case – an odd, pubescent girl that wanders dreamily around the grounds.
The investigations become a series of disturbing set pieces, most of which end with an increasingly hysterical Lockhart being led back to his room by impassive, spotlessly-uniformed nurses, or with male attendants strapping him down for some new and uncomfortable form of treatment.
A Cure for Wellness is a violent and intense thrill ride into Gothic and Freudian imagery – we have all a Gothicist might desire; harrowing experiences, perverse ideologies, chilling laboratories, flooded catacombs, and thematically, the film appears to have a very dark message – that perhaps, the only result of our materialist, consumerist, profit-obsessed society is emptiness, depression, or madness.
Verbinski must have scored a big-budget for his latest venture. No expense appears to have been spared in the film's opulent sets, gorgeous cinematography and its scale and attention to detail in creating such an unnerving environment. It can boast some truly memorable and monstrous Lovecraftian visions.
However, the film is long at a 145-minutes, and often less arresting for its story than for its shocking and surreal scenes. Despite its narrative shortcomings, A Cure for Wellness is a bold and visually spectacular piece of Gothic cinema.
This page includes affiliate links where Horror DNA may receive a small commission at no extra cost to you.