After the End Movie Review
Written by Robert Gold
Released by Shout! Studios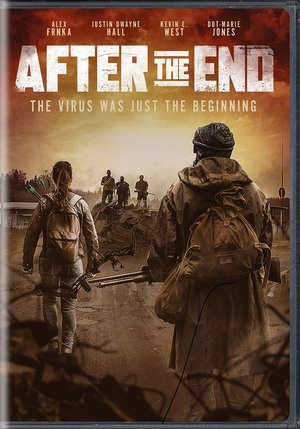 Directed by Ron Hanks
Written by Joshua V. Scher
2017, 82 minutes, Not Rated
Released on August 17th, 2021
Starring:
Alex Frnka as Ava
Justin Hall as Addison
Kevin E. West as Fish
Billy Chase Goforth as Esau
Warren McCullough as Zeke
Dot-Marie Jones as Mom
Missy Speer Gipson as Bridget
Review:
In the wake of a viral pandemic that has wiped out large swaths of the population, a teenager named Addison searches the rural Oklahoma countryside for supplies and survivors. He has converted a storm cellar into his well-stocked base camp and cautiously explores the surrounding area for signs of life. He has been preparing for just such a crisis, as his survivalist uncle trained him to be, ready for a worst-case scenario. Addison loads his cart and sets out on his bicycle to reconnect with his uncle in a neighboring city. Along his journey he meets Ava, an equally prepared and resourceful teen, pregnant and on the run, but more than capable of taking care of herself. They agree to travel together, but Addison's methodical routine is quickly upended with the arrival of three dangerous men who wish Ava harm. Addison does his best to put as much distance between them as possible but these guys are skilled trackers and the threat of violence is never far behind.
After the End premiered in 2017 under the title I'm OK, at a time when pandemics only happened in far-away places and made good fodder for post-apocalyptic B-movies. Four years later, the world has changed and the film feels more prescient, and people who don't get enough daily anxiety in their real-world existence may find it appealing. The parameters of this fictional crisis are decidedly vague, as most of the population has simply vanished. There are no details of what exactly happened or how long ago or how anyone survived. In the current environment one would expect an abundance of face masks or gratuitous hand sanitizing – but that's a different pandemic.
All things being equal, Addison is handling his situation very well. He has just about everything he needs, including a source of clean water and a small garden with fresh vegetables. There are plenty of canned goods, pre-packaged snacks and a couple of guns for hunting or self-defense. He even finds a way to charge his smart phone in order to play music or home videos of happier times with his now deceased mother. The only thing he didn't prepare for is the loneliness that fills his days and nights. We don't know how long he has been alone, but the arrival of Ava is a much needed reprieve from his isolation. He remains guarded around her but is clearly happy to have someone to talk to. Ava's post pandemic experiences have been more challenging, but Addison doesn't appear to pose much of a threat and he may even be able to help her get somewhere safe.
Director Ron Hanks makes his feature debut with this coming-of-age tale written by first-time screenwriter Joshua V. Scher. The story is very simple and straightforward, but there are a few unfortunate stumbling blocks along the way. Hanks keeps things interesting, slowly building tension to its inevitably violent conclusion. What really brings the picture to life is the beautiful cinematography by Elizabeth Hodgman Hanks, who captures the natural beauty of this sprawling, rustic environment.
That being said, the cast of After the End delivers solid performances across the board. Justin Hall (Jeepers Creepers III) and Alex Frnka (The Axe Murders of Villisca) are instantly likeable as Addison and Ava. It may be too much to want to see them end up together forever, but you want to see them somewhere more stable. Kevin E. West (The Unhealer) is intimidating as Fish, the quietly menacing leader of the guys pursuing Ava. He conveys all of his malicious intent through measured, rational conversation. The other two lugs are more of the traditional redneck variety. These guys are armed and extremely dangerous, but they are not mindless buffoons.
Hanks takes his time getting to know Addison and Ava – perhaps too much time. Fish and the gang are always just a few steps behind, but they don't connect until the final few minutes of the movie. Further muddying the ending is the last-minute introduction of a tertiary character (pronounced deus ex machina), who spares Addison the trouble of actually fighting back, and abruptly breaks the character's arc. After the End is a decent film if you go in without too many expectations. Genre fans should know this is much more of an art house character drama that should not be mistaken for a horror movie.
This page includes affiliate links where Horror DNA may receive a small commission at no extra cost to you.