Alex Magaña's Weekly Tales of Terror – Memorial Day Magaña Matinee Short Films Review
Written by Stuart D. Monroe
Released by ACM Films via YouTube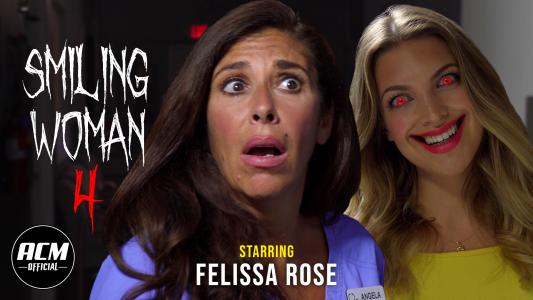 Written and directed by Alex Magaña
2021, Not Rated
Released on various dates, 2021
Starring:
Felissa Rose as Angela
Anna Dahl as Mortician/Smiling Woman
Michelle Twarowska as Smiling Woman (Morgue)
Teru Hara as Young Woman
Prathyusha as Smiling Woman
Brittnee Garza as Young Woman/Annie
Tanner Glenn as Hiker/Alien
Allison Marie Reyes as Birthday Girl
Jessi Sampogna as Homeless Woman
Rory Ross as Inmate
Review:
It's not uncommon for a filmmaker to have a host of short films on his resume. Alex Magaña, however, is working on a slight redefining of the word prolific. He's cranking 'em out a rapid-fire pace, so it's frankly become easier to write up his stuff in a collection piece. If I wrote every short film up as an individual review, I wouldn't get a damn thing done. This isn't my only gig, ya' know!
Seriously, though…Alex Magaña is indeed levelling up with these five new short films that include a starring role for a legit horror icon in Felissa Rose (read the Horror DNA interview here). Smiling Woman has become Magaña's signature series, though it's not the only one he's cranking out sequels for – Be Careful What You Wish For, Selfie, and Inmate 666 also refuse to die, and that's a great thing for the people who devour horror shorts looking for the next breakout nightmare.
I calls 'em like I sees 'em, as my old man used to say. I'm watching a guy who cut his teeth in comedy and romance develop a real taste for horror. That's cool to watch. Filmmaking is a profession where passion translates to the finished product; it's that simple. I'd argue that horror is the genre where that passion is infectious in a uniquely organic way. That's not to say that filmmakers in other genres don't put a ton of heart into it, but the horror fanbase gives you one hell of a lot more return on investment for your efforts. You're seeing that on both sides of the camera for Alex Magaña.
Time to see if we can digest this entire smorgasbord of horror shorts…
Close Encounter of the Third Kind (3:22): Well, the middle of nowhere in the middle of the night is never a good place to start a story for anyone except someone (or something) with bad intentions. Simple and effective lighting work signifies an alien presence, and the first look at that presence is worse than you would expect. The alien design is something I need to see more of, with its Pan's Labyrinth visual vibe. It's striking as hell.
Be Careful What You Wish For Part 2 (1:57): The world's saddest birthday celebration, complete with one stacked cupcake, is taking place in front of a bathroom mirror. The tale changes gears quickly with the birthday girl (Allison Marie Reyes; Shine Bright) meeting her doppelganger in the mirror. It's a well-handled double role for Reyes. She wants you know that there's a monster inside all of us; the Jekyll and Hyde mirror effect never truly goes out of style. There are many interesting places to go with the premise of Liar Liar turned dark and intimate.
Inmate 666 Part 2 (2:07): You have to say this for the Inmate (Rory Ross; Lost in the Woods): he's indiscriminate. He goes after a homeless woman this time, and he's enjoying playing with his victim even more. Part 2 has a more polished look and pacing that also increases the scope of the Inmate's abilities. What's next for the Inmate? Do we get to see him at work? Don't get me wrong; he's got a great setup. Now I want to see the delivery.
Smiling Woman Part 3 (2:09): It's 1:00am again. A young woman who can't sleep sees a woman in a yellow dress standing in her driveway, head tilted quizzically to the side. You know the setup by now – here comes the text and the disappearance/reappearance. This Smiling Woman (the returning Prathyusha from Smiling Woman Part 2) is far more aggressive, however, and the level of malice is increasing. Once your very own bedroom inside your very own apartment fails to keep you safely away from invading evil with questionable fashion sense, it's safe to say you've reached the point where pulling up the covers isn't going to do jack shit. Strong finish.
Smiling Woman Part 4 (3:28): It's 1:00am in the county morgue, and a woman in a yellow dress is next up on the slab. She doesn't stay down for long, of course, and soon we have a lovely mortician (Anna Dahl) who's changing up the company dress code with some color and a freakin' hideous smile. Her next target is the night nurse, Angela (Felissa Rose; Sleepaway Camp, Victor Crowley). Felissa Rose brings instant notoriety and clout for the continuing series as a whole and solid hype for Smiling Woman Part 5. I really can't wait to see what she does in her turn in the titular yellow dress. The interchangeability of the text/disappear/reappear device remains fresh and fun, and Magaña is using every trick he's learned until this point. I'd love to see some good SFX gags now so we can get bloody in this bitch!
Having leveled up now, Alex Magaña seems ready to go ahead and dispense with the formalities and just level up some more. He's got the momentum going. You can see it in his work, both in the enthusiasm and quality of the product and by the names he's scoring.
It's not easy making a straight yellow dress work, after all. You have to fill that bad boy out.
Grades:

Close Encounter of the Third Kind:
Be Careful What You Wish For Part 2:
Inmate 666 Part 2:
Smiling Woman Part 3:
Smiling Woman Part 4:









This page includes affiliate links where Horror DNA may receive a small commission at no extra cost to you.
This page includes affiliate links where Horror DNA may receive a small commission at no extra cost to you.