Altitude DVD Review

Written by James "Spez" Ferguson

DVD released by Anchor Bay Home Entertainment
Directed by Kaare Andrews
Written by Paul A. Birkett
2010, Region 2, PAL, 86 Minutes, Rated R
DVD Released on March 14th, 2011

Starring:
Jessica Lowndes as Sara
Julianna Guill as Mel
Ryan Donowho as Cory
Landon Liboiron as Bruce
Jake Weary as Sal
Review:
There's a reason that so many people are afraid of flying.  You're soaring through the air at a very fast speed, thousands of feet above the ground in a big metal box.  I don't know how airplanes work, but I can only imagine that it's a mixture of black magic, voodoo, and pixie dust.  This is why a film like Altitude can strike such a chord.  Picture all that fear, but instead of a giant 747 with dozens of other people, you're in a cramped puddle jumper experiencing instrument failure while you're lost in a thunder storm.  

Altitude takes some of the elements from every other horror movie,  but puts them into this tiny plane way up in the sky to amplify the tension.  A group of twenty-somethings are heading to a Coldplay concert.  Instead of taking the long drive to the show, they decide to fly there because Sara (Jessica Lowndes) has recently gotten her pilot's license despite the fact that her mother died in a horrific plane crash ten years ago.  Along for the ride are her best friend Mel (Julianna Guill, Friday the 13th (2009)), Mel's boyfriend Sal (Jake Weary), Mel's other suitor Cory (Ryan Donowho), and Sara's weird new boyfriend Bruce (Landon Liboiron).  They fulfill a handful of the horror character stereotypes.  Sal is the dumb jock.  Mel is the fun blonde.  Cory is the deep sensitive guy.  

Pieces of these characters have been done before, but to shove them into an enclosed space for an hour and a half creates a powder keg that's just waiting for the right event to light the fuse.  That comes when the plane enters an unexpected storm and ends up rising higher and higher in the air.  The plane is stuck on this trajectory for some time and tensions rise until drastic measures are taken.  There's also an ominous feeling that they're not alone in the air.  Something is lurking in the dark clouds.

In many ways, Altitude is similar to Alfred Hitchcock's Lifeboat.  The characters are stuck in this small area and they're friendly to one another at the start, but cabin fever sets in and they begin turning on each other.  Everyone gets blamed for things that they had nothing to do with like mechanical failure.  All the while, they're screaming and freaking out, which probably doesn't help Lara who's trying to fly the plane through this mess.

There are a handful of twists in Altitude and, fortunately, only a couple of them can be seen coming.  There's a big one at the end of the film that ties things together nicely and really came out of nowhere.  The mystery of what exactly is going on provides for a very exciting thriller that would be great even without the supernatural element.  

First time director Kaare Andrews has turned in a great looking movie, too.  This is his first feature as well as the first for a number of the cast and crew, including director of photography Norm Li, whose work really shines through.  The scenes where the cast is safe on the ground and when they first take off are bright and filled with color.  As things descend into chaos, everyone is covered in dark grays and blacks without a shred of color.  It really helps set the tone of the film.

At its heart, Altitude is a tense thriller.  If there was no horror angle at all, it would still be a great movie.  It was put together with a limited budget, but you wouldn't be able to tell based on the way it looks.  That's a testament to Andrews and the crew and what they were able to do with what they had available.  This is a film that deals with imagination and facing your fears, whether that takes you face-to-face with a monster or just gets you in a plane.

And, at the end of the day, the moral of the story is to never go see Coldplay.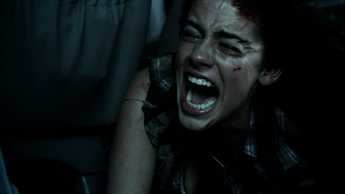 Video and Audio:
The DVD presentation looks great.  As I mentioned above, Li's cinematography makes the colors set the emotion for the film and they're presented very well here.  Everything looks crisp and clean.  There are no noticeable issues with the sound quality and the dialog isn't drowned out by background noise or a soundtrack.
Special Features:
There's a great 47 minutes behind-the-scenes featurette included on this DVD.  This takes you through the entire creation process of the film from pre-production to post.  The crew discusses some of the challenges they faced not only with the budget but the set itself.  The vast majority of the film takes place in a tiny plane cabin that had to hold the five main characters as well as a bulky camera and a few crew members.  They got rather creative to capture all of this on film.  I would have liked to have seen a commentary on the disc, but the featurette provides a lot of the information I was looking for.  There's also another featurette on the making of the storm along with a concept gallery and trailer.
Grades:

 



Movie:
Video:
Audio:
Features:
Overall:
© 2011 Horror DNA.com. No use of this review is permitted without expressed permission from Horror DNA.com.