An Ideal Place to Kill Blu-ray Review
Written by Robert Gold
Blu-ray released by Mondo Macabro
Directed by Umberto Lenzi
Written by Lucia Drudi Demby, Antonio Altoviti and Umberto Lenzi
1971, 90 minutes, Not Rated
Released on May 26th, 2020
Starring:
Irene Papas as Barbara Slater
Raymond Lovelock as Dick Butler
Ornella Muti as Ingrid Sjoman
Michel Bardinet as Baratti
Jacques Stany as Official
Umberto Raho as Police Inspector
Review:
Ingrid and Dick are an attractive young couple on holiday in Italy. They make their way selling illegal Scandinavian porno magazines and nude photographs of Ingrid. Not ones to show responsibility, they usually party their way through their funds within a matter of hours. When they get caught by the police violating decency laws, they are given twenty-four hours to leave the country. With no intention of cutting their vacation short, they simply drive to another city where they come across some thieving motorcyclists. Once again strapped for cash, they find themselves in new trouble as they are mistaken for a pair of fugitive bank robbers.
They speed away until they run out of gas where they happen upon an isolated house. The owner, Barbara, is a high-strung middle-aged woman who is at first confrontational but quickly becomes engaging. She tells them her husband is away and breaks out the booze for a wild night. The next morning, Dick and Ingrid are in for a surprise when they find themselves locked in separate bedrooms. Dick finds a large wad of cash in his pocket and slips out a window, arriving downstairs just in time to catch Barbara calling the police. She has cleaned up the house, removing all signs of a party and scratched her chest looking to frame him for assault. Dick confronts her and she hangs up denying everything, but when he and Ingrid search the house they discover she is keeping a deadly secret.
An Ideal Place to Kill (aka Oasis of Fear, aka Dirty Pictures) is a 1970s Italian thriller of sorts, infusing elements of the popular giallo style of storytelling with the counter-culture ethos of the era. Director Umberto Lenzi (Cannibal Ferox) sets up his story innocuously enough with the introduction of an attractive, peace-loving couple with a lust for life on vacation. Their idea of harmless fun frequently steps outside the boundaries of the law, but these truly are innocents abroad. Dick and Ingrid are naïve pacifists who get caught up in a situation that quickly spirals out of control forcing them to step outside their comfort zone.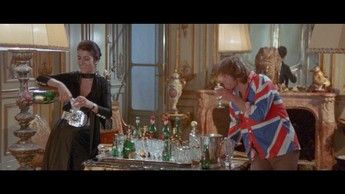 Irene Papas (Don't Torture a Duckling) stars as the calculating Barbara, a woman of many secrets who is a skilled manipulator. She fills the character with a quiet intensity that builds when her authority is challenged. Her co-stars, Raymond Lovelock (Let Sleeping Corpses Lie) and the lovely Ornella Muti (Flash Gordon) as Dick and Ingrid, share great onscreen chemistry, but Papas gives a performance that outshines their best efforts. The young lovers make great protagonists, but Barbara is far more interesting to watch.
Lenzi says he intended this film to be his take on Easy Rider, but producers got in the way and muddled his message. An Ideal Place to Kill is not one of his stronger efforts, but it remains entertaining and contains a dark sense of humor that carries the picture. Not everything works, but Lenzi succeeds more often than not thanks in no small part to the beautiful cinematography by Alfio Contini (Zabriskie Point), whose lighting design and camera work really shine. Editor Eugenio Alabiso (The Good, the Bad and the Ugly) keeps things moving and generates some suspenseful moments as our young heroes discover they are being outsmarted. The film is not much of a traditional giallo, which may leave some viewers disappointed, but the material is dark enough to still warrant a recommendation.
Video and Audio:
Presented in the 2.35:1 aspect ratio, the film's original negative has received a 2K scan and digital restoration. The resulting image is cleaner and sharper than previous releases and colors are well-saturated. Flesh tones appear natural throughout and there is plenty of small-object detail, particularly in hair and fibers.
Audio comes with a choice of either DTS-HD MA 2.0 Italian or English language tracks, both of which are perfectly rendered. The English track is dubbed, although this is the language most of the actors are speaking. Some scenes were never filmed in English and appear in Italian with subtitles. Dialogue is clean and understandable and optional English subtitles are included for anyone in need.
Special Features:
Troy Howarth and Nathaniel Thompson offer a well-informed and insightful audio commentary that covers the spotty history of the production. They discuss how this film loosely qualifies as a giallo and share their knowledge of similar films of the era. They share their thoughts on the director and where this picture fits in his filmography. They go on to talk about the cast and the limitations of working with an underage female lead in a sexy thriller.
The late Umberto Lenzi appears in the interview segment Porn Smugglers (24 minutes) in which he remembers his run-ins with producers and the changes they forced on the script. Other topics include stories of casting and the shooting locations as well as his influences and setbacks he faced as a director.
For international distribution, hardcore inserts were shot without Lenzi or his cast and those brief shots (2 minutes) are presented here with a few seconds of the surrounding scenes for context.
The original theatrical trailer has been included.
A collection of Mondo Macabro previews provide a look at other titles available from the company.
Grades:

Movie:


Video:
Audio:
Features:
Overall:
This page includes affiliate links where Horror DNA may receive a small commission at no extra cost to you.