Anna's Eve DVD Review
Written by Eric Strauss
DVD released by Maverick Entertainment
Directed by Kantz
Written by Grayce Wey
2004, Region 1, 90 minutes, Rated R
Starring:
Grayce Wey as Anna Liu
Chris Eckles as Jake Freeman
Clint Jung as Patrick Lam
Mae Hi as Vivian Kuo
Angela Landis as Jo Taylor
Cevin Middleton as Frank Richards
Review:
Anna's Eve is a thinking-man's horror story clearly inspired by recent Asian films and their American remakes.
The title character, Anna (Grayce Wey, who also wrote the script), is a social worker haunted by visions after suffering a breakdown when Michael, a child in her care, was murdered.
But when it seems a vengeful ghost — or is it a real person? — starts killing the people nearest and dearest to her, she must solve the mystery of what happened to Eve, the boy's mother, while avoiding slipping over the edge into full-blown insanity.
Of course, she's got the help of a handsome detective (Chris Eckles, a veteran TV actor) and the sometimes-help-sometimes-hindrance of an ex-husband (Clint Jung, another frequent TV guest star) — a psychiatrist who thinks he knows what's best for her.
Toss in a psychic, a sexy roommate, a teddy bear that wanders an apartment of its own volition and a homicidal wife-beater, and there's more than enough suspense, misdirection and mystery in Anna's life to please any avid fan of Asian-style psycho-horror.
Wey (The Long Bow Hunter) wrote herself an interesting role and generally carries it off well. Most of the other characters are one-note — slick cops, obsessive husband, manic abuser — and some actors come off better than others.
Jung's acting experience shows, while Eckles and Angela Landis (Bicentennial Man) — who plays Anna's roommate, Jo — both have an easygoing charm. On the other hand, Louie Klein (Creature Unknown), playing the abusive father of another child in Anna's care, is Wisconsin cheese all the way.
Meanwhile, the man in the big chair, Kantz, provides plenty of directorial sleight of hand, keeping the tension fairly strong and giving the film the feeling of Anna's tortured mind — leaving the audience wondering just like the star what's real and what's not.
It may not quite measure up to the best Asian horror — even if it rips off one scare directly from Ju-on and The Grudge — but it definitely makes for an entertaining poor-man's version.
Video and Audio:
The 1.66:1 video is acceptable despite the lack of anamorphic enhancement. The image is generally soft, but blacks are solid and there is little evidence of any compression issues.
Unfortunately, the same good things can't be said about the "simulated" 5.1 surround sound, which is extremely tinny and hollow-sounding. The track is front-heavy, too, with little use of the surrounds even during the most surreal scenes.
Maverick does the "simulated" surround on most of its releases, but none of the tracks I've heard are as poorly handled as this one.
By the way, don't be fooled by the Asian-horror feel and Asian stars — the film is American and in English. (Spanish subtitles are included.)
Special Features:
An audio commentary track features director Kantz, writer/star Grayce Wey and actor Lemar Knight, who plays a small (but somewhat pivotal) role as Marty Ross. It's a typical low-budget commentary, full of "here's how we pulled this shot off" moments and self-deprecating humor. Wey and Kantz are quite active participants, but (perhaps because of his limited role in the film) Knight doesn't have much to say.
There is an appealing teaser trailer for Anna's Eve, plus full-length trailers for Mr. Hell, VooDoo Curse, Death Clique and Tears of Kali, all of which look pretty good.
The DVD box lists deleted scenes among the extras, but they seem to be missing in action.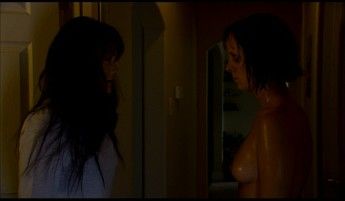 Grades:
Movie:
Video:
Audio:
Features:
Overall: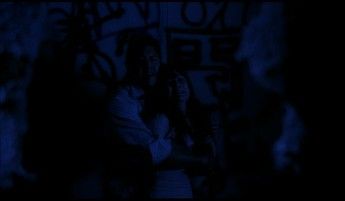 Conclusion:
The DVD has some A/V flaws — disappointing, given Maverick's fairly solid record — but the movie on the disc is a good one. Worth a couple of hours of your time, but maybe rent before you buy. And don't make the mistake of measuring it against bigger-budget foreign peers.
This page includes affiliate links where Horror DNA may receive a small commission at no extra cost to you.