Aquaslash Movie Review
Written by Ren Zelen
Released by Black Mandala
Written and directed by Renaud Gauthier
2019, 71 minutes, Not Yet Rated
Frightfest UK Premiere on 30th August 2020
Starring:
Nicolas Fontaine as Josh
Brittany Drisdelle as Priscilla
Nick Walker as Paul Wilkinson
Madelline Harvey as Alice
Review:
Although the opening scene teases some of the bloodletting to come, Renaud Gauthier's latest Canadian slasher, Aquaslash, doesn't really take itself too seriously, and that is just as well as much of it is quite absurd.
The story takes place on what is promised to be 'A weekend to die for' as the graduating class of Valley Hill High school prepares to celebrate with several days of drinking and debauchery at the Wet Valley Water Park.
Aquaslash proves to be a by the numbers slashfest. From the first scene you can tell who's going to get slain and probably in what order. We have the inevitable ropey acting, silly script and the usual array of unlikeable teens – the high-school bullies, princesses, jocks and nerds, plus a creepy old dude, in this case the park janitor, who gets to rub his grizzled beard while muttering about past deaths.
The water park location offers plenty of scope for showing naked skin, teen sex and girls getting foamy in wet t-shirts. Moronic drug and drink fuelled behaviour, numerous infidelities, and some bad parenting, combined with a lackadaisical attitude to safety by waterpark lifeguards, sets the scene for scores to be settled and for a multitude of bad things to come. As ever in the slasher formula, there is a price to pay for all this libidinous teenage naughtiness and lack of adult supervision.
The film's potential lies in the ingenuity in which Aquaslash might display using the location of a water park for many and varied modes of slaughter, but first we are required to wade through a turgid drama of interrelationships.
The park has seen better days and Paul (Nick Walker) the owner, is glad of the business. Paul however, is cheating on his wife Priscilla (Brittany Drisdelle) with a slutty drug-pushing high-school princess, while his wife Priscilla is cheating with greedy real-estate developer Michael Randall (Howard Rosenstein) who has his eye on buying up the failing water park for redevelopment.
Developer Randall also happens to be the absentee father of high-schooler Josh (Nicolas Fontaine), who heads up the class' 80s tribute band The Blades who are preparing to 'rock the party' with their music.
Josh is himself involved in a romantic triangle between old high-school flame Kim (Lanisa Dawn) who now works at the park, and her current boyfriend Tommy (Paul Zinno) the park manager, who is a controlling boyfriend and less than fond of his high-school customers.
There is a great deal of time wasting with complicated relationship shenanigans before we get to the mysterious killer who murdered the fornicating couple in the first scene. Eventually the killer gets around to inserting giant blades into one of the Park's feature water slides which are destined to open the following day and which will slice the horrid little high-schoolers into bits.
Unfortunately, the film doesn't live up to its slasher potential as the cross-blades are the only set up using the water park equipment. Personally, I was hoping for a little more ingenuity and variety of the Final Destination kind. The only tension builder is that as viewers, we don't know which of the slides (there are three) has been sabotaged, so initially we have to guess which team of unpleasant individuals is next to get the chop. It barely matters though, as we don't care for any of them.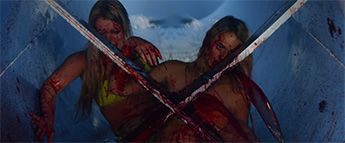 However, it's a long haul through the various story lines and relationship troubles of the shallow characters before we even get to the bloody set-piece that wraps up the movie, but when it does, it makes the most of it. The hopped-up kids are impervious to any warnings and too dumb even get out of the blood drenched water.
Quebec filmmaker Renaud Gauthier previously gave us his 2013 debut Discopathe, another slasher film concerning a killer who is triggered by disco music, and although Aquaslash has the feel of a 1980's horror parody, it isn't witty enough to pull it off. Instead, it proves to have a conventional slasher opening, then succumbs to focusing on a rather dull story and characters which are neither interesting or engaging.
Mercifully, the film has a running time of only one hour and eleven minutes, and if you last the distance, the final twenty minutes are devoted to the climactic slicing extravaganza and subsequent plot 'twist' revealing the killer. Aquaslash may have just enough sex and gore to satisfy a semi-inebriated teen crowd looking to view a not-very-demanding summer slasher, but not much else for the seasoned horror fan.
This page includes affiliate links where Horror DNA may receive a small commission at no extra cost to you.