At the Devil's Door Movie Review
Written by Richelle Charkot

DVD released by IFC Midnight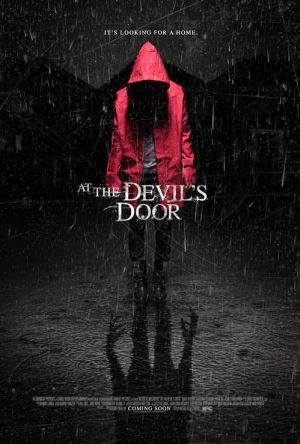 Written and directed by Nicholas McCarthy
2014, 91 minutes, Not rated
DVD released on September 12, 2014

Starring:
Ava Acres as Girl
Ashley Rickards as Hannah
Naya Rivera as Vera
Catalina Sandino Moreno as Leigh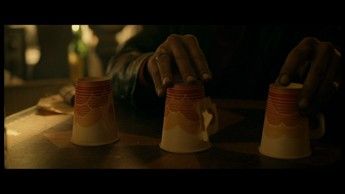 Review:
There are some arguable problems with the mainstream, modern horror genre. Often too dependent on jump scares that startle the viewer instead of anything that will leave a lasting effect, films that fall into this habit come off as calculated instead of inventive. If there is silence before something loud happens, the audience is going to be startled. It is easy and lazy filmmaking and it can be irritating for people who remember fonder days of staying up all night because they were terrified of one specific scene in better years for horror. At the Devil's Door, although guilty of a few uncomplicated startles, is primarily comprised of haunting imagery that brought a cold feeling over my skin and caused me to put my feet up on my chair in fear that something might grab my ankles. Although the plot bit off a little more than it could chew, it is forgivable for its multiple moments of genuine terror.
Hannah is a young girl who is in the midst of her first meaningful relationship. Convinced that she loves the boy she's with, she begins to think that she may want to 'take it to the next level' by losing her virginity to him. After her boyfriend asks her to play a quick round of the shell game with an older man because she can easily win $500, a smitten Hannah abandons the obvious peculiarities in the scenario and decides to go along with whatever her boyfriend says. She plays the game and is informed by the man that she has been chosen to go 'down to the crossroads' and announce her name so that 'He' knows her name when He calls for her. She doesn't know who He is, but she continues to play along and goes to the proposed spot, says her name, and then goes home. Shortly after the occurrence, Hannah becomes haunted by a ghostly darkness that followers her wherever she goes. After years have passed and the house that she once lived in goes up for sale, an unknowing real estate agent happens upon Hannah and unknowingly exposes her family to unimaginable horrors.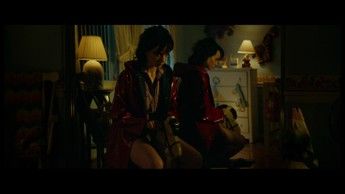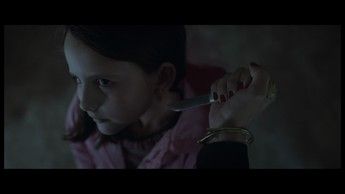 The one main issue with At the Devil's Door is that it tries to capture a lot of plot into 91 minutes. The Hannah plot line is captivating and Ashley Rickards' portrayal of the character is chilling to say the least, but after about 3/5th's into the film, a new development with a different character is introduced that could have been re-written to omit. Although it runs smoothly enough, it would have been tighter if the focus remained on Hannah and the realtor instead of the shift that does take place.
However, even with the above plot issue and a few instances of tired clichés, such as a scare happening shortly after someone looks in a mirror; the movie is still laden with creative and genuinely terrifying moments that make it a breath of fresh air in the current horror genre. At the Devil's Door is a great example of filmmakers who know that what keeps a viewer up at night is all of the smaller, biting moments of fright. While an extravagant display of ghosts and devils ripping apart a character can be certainly shocking, it's the little moments that lead up to it that keep a person on edge. Subtlety is a craft to be mastered in horror, and At the Devil's Door excels at it.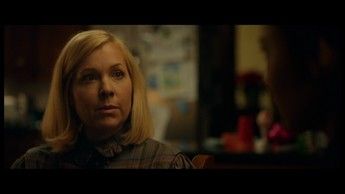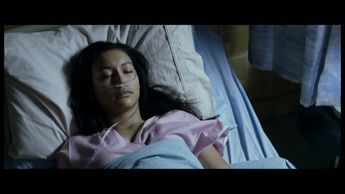 This page includes affiliate links where Horror DNA may receive a small commission at no extra cost to you.