Baron Blood Blu-ray Review

Written by Joel Harley

Blu-ray released by Arrow Video
Directed by Mario Bava
Written by Vincent Fotre
1972, Region B2, 88 minutes, Rated 18
Blu-ray released on 29 April 2013

Starring:
Joseph Cotten as Baron Otto von Kleist/Alfred Becker
Elke Sommer as Eva Arnold
Massimo Girotti as Dr. Karl Hummel
Rada Rassimov as Christina Hoffmann
Antonio Cantafora as Peter Kleist
Umberto Raho as Inspector
Review:
A young man visits Austria in the hope of checking out the more obscure branches on his family tree. There he visits the castle of an old Baron on his father's side. We've all got those embarrassing relatives we'd like to distance ourselves from, but most aren't infamous Barons who live in grand old castles.
Intrigued, Peter visits the castle, which is being redeveloped and turned into a hotel. He quickly learns that the Baron had been cursed to death by a witch he had burned at the stake. You have to watch your karma when it comes to dealing with witches and such. Reading aloud a certain incantation, Peter brings about the resurrection of his revolting relative. This isn't even an entirely unwitting action, as he admits to a certain fascination with the Bad Baron. As a pair of steely blue eyes stares at them through the darkness and the cobwebs, it's evident that the Baron is pretty interested in meeting him too. The Baron is back, and it doesn't take him long to get back into the swing of things.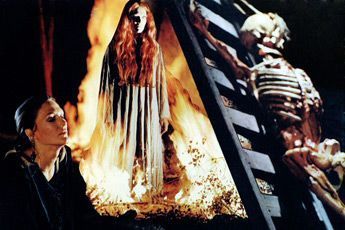 Director Mario Bava is considered one of the greats of horror cinema. While Baron Blood is not one of the director's best works, it is Bava at his most entertaining. The story is trashy and silly, the killer faintly ridiculous. With his scabby hands, cape and massive Witchfinder General-style hat, the Baron isn't a particularly scary figure, although his actions are nasty enough to win him some favour with the horror crowd. As the direction concentrates on the terrified faces of his victims and close-ups of his blade wielding hands, it all feels very Giallo. Grandiose castles, grotesque torture implements and woozy, surreal cinematography all contribute to a baroque mood - all impending doom and spooky dread.


When it comes down to it, Bava and the Baron are more interested in menacing poor Elke Sommer than Peter. They probably share the philosophies of Hitchcock and Argento, both of whom consider the distress of a beautiful woman to be among the most interesting things in the world. And, dodgy red hat aside, Sommer is a very beautiful woman. Elsewhere, none of the casting is particularly great, but it gets the job done. Little Nicoletta Elmi (who I remembered terrifying me with her face in The Night Child) makes a pronounced appearance, her awful performance among the worst child acting I've ever seen. In comparison, the adults are barely memorable. The whole film is more interested in style and imagery than acting, anyway.


Baron Blood is an interesting lesser work from one of horror's most acclaimed directors. It's eccentric, daft and not very scary. However, it's confidently directed, lovely to look at and full of character. The estranged relative to Bava's Black Sunday and Black Sabbath, it's a weaker work, but far from the black sheep of the family.
Video and Audio:
Another groovy Blu-ray transfer from the fine folks at Arrow Video. Those guys sure know how to get a horror fan hot under the collar. It looks and sounds fantastic, as these Arrow Blu-rays always do.
Special Features:
Another wonderful set of special features from Arrow Video gets you a commentary track, trailers, radio spots, and an introduction to the film by Alan Jones. In addition to a slideshow, in an interview with Ruggero Deodato, the cannibal maestro talks about Mario Bava and his movies.
Grades:

Movie:


Video:
Audio:
Features:
Overall:
This page includes affiliate links where Horror DNA may receive a small commission at no extra cost to you.