Basket Case 3: The Progeny Blu-ray Review
Written by Robert Gold
Blu-ray released by Synapse-Films
Directed by Frank Henenlotter
Written by Frank Henenlotter and Robert Martin
1991, 90 minutes, Rated R
Blu-ray released on August 9th, 2016
Starring:
Kevin Van Hentenryck as Duane
Annie Ross as Granny Ruth
Dan Biggers as Uncle Hal
Jim O'Doherty as Little Hal
Tina Louise Hilbert as Opal
Gil Roper as Sheriff Griffin
Denise Coop as Eve
Belial as Himself
Review:
The Bradley twins have been through a lot over the years, beginning with a traumatic surgery performed by callous doctors who forced the conjoined brothers apart. Once the siblings were older and able to track down the surgeons that operated on them, Duane and Belial delivered a bit of "private justice" that left a bloody trail of corpses in their wake. Following a failed murder-suicide attempt, the Bradley boys found themselves under the care of Granny Ruth at her remote home for "unique individuals". The brothers were understandably not on the best of terms, but while surrounded by new faces they each found themselves falling in love with special women. In the wake of a tragic accident, Duane suffers a psychotic break and is caught sewing himself back together with his traumatized brother! Now their story begins its final chapter and things are about to get really strange.
In the months following "the incident", a lot has changed at Granny Ruth's and the house is buzzing with excitement. Belial's girlfriend Eve is extremely pregnant and ready to go into labor at any moment. Small town America may not be ready for these "unique individuals", but their school bus is packed and ready to hit the road to visit Uncle Hal, who will deliver the child. Duane is confined to a straitjacket but allowed to join the others to witness the birth. The troupe is shocked to learn that Eve is carrying not just one baby – but twelve! The joyful celebrations are cut short following a murder, a kidnapping and an incarcerated Duane. Belial sets out on a new mission of revenge and retribution in order to save his family.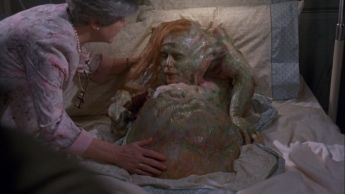 Writer/ director Frank Henenlotter (Bad Biology) returns to conclude his gonzo trilogy with a madcap adventure co-written by Robert "Uncle Bob" Martin, the original editor of Fangoria magazine. Basket Case 3 is all over the place, which is simultaneously brilliant and incredibly frustrating. A lot of ideas are thrown at the screen, but only a few are actually pursued beyond introduction. The writers don't know what to do with the numerous characters introduced in Basket Case 2, resulting in a lot of erratic behavior with many characters simply running around in circles to look busy. Most egregiously, Duane is dismissed to a subplot in a franchise he once headlined. Granny Ruth brings everyone to the only person she trusts with delivery, but Uncle Hal is out of the picture before he can do his job. "Little Hal" holds the most potential of the new characters but despite being touted as a genius, he does little more than wave his multiple arms and provide "comedic" commentary on the birth. Belial leads the grand finale, but most of the supporting cast members are strangely missing in action.
The creature make-up at times appears quite impressive, though occasionally you can clearly see the edges of the appliances. Belial is finally given a long-overdue makeover and looks the best he ever has on film, but is not even introduced until halfway through this sequel. Graphic violence does eventually return to the finale in a mixture of gruesome splatter effects and cartoonish over-the-top stylized imagery, but is too little too late in an unapologetically campy movie that starts with a musical number and plays down to its target audience. There was once talk of a fourth entry in the series to be titled Basket Case 2000, and this installment does indeed keep the door open for future adventures, but it appears Henenlotter really has run out of ideas. The sequels have their charm, but do yourself a favor and stick with the 1982 original.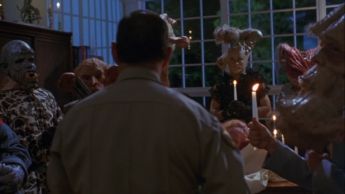 Video and Audio:
Basket Case 3 is presented in the original 1.85:1 aspect ratio and arrives with an all new Hi-Definition transfer from the original camera negative. The remaster provides a lot of detail missing from previous releases, but also reveals some of the budgetary limitations. Colors pop like never before and black levels have a deep saturation, but the freaks look rubbery and cartoonish without any of the--albeit limited--personality found on display in the earlier sequel.
The original audio recording is given a DTS-HD MA 2.0 track that gets the job done. Music and effects cues properly complement the dialogue levels and there is never any problem with hiss or distortion.
Special Features:
Synapse Films misses a great opportunity to celebrate the film's 25th anniversary with a litter of all-new extras, opting instead to include only the original trailer. Very disappointing.
Grades:

Movie:


Video:
Audio:
Features:
Overall:
This page includes affiliate links where Horror DNA may receive a small commission at no extra cost to you.