Bedevilled Blu-ray Review

Written by John Colianni

Blu-ray released by Well Go USA
Directed by Chul-soo Jang
Written by Kwang-young Choi
2010, Region A, 115 minutes, Rated R
Blu-ray released on October 9th, 2012

Starring:
Yeong-hie Seo as Kim Bok-nam
Seong-won Ji as Hae-won
Min-ho Hwang as Dodger
Ji-Eun Lee as Kim Yeon-hee
Jeong-hak Park as Man-jong
Review:
Revenge is sweet. Asian revenge films have always held a special place for me in my viewing adventures. Most of the plots focus on characters that have been wronged in the worst way imaginable. We immediately relate with their struggle and strife, watching and waiting for their breaking point to ultimately wash over them at full force. Revenge cinema a different type of horror that falls into our real world, free from the fiction of demons and supernatural serial killers. The situations, although some can be far-fetched, are plausible and quickly become the worst nightmare for the protagonists to handle. For moviegoers that are looking to experience something that is raw and real, look no further. And as for shock and cringe value, Bedevilled delivers in a way that makes every minute completely worth the wait.

The story starts out focusing on Hae-won, a Korean businesswoman who is slowly becoming unraveled between her stressful job at a bank and just being a witness to an attempted murder. As a direct order from her boss, she is instructed to take a leave of absence and collect herself. Since receiving urgent letters from a childhood friend, Hae-won decides to vacation to the rural island of Moodo, where her grandparents once lived. Upon her arrival, she is already looked down on poorly as being a business woman from Seoul who has no purpose being there. But the real horror focuses on her friend, Kim Bok-nam, who is constantly being belittled by the few inhabitants that live on the island. While all the men have become addicted to chewing weed and do nothing to contribute, Bok-nam is treated as their plaything and is used for manual labor by the older women of the island. After spending just a few days there, Hae-won sees the hardships Bok-man faces everyday but does nothing to help her friend resolve her struggles. Towards the end of the film, a chain reaction of events leaves Bok-nam completely unhinged, forced to do the unthinkable in order to try and escape Moodo Island.

What makes Bedevilled stand out from the Asian revenge films I've seen over the years is how visceral is. In many of the works I've watched, there is always a huge plot twist that leaves your jaw on the floor for hours on end. These are situations or events that we could never imagine experience in our own lives. This is not the case with Bedevilled. The characters are very real and the interactions that occur are raw and unapologetic. The pacing can sometimes be slow, so if you're someone who's looking for instant gratification and the blood to flow within the first hour, you may want to look elsewhere right away. But, if mommy and daddy happened to teach you that patience is a virtue, then sticking around until the very end has its rewards. Just as I did, you may ask yourself if you would have reacted in any similar circumstances if put into a similar situation.

Do yourself a favor and take the time to check out Bedevilled if you happen to be a film goer that craves to ingest raw and unforgiving story lines and characters who scarily mimic how horrible some people actually are in the world. While most people think that might make you an awful person for liking cinema for this, you should promptly remind them of all the countless hours they spend watching The View or anything on TLC or MTV, hope they take a look in the mirror a promptly cry themselves to death.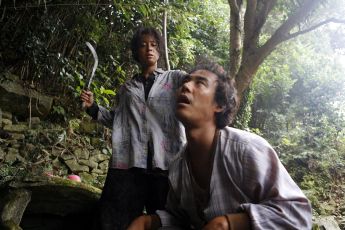 Video and Audio:

Bedevilled comes out on Blu-ray and is presented in 16:9 widescreen and looks pretty damn bad ass. Paired with 5.1 Korean DTS-HD Master Audio and Korean Dolby Digital Stereo, you'll be listening to all the characters you hate being cut down in clear, crisp awesomeness. For those of you who aren't versed in Korean, there are English subtitles for your viewing pleasure. And for the love of all that is good and just in the world, there isn't English dubbing. If you happen to enjoy dubbing of any kind, you're a giant tool bag and should get off your high horse. Learn to read and watch. Free your mind!
Special Features:
The behind-the-scenes featurette is pretty cool for anyone who is actually interested in the making of the movie. Since this shit happened to be enough like real life, it didn't make a damn bit of difference to check it out or not. Still, to see where Chul-soo Jang was coming from when the film was being made was interesting. Also, there's the official trailer for Bedevilled, just in case your friends thought you were watching another pathetic romantic comedy alone again on a Friday night.
Grades:

Movie:
Video:
Audio:
Features:
Overall:
*Note: The screenshots on this page are not a reflection of the Blu-ray image. They are promotional images.*
This page includes affiliate links where Horror DNA may receive a small commission at no extra cost to you.