Black Christmas DVD Review
Written by Robert Gold
DVD released by Critical Mass
Directed by Bob Clark
Written by Roy Moore
1974, Region 1 (NTSC), 98 minutes, Rated R
DVD Released on December 05, 2006
Starring:
Olivia Hussey as Jess Bradford
John Saxon as Lt. Fuller
Margot Kidder as Barbara
Keir Dullea as Peter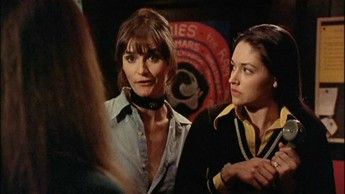 Review:
The Pi Kappa Sigma sorority house is decorated for Christmas and the girls are having a party before going home for the holidays. Meanwhile, an unseen intruder breaks into the house and takes up residence in the attic. Soon the festivities are interrupted by a series of obscene phone calls, beginning with heavy-breathing, and then escalating to the insane ravings of a deranged individual.
Jess Bradford is under the strain of the holiday and the creepy phone calls are not helping. Her boyfriend, Peter is a music major feeling the stress of his upcoming piano recital exam, but she adds to the weight by telling him that she is pregnant and wants an abortion. Peter is adamant that marriage and a baby are exactly what they need for happiness, and is devastated that Jess doesn't share his views.
When Claire (Lynne Griffin) comes upstairs to pack, she is suffocated with a plastic dry-cleaning bag and placed in the attic. Once she fails to meet her father (James Edmond) the next day, he checks with the sorority house and is taken to the police by sorority sisters Barb (Margot Kidder) and Phyllis (Andrea Martin), but no one takes his concerns seriously until it is revealed that a local high-school girl is also missing.
The missing girl's body is located in the park by a search party and the community is shocked. Phyllis returns to the police station with Claire's father and boyfriend Chris (Art Hindle), and speak with Lt. Fuller (John Saxon), who when informed of the situation takes special interest in the timing of Claire's disappearance, the victim in the park, and the house receiving threatening phone calls. Fuller sets a trace on the sorority phone and places an undercover cop at the house.
The unseen killer continues to torment Jess over the phone and identifies himself only as "Billy."She endures repeated calls while trying to work things out with her boyfriend, who ultimately storms off, leaving her alone to deal with the escalating chaos.
Black Christmas (1974) is a bleak picture that is strongest when focusing on an atmosphere of loneliness and isolation. The cast is quite impressive and many had not previously worked within the genre and all deliver solid performances. Olivia Hussey (Romeo and Juliet) stars as Jess, the complicated heroine who must resolve the growing suspicion that "Billy" may actually be her boyfriend. Keir Dullea (2001: A Space Odyssey) is mysterious and threatening as Peter, a man whose intensity is both off-putting and understandable given his situation.
Margot Kidder (Sisters) is the free-spirited Barb, a wise-cracking, hard-living woman who doesn't care what people think as long as she continues to have fun. The veteran performer on hand is John Saxon (Tenebre) who provides gravity to the situation as the well-meaning cop who may do more harm than good.
Bob Clark (Turk! 182) has assembled a fine team on both sides of the camera. The main location is so powerful that the house actually becomes a character, and Clark manipulates it as easily as its human counterparts. Roy Moore's script would be emulated by countless hacks over the following decades, yet he never returned to the genre. The unsettling and creepy score by Carl Zittrer amplifies the tension as the haunting chords enhance the overall experience.
The film is visually stunning in regards to the craft that went into presentation. Reginald Morris' cinematography is lush and filled with scenes composed of single takes that include both elaborate camera moves and often involve a variety of focus-settings that occur so unobtrusively as to go unnoticed. The camera rig worn by Bert Dunk providing Billy's POV while climbing ladders and allowing both hands to be seen within frame is both creative and, when employed with the wide-angle lens for the subjective camerawork of sequences of stalking and murdering his victims, completely unsettling.
The film falters when it strays from the genre, the weakest aspect being the forced interludes of comedy that drag the film to an awkward halt. Most egregious is the secret drinking of Mrs. Mac, the house-mother (Marian Waldman), a running joke that falls flat after the second appearance, becoming redundant and overbearing.
Additionally, the sequence of tracing phone calls feels bloated. The material is interesting, but the tension is broken every time the scene cuts away to the operator racing to track the incoming calls. The missing-student subplot adds to the sense of dread because it is balanced with the arrival of Claire's father.
Originally released in Canada to strong response, American distributors feared the title might be mistaken for a blaxploitation movie and released it as Silent Night, Evil Night. The film did not get much of an audience, but soon the original title and marketing campaign were utilized and the film received much greater success.
Countless slashers that followed focused on a pattern that implied the meek and pure win over the irresponsible when it comes to survival skills. Jess is a Final Girl who is quite strong and willing to put herself in danger in order to confirm the safety of her friends. She is never judged for wanting an abortion and is allowed to be a mature and thoughtful woman without being an irresponsible mess unlike so many other slashers that compartmentalized their characters.
Although Clark's movie came a full four years before Halloween (1978), John Carpenter's film is credited with opening the gates for countless slasher films that populated the 1980s and often polluted the 1990s. When A Stranger Calls (1979) and He Knows You're Alone (1980) are two examples of knock-offs that lifted directly from Black Christmas, but lacked Bob Clark's knack for successful storytelling.
Black Christmas has developed a substantial cult following over the last thirty years and so it was inevitable that it would be dragged into the Hollywood remake cycle. The best thing the remake brings to the table is the renewed interest in the 1974 original.
Bob Clark had previously directed Deathdream and Children Shouldn't Play with Dead Things before making this, his final horror film. He went on to make a number of comedies including Porky's and A Christmas Story. Whenever possible, he would hire many of the same cast and crew on movies over the four decades he worked in the industry.
Bob Clark and his son Ariel died in a car accident on April 4, 2007.
For additional information on all things Black Christmas, check out the official website.
Video and Audio:
Critical Mass has released this title three times on DVD. The first was a full frame mono offering that was soon replaced by the "Collector's Edition" featuring a non-anamorphic widescreen picture and 2-channel stereo sound mix.
The third time is the charm, as the "Special Edition" release comes with a digitally remastered picture presenting a 16x9 enhanced widescreen image in a comfortable 1:78 aspect ratio, with rich colors and deep blacks. There is a noticeable improvement to overall picture quality, although there is a fair amount of film grain throughout.
A full 5.1 surround sound mix is new to this release, making clever use of the surround channels. Original English mono and French dub options are also included.
Special Features:
This DVD offers the documentary The 12 Days of Black Christmas (20 minutes) narrated by Saxon and featuring new interviews with members of the cast and crew.
Three of the actors interviewed for the piece are featured in extended interview segments including Olivia Hussey (17 min.), Margot Kidder (22 min.) and Art Hindle (24 min.)
Recently discovered "sound takes" (3 min.) featuring missing audio from the film appear next.
Rounding out the presentation is a Q&A event (20 min.) featuring Clark, Saxon, and composer Carl Zittrer conducted following a special midnight screening of the film.
As fantastic as the "Special Edition" release is, there are a number of features on the previous "Collector's Edition" that are sadly absent. Commentary tracks featuring Bob Clark, John Saxon, and Keir Dullea, trailers, stills, and other marketing elements and the companion documentary Black Christmas Revisited have been removed without explanation.
Black Christmas is available on Blu-ray, but only the features from the "Special Edition" release have carried over. Hopefully an "Ultimate Edition" will arrive, combining all the extra materials.
Grades:

Movie:


Video:
Audio:
Features:
Overall:
Day 12 of "Robert Gold's 12 Days of Christmas".
Day 1: Tales from the Crypt's And All Through the House
Day 2: To All a Good Night
Day 3: Silent Night, Deadly Night Part 2
Day 4: Jaws: The Revenge
Day 5: Christmas Evil
Day 6: Psycho Santa / Satan Clause Double Feature
Day 7: Santa Claws
Day 8: A Christmas Tale (aka Cuento de Navidad)
Day 9: Elves
Day 10: Dead End
Day 11: Santa's Slay
Day 12: Black Christmas (1974)
This page includes affiliate links where Horror DNA may receive a small commission at no extra cost to you.