Black Christmas Season's Grievings Edition Blu-ray Review
Written by Robert Gold
Blu-ray released by Anchor Bay Entertainment Canada
Directed by Bob Clark
Written by Roy Moore
1974, 98 minutes, Rated R
Blu-ray released on November 24th, 2015
Starring:
Olivia Hussey as Jess Bradford
John Saxon as Lt. Fuller
Margot Kidder as Barb
Keir Dullea as Peter
Andrea Martin as Phyl
Marian Walderman as Mrs. Mac
Art Hindle as Chris
Lynne Griffin as Clare Harrison
James Edmond as Mr. Harrison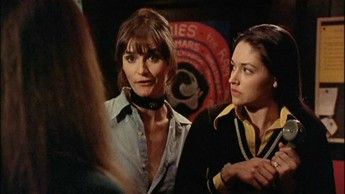 Review:
Black Christmas ranks highly on my list of non-traditional seasonal films and honestly, it rivals Die Hard for most watchable and recommended. In 2009, I reviewed the DVD Special Edition release of this horror classic as part of an assembled collection of holiday horror movies loosely titled "The 12 Days of Robert Gold". Portions of that original review will appear below, as my thoughts on the film have not changed, but I would like to take the opportunity to add a second helping of love to this terrifying tale.
Black Christmas (1974) works best in its simplicity. A murderous psychopath stalks sorority girls during the holiday season; his identity and location remaining elusive to both the potential victims and the police trying to stop him. Building on the energy of proto-slasher titles like A Bay of Blood and Blood and Lace (both 1971), director Bob Clark (Deathdream) furthers the evolution of the budding subgenre by laying the groundwork for countless imitators to follow over the next decade, which would come to be known as the golden age of slasher films (1974-1984). In an interesting approach to the material, the audience is given first-person perspective of the killer. We not only know the threat is real, but we are shown firsthand where the maniac is hiding before the girls even suspect they are in any danger. As intimate as the relationship to the murderer becomes, we only catch isolated glimpses of his identity.
The holiday season usually arrives with a wave of good cheer, but this year the girls of Pi Kappa Sigma are suffering a blue Christmas. Jess and Peter are feeling the added pressure of an ill-timed pregnancy on an already strained relationship, Barb's family life sends her spiraling into depression and Claire has completely disappeared. Further agitating the situation, the house is receiving obscene phone calls beginning with heavy-breathing, and then escalating to the insane ravings of a deranged individual. Adding to the glum spirits are reports that a local teenage girl has gone missing in the cold, and the community is organizing to help police search. Claire's father is on hand to assist, but his own daughter's absence is a growing concern. The killer identified only as "Billy" steadily increases his body count and continues to taunt Jess by phone while the police struggle to keep up.
Bob Clark expertly manipulates viewers by upturning conventions and painting a positively bleak portrait of the Christmas spirit. The coup for this dark tale is the stellar cast led by Olivia Hussey (Romeo & Juliet), Margot Kidder (Sisters), Keir Dullea (2001: A Space Odyssey) and John Saxon (Enter the Dragon). Taking the time to develop these characters' traits pays off, as they become more than simple archetypes waiting for slaughter. Jess is not the typical Final Girl, dependent upon a man to rescue her from danger. She is pregnant with Peter's child but wants neither, and his reaction to her decision is a tantrum, but his pain is sincere. Barb is a tough-talking hard-ass for the majority of the picture, but appears vulnerable in the wake of an asthma attack that also allows Jess to appear maternal as a care-giver. Even Lt. Fuller is given a few moments to relax and have a few laughs at his naïve deputy's expense. These touching moments are all the more wrenching when Clark pulls the rug out from under everything with the revelations in the final shot, and the lingering question of what will happen next.
The film is visually stunning in regards to the craft that went into presentation. Reginald Morris' cinematography is lush and filled with scenes composed of long single takes that include both elaborate camera moves and often involve a variety of focus-settings that occur so unobtrusively as to go unnoticed. The camera rig worn by Bert Dunk providing Billy's POV while climbing ladders and allowing both hands to be seen within frame is both creative and, when employed with the wide-angle lens for the subjective camerawork sequences of stalking and murdering his victims, completely disturbing. The unsettling and creepy score by Carl Zittrer (Prom Night) amplifies the tension as the haunting chords enhance the overall experience. Roy Moore's script would inspire many knock-offs over the following decades, yet he never returned to the genre. Moore's efforts are solid, but he does miss the mark occasionally with an over-reliance on a comedic subplot involving the secret drinking of Ms. Mac, the sorority house mother.
Black Christmas truly is a haunting picture that will stick with you long after the lights come up at the end of the show. There are many original elements on display that would become par for the course and even cliché to the slasher genre, including the use of "killer POV" shots. Many subsequent pictures owe a huge debt to Bob Clark's masterpiece, including When a Stranger Calls (1979) and He Knows You're Alone (1980), but both of those lack his storytelling ability. John Carpenter's Halloween (1978) is the most closely associated film with the launch of the slasher craze, despite arriving four years after Clark mapped the territory. All of these films are wonderful in their own right and can be traced back to earlier efforts. I am glad that with this new deluxe edition, Black Christmas is finally getting some much-deserved respect.
Video and Audio:
This new edition features a solid transfer that improves on the picture quality of previous releases. Presented in the original 1:78 aspect ratio, there is a lot of detail in this image and both colors and black levels are strong. There are still flaws in the source material including some dirt and light scratches, but this is the best I can imagine Black Christmas looking until someone opts for a total remaster.
The Dolby Digital 5.1 mix is a nice one that makes clever use of the surround channels. Dialogue and music levels are well balanced and free from distortion.
English subtitles are provided for anyone in need.
Special Features:
Longtime fans will be happy to learn that this "Season's Grievings" edition of Black Christmas assembles all previous extras and adds even more gifts under the proverbial tree for this long overdue deluxe release.
Black Christmas Legacy (40 minutes) offers a look back on the forty-year-old film, mixing new and archival interviews with several participants, including actors Nick Mancuso, Lynne Griffin, Margot Kidder, Olivia Hussey, composer Carl Zittrer and director Bob Clark. Contemporary journalists and fans of the film share their thoughts on this early slasher's influence on the genre. This retrospective was directed by fellow Canadian filmmaker George Mihalka (My Bloody Valentine).
40th Anniversary Reunion Panel (18 minutes) was recorded at Canada's 2014 Fan Expo, and is moderated by Paul Corupe (Canuxploitation.com) and features Lynne Griffin, Art Hindle, John Saxon and Nick Mancuso. Hindle and Mancuso dominate the panel, while Saxon mostly listens.
An all new commentary with the psychotic Billy (Nick Mancuso) titled Billy is Watching gets old pretty quick but is a nice addition.
A photo gallery (1 minute) of promotional items plays to the haunting carol Silent Night. Items include international poster art, lobby cards and newspaper advertisements.
The original script with handwritten notes can be downloaded via BD-ROM drive.
The original theatrical trailer featuring the inimitable James Mason as narrator runs an impressive four minutes in length and manages to reveal a significant amount of plot. A German import trailer is also included and runs a similar length, but sans Mason.
Returning from previous releases is a pair of audio commentaries, the first with Bob Clark, who fills the session with information both scene-specific and anecdotal. His self-effacing humor is a welcome touch, but he clearly takes the work seriously. The second commentary features the mighty John Saxon and Keir Dullea. Recorded separately and edited together, their thoughts and reflections reveal their very different approaches to the material.
Black Christmas Revisited (36 minutes) is a well-made retrospective piece featuring Lynne Griffin and Art Hindle touring locations on the film's thirtieth anniversary. Interview segments with assorted members of the cast and crew include producers Gerry Arbeid and Victor Solnicki, director Bob Clark, actor Keir Dullea, John Saxon and composer Carl Zittrer , production designer Karen Bromley and camera operator Bert Dunk.
The 12 Days of Black Christmas (20 minutes) is narrated by Saxon and features interviews with Marot Kidder, Doug McGrath, Lynne Griffin, Olivia Hussey, John Saxon and Art Hindle. This segment was created to celebrate the film's twenty-fifth anniversary and is very informative and entertaining.
A collection of extended interviews, largely from the above segment, including Olivia Hussey (17 minutes), Margot Kidder (22 minutes) and Art Hindle (24 minutes), are presented in their entirety. Also on hand are separate segments with Bob Clark (25 minutes) and John Saxon (13 minutes).
A special midnight screening of the film was followed by a Q&A event (20 minutes) featuring Clark, Saxon, and composer Carl Zittrer, each offering wonderful reflections on their work and the lasting legacy of the film.
Recently discovered sound takes (3 minutes) featuring missing audio from the film appear in a pair of clips titled Trellis Climb and Final Pan. These elements were discovered while technicians were preparing the 5.1 surround mix for the 30th anniversary DVD release.
Three TV spots and two radio ads provide a glimpse into the mainstream marketing campaign.
Grades:

Movie:


Video:
Audio:
Features:
Overall:
This page includes affiliate links where Horror DNA may receive a small commission at no extra cost to you.