Black Death Movie Review
Written by James Ferguson
Distributed by Magnet Releasing
Directed by Christopher Smith
Written by Dario Poloni
2010, 102 minutes, Rated R
Movie released on March 11th, 2011
Starring:
Sean Bean as Ulric
Eddie Redmayne as Osmund
Carice van Houten as Langiva
Kimberley Nixon as Averill
John Lynch as Wolfstan
Tim McInnerny as Hob Tim
Review:
Today we think of the Bubonic Plague as a joke. We're so far removed from it that it's something we can barely comprehend. Black Death sets out to show you how terrifying this time period was and the pestilence wasn't the only thing that was scary. Set in the year 1348, Black Death follows Ulric (Sean Bean), a knight in service to the bishop, as he sets out to find a village in the north that is untouched by the plague. It is the church's belief that the village is now run by a necromancer who has forsaken the Lord. Ulric and his men aim to put a stop to this heresy.
Along the way, they pick up Osmund (Eddie Redmayne), a young monk who is sure of his loyalty to God but also his loyalty to a woman. Osmund sends his love, Averill (Kimberley Nixon), away after some of the monks in the monastery come down with the plague. He's torn between his duties to God and to Averill. He sees Ulric's appearance as a sign that he must go.
As the group travels north, a sense of foreboding fills the air. These men are marching towards what could very likely be their ultimate demise. They do this without fear and in the name of the Lord. Along the way they pass some villagers that are about to burn a woman accused of being a witch. Osmund intervenes in an effort to save her, but it is Ulric that gets her down from the stake only to kill her with his sword. In the eyes of Ulric, God has set them on a mission and this is only delaying them from reaching their goal.
When the knights finally reach the village, they are unprepared for what they encounter. The people are safe from the plague and everything seems pleasant. There's something slightly off, though, as if things are too perfect. They soon find out why and the truth changes all of them.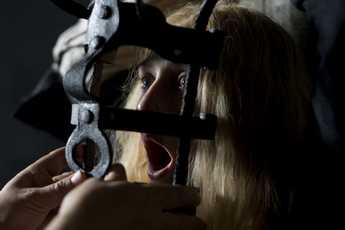 In many ways, Black Death sits squarely on the shoulders of Sean Bean. He's been attached to the film for years while the producers looked for financing. His performance is very strong, but he's often overshadowed by Redmayne, John Lynch (who plays fellow knight Wolfstan) and Carice van Houten (who plays Langiva, the head of the village). These three steal each scene they're in. Redmayne's Osmund walks a fine line between being a man of God and being a monster, constantly trying to decide what is right and wrong. Meanwhile, Wolfstan is the level-headed right hand man to Ulric. He's the voice of reason and the man you'd want to have your back in a fight. Ulric leads the group from a distance but Wolfstan is with them in the trenches. Finally, Langiva is something that is unheard of in this time period: a strong female leader. She oversees the village and rules with a powerful voice. She's also often dressed in vibrant colors which pulls your attention to her whenever she appears on screen as this is a stark contrast to the drab clothing worn by the rest of the cast.
Black Death is far from a feel-good film. This is a dark story that is filthy. I don't mean that in terms of "adult themes." I mean that these people are just unclean. You can feel the grime under their fingernails and the dirty that's been on their faces for days. This was an era filled with despair but also a time of religious intolerance. These men set out on this journey to kill a group of people because they've denounced their God. The end result challenges their core beliefs and will have you questioning what is right and wrong.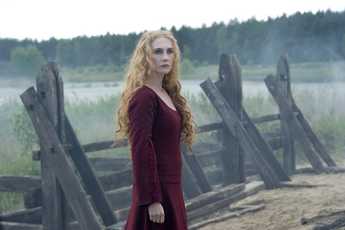 Photos courtesy of Magnolia Pictures.
This page includes affiliate links where Horror DNA may receive a small commission at no extra cost to you.