Black Devil Doll DVD Review

Written by Robert Gold

Official Site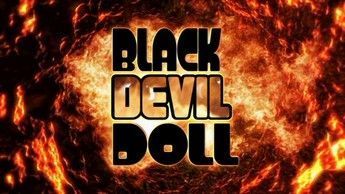 Directed by Jonathan Lewis
Written by Shawn Lewis and Mitch Mayes
2007, Region 0 (NTSC), 73 minutes, Not Rated
DVD released on October 27th, 2009

Starring:
Heather Murphy as Heather
Natasha Talonz as Natasha
Christine Swendsen as Candi
Precious Cox as Bambi
Martin Boone as White-T
Review:

Heather (Heather Murphy) has recently broken up with her delinquent boyfriend White-T (Martin Boone) and turns to the supernatural for solace. She plays with a Ouija board on the night a notorious prisoner is executed, mayhem ensues as his soul is transferred into her ventriloquist dummy. Sex-crazed and psychotic, the Devil Doll demands more women once our heroine proves unable to satisfy his needs. Heather invites over some friends and is urged to disappear for a few hours so the doll can have some privacy. Once she is out of the picture, the doll's games begin and the fluids are flowing.

The house is soon filled with annoying women playing Twister and taking showers. What follows are a series of loosely connected scenarios that pair the doll with a naked girl that he can fuck and then kill, or kill and then fuck. Jealous ex-boyfriend White-T shows up long enough to be sodomized and paid in cigarettes in one of the few jokes that succeed, but only because prison humor makes me chuckle.

In 1984, Chester Turner made a film called Black Devil Doll From Hell, that featured a sex-crazed killer black doll in the lead. The Lewis brothers complain on their commentary track that they are sick of people comparing this project to his, since the two share nothing in common (except 3 of 5 words in his title and a horny black doll!). It is true that the Turner film is limited in appeal, but it deserves more credit than given, since the core elements are the same and the Lewis brothers have made a clumsy grab at making something entertaining by standing on the shoulders of a forgotten filmmaker. Turner receives a special thanks credit buried among a list of random people in the last 30 seconds of the closing titles.

The Lewis brothers' Black Devil Doll spends the majority of the running time trying desperately to offend viewers. While the ravenous fan-base may jump to defend the film by saying that those who don't like it are either unable to take a joke or just don't get it, I have to call bullshit because this is a turkey of a creation. While the idea is gold, the delivery is amateurish and boring.

73 minutes have never passed so slowly as is the case here where an anorexic script is padded with ample use of both montage and music video. The non-actors struggle to deliver their lines in a campy-fun way that will please some, but the gag wears thin quickly. Black Devil Doll needed a more ambitious script that pushed the envelope beyond scatological content and gratuitous d-cups. Instead, we get a Richard Pryor knock-off telling lame dick jokes.

Stephen Romano's poster art is the best part of this movie. His gift as an artist who can capture the dirty vibe of retro-cinema is obvious to anyone lucky enough to check out his book Shock Festival. The artwork is eye-catching and continues to pop up on numerous low-budget titles, including the superior Murder Loves Killers Too.

John Osteen, credited as cinematographer, editor, visual effects artist and titles designer deserves special mention, as he is clearly responsible for keeping the project on track and ultimately watchable. Hopefully he will enjoy a successful career far away from the Lewis brothers, because he is clearly the most talented member of this production. Osteen's commentary is both informative and entertaining.

The Lewis Brothers are quite shrewd in the marketing of their film, going so far as to include an extensive list thanking every website, magazine and critic that gave positive press along the way.

The hype surrounding this title is totally unjustified and signals another example of the cool-kids internet bandwagon that elevates expectations beyond reasonable levels and by the time audiences leave disappointed, they've already spent their money.
Video and Audio:

The disc arrives with a 1:78 anamorphic transfer that is nothing to brag about. The low-budget shows its limitations as the picture is soft and unimpressive, although the sequences shot on the more professional grade HD Red camera stand out as sharper with better depth and richer blacks.

The audio fares slightly better, while the music is rich and full, the dialogue is at times muddled and lost within the effects.
Special Features:

The amount of extra material on this DVD is impressive, starting with five commentary tracks: Cast commentary, crew commentary (featuring John Lewis, Shawn Lewis and Mitchell Mayes), a technical commentary (with John Osteen and Mitchell Mayes), a fan commentary (guys who went out of their way to track festival screenings), and finally a commentary from the Devil Doll himself.

An audience reaction track recorded at the Hollywood premiere is also offered to support the argument that the film is more entertaining when viewed with a crowd.

There are a series of short video clips including footage from the Hollywood premiere, and a convention clip intro featuring the doll.

Up next is a short interview with John Lewis for the Netherworld Videozine.

Three animated shorts appear next, two featuring the doll vs. video piracy and the ratings board, followed by a short with President Obama and the KKK.

Two still galleries containing production and publicity photos offer additional glimpses of Romano's work, followed by a set of promotional trailers to round out the DVD package.


Grades:

Movie:


Video:
Audio:
Features:
Overall:
Conclusion:

The opening title card promises "A Lewis Brothers Fiasco" and it delivers in spades.
This page includes affiliate links where Horror DNA may receive a small commission at no extra cost to you.