Black Santa's Revenge Movie Review
Written by Robert Gold
A Badazz Mofo Release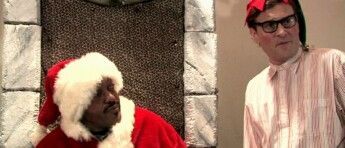 Written and directed by David Walker
2007, Region 0, 20 minutes, Not Rated

Starring:
Ken Foree as Black Santa
Todd Robinson as Melvin
Danny Bruno as Detective


Review:
Black Santa (Ken Foree) works at the local community center listening to underprivileged children's Christmas wishes. When gang members steal all the toys and police are unable to correct the situation, Black Santa takes the law into his own hands and tracks down the thieves to exact his revenge.
It is difficult not to enjoy a movie with a plot this straightforward. Indeed the filmmakers have thrown everything they've got at the screen and the results are uneven, but quite fun. The key ingredient here is fan favorite, Ken Foree — a familiar genre face. Foree carries the film from the initial setup to the explosive finale on his broad shoulders.
He portrays a decent man who wants to do right, despite his own personal demons. Foree's character is placed in enough situations to give the character a depth that unfortunately none of the supporting cast share. Everyone else is reduced to one-dimensional cutouts that are acceptable within the material, but more glaring when placed next to the only character the filmmakers care about — Black Santa.
Based on a comic book and billed as a "mini epic," Black Santa's Revenge is a kinetic piece of work that feels like the investors' fundraising trailer that it is. Should this short be expanded into a feature length film? Probably not, but the idea easily sustains the provided running time.
There is enough blood and violence to satisfy the genre lover's appetite, and a decent amount of nudity for the sports fans in the audience. Some of the special effects are lacking, but all are serviceable. As a short this manages to hit all of the marks, but in the end the film suffers from poor pacing. The editing is spotty at times and transitions are weak, resulting in a vibe of being unfinished that may simply be due to a lack of coverage.
The official website provides additional information on how the film came to be. Copies of the film are available through the site both on DVD and via digital download.
Audio, video and special features will not be reviewed as this is a screener.
Grades:

 

Movie:
Video:
n/a
Audio:
n/a
Features:
n/a
Overall:
Conclusion:
David Walker delivers an enjoyable film that is frustrating in that it leaves the audience wanting more. I wish the filmmakers had better used the time they had in case a feature length version never happens. This is not a bad way to spend 20 minutes…it just isn't exactly what I wanted for Christmas.
© 2009 Horror DNA.com. No use of this review is permitted without expressed permission from Horror DNA.com.