Blood Bags Movie Review
Written by Joel Harley
Released by High Octane Pictures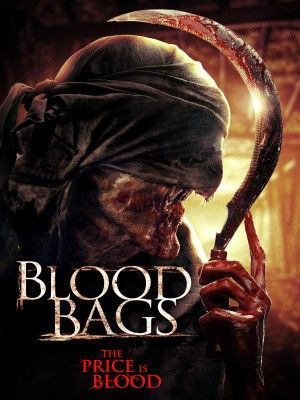 Directed by Emiliano Ranzani
Written by Emiliano Ranzani and Davide Mela
2018, 83 minutes, Not Rated
Released on December 3rd, 2019
Starring:
Makenna Guyler as Tracy
Emanuele Turetta as Alex
Marta Tananyan as Petra
Alberto Sette as Vittorio
Review:
Nosey photography students get themselves into a bind while creeping around an isolated old mansion in Turin. Attacked by a bloodthirsty bloodsucker straight out of Nosferatu, pals Tracy and Petra come to realise that this creepy old mansion is nowhere near as uninhabited as they had thought. Boasting a gnarlier take on vampire mythology than most, Blood Bags attempts to ground its bloodsuckers in realism (via the medical condition Gunther's Disease, from which the vampire mythology is said to have originated) while burying them in grotesque prosthetics. Vampirism hasn't looked this hideous since What We Do in the Shadows' Petyr.
Makenna Guyler (recently seen in the similarly splattery Barge People) plays American-abroad Tracy, who seems to end her every scene either being knocked on the head or dragged off into a dark room with a hand clamped over her mouth. She handles the torrents of abuse well, an anchor for the audience during the film's slower, duller moments. Of which there are more than a few during the first half. Consistently acted and atmospheric as it may be, Blood Bags takes most of its first hour to really get going, following about excess characters and subplots that never really seem to go anywhere.
And then Tracy gets dragged off into a dark room for the first time, and the film starts to get a bit juicier. The star of film is really the use of prosthetics and practical effects. While it isn't especially gory or violent (and certainly not by the standards of Barge People), its monsters look genuinely impressive, and are used with enough restraint that viewers shouldn't be bored or overexposed by the end. The story keeps the tension level high by throwing a variety of threats at Tracy, distressing this poor damsel left, right and centre. All this, without feeling gross or exploitative. Its twists are fresh and largely unpredictable, and the film really comes into its own during the final stretch, when the special effects get to take centre stage.
Director Emiliano Ranzani imbues his feature debut with heaps of atmosphere, and the thing is well-shot in spite of the obviously low budget. This is an impressive first feature film, even if its pacing issues suggest that Ranzani and co-writer Davide Mela did struggle with filling an 83 minute runtime.
Blood Bags is an engaging new take on the vampire mythology with a charming Italian twist. An evocative work of Gothic horror crossed with a gloopy slasher flick, it juggles its various influences well, bolstered by a standout performance from its rising star and heroine. It may suffer from mild anemia towards the beginning, but makes a quick and full recovery by the end.
This page includes affiliate links where Horror DNA may receive a small commission at no extra cost to you.