Bloody Hell Movie Review
Written by Stuart D. Monroe
Released by The Horror Collective
Directed by Alistair Grierson
Written by Robert Benjamin
2020, 93 minutes, Rated R
Released on January 14th, 2021
Starring:
Ben O' Toole as Rex Coen
Meg Fraser as Alia
Caroline Craig as Mother
Matthew Sunderland as Father
Travis Jeffrey as Gael / Gideon
Jack Finsterer as Uncle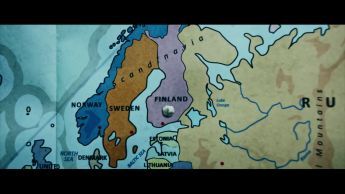 Review:
When you're looking for the sweet spot in the horror-comedy subgenre, you'd do well to start far south of the equator in Australia and New Zealand. Maybe you're digging on a recent gem like Two Heads Creek, Nekrotronic, or Housebound. Perhaps something more classic like the early works of Peter Jackson or the Spierig Brothers' 2003 debut, Undead, is your style. Whatever you choose, the flavor down under is unlike anywhere else in the world.
In short, I'm always down for some Aussie madness, so Bloody Hell was on my radar for a while. It did not disappoint.
Rex (Ben O'Toole; Nekrotronic) is a former soldier who has just gotten out of the clink after serving an eight-year stint. He foiled a bank robbery by killing the robbers with their own weapons; unfortunately, his heroic actions resulted in the death of an innocent women. Now he's a famous and polarizing figure everywhere he goes- is he a hero or a vigilante? He decides to leave America for anywhere else in the world, so he spits a spitball at a wall map and hits Helsinki, Finland. Upon his arrival, however, he's kidnapped by locals and awakens to find himself minus half of his right leg, hanging from a hook by his wrists. He's visited by multiple members of an insane family of cannibalistic Finns, but the most intriguing is Alia (Meg Fraser), the stunningly beautiful young daughter who just wants away from all the killing. Can Good Rex and Bloodthirsty Rex agree long enough to help Alia, or should he just kill everyone?
Ben O'Toole is so much damn fun to watch here that they literally put him on-screen twice. Think Carla Gugino's double duty in Mike Flanagan's masterful adaptation of Stephen King's Gerald's Game or Hal Holbrook in Creepshow, and you're in the right ballpark. For a movie like Bloody Hell and a character like Rex Coen, however, you must up the unpredictability about a thousand times. Rex isn't the brightest guy in the room, honestly, and both incarnations have their shortcomings. And yet, both versions are absolute survivors who will do absolutely whatever needs to be done in the moment in order to survive. He's essentially a poor-man's John Wick, a PTSD-riddled dude with a taste for violence a serious fuck you attitude.
The violence is put out in concentrated bursts of action movie styling and horror movie gore. That's always a fun combo, especially with the shaky and hyper-intense camera work by Brad Shield, whose second-unit credits include monster hits like Spider-Man: Homecoming and The Avengers. The dialogue is riddled with witty banter and even includes a running pronunciation joke that hit home with this grammar Nazi. Bloody Hell is also a standard template fairy tale – the story of the young woman who wants nothing more than to be saved by a hero from her evil family. In that regard, it also works quite well. Alia is no princess to her family, but she's still prized nonetheless and heavily protected. You won't mistake it for a children's story that any sane person would tell their child (which means my daughter definitely would have heard it growing up), but the tale itself is as old as time.
The titular insane fairy tale family is a hodgepodge of fairly bland archetypes, but the centerpiece is older brother, Pati. He's the monster who remains heard but not seen through ninety percent of the film. While he's still a pretty nasty bastard, I was honestly expecting something even more horrifying after those wonderfully crunchy noises. It's a bit of a missed opportunity to have a truly signature monster for the opening film of what is planned to be a trilogy, but that's the only real drawback to a new Aussie gem that is, simply put, a pretty fucking fun flick from start to finish. From violent gunfights to nail-gun massacres to a classic weapon selection montage (complete with anal beads!) to an orgy of violence finale as tightly shot and presented as any early Tarantino, Bloody Hell is starting off 2021 with a high bar.
This page includes affiliate links where Horror DNA may receive a small commission at no extra cost to you.