Bubba Ho-tep DVD Review
Written by Steve Pattee
DVD released by MGM
Directed by Don Coscarelli
Screenplay written by Don Coscarelli based on a short story by Joe R. Lansdale
2002, Region 1 (NTSC), 92 minutes, Rated R
DVD released on May 25th 2004
Starring:
Bruce Campbell as Elvis Presley/Sebastian Haff
Ossie Davis as John F. Kennedy
Ella Joyce as The Nurse
Heidi Marnhout as Caly
Bob Ivy as Bubba Ho-tep
Movie:
Elvis is alive and well and living at the Mud Creek Shady Rest Convalesence Home in Mud Creek, Texas.
Apparently, many years ago, he got tired of living the rock-star life and switched places with an Elvis impersonator. A contract was signed and everything. However, only Elvis and the impersonator knew about the deal.
Then, the fake Elvis died on the toilet and the real Elvis lost the contract in a freak BBQ explosion.
So now, instead of living out his days at Graceland, he is stuck in a retirement home — with bad hips, a growth on his cock and not a soul around who believes he is the King.
A loner at the home, Elvis has only one friend.
JFK.
Yes, the JFK. President John Fitzgerald Kennedy.
Apparently, after the botched assassination attempt in 1963, the government filled Kennedy's head with sand, dyed him black and hid him. Just like no one believes Elvis, no one believes he is JFK.
In addition to Elvis and JFK, another personality is roaming the old folks' halls.
Bubba Ho-tep.
Or, more literally, Redneck Mummy.
With his cowboy duds and trained scarab beetles, Bubba has been killing off the old-timers and sucking out their souls in order to give him life. But Elvis and JFK are onto his game — and they intend to stop him.
Review:
Bubba Ho-tep is a movie that defies easy description. It's not really a horror movie, because there are too many comedic situations. It's not really a comedy, because of the dramatic situations. It's not really a drama, because it has a mummy. Ho-tep can only be described as a "horror dramedy." It could literally fit into about any genre on the shelves at your local video store.
Cult favorite Bruce Campbell (Evil Dead, Army of Darkness) delivers the performance of his career as Elvis Presley. Campbell becomes Elvis. When playing someone like Elvis, there is a fine line between patronizing the legend and doing it well, and Campbell does the latter. When I first saw Bubba Ho-tep, I actually forgot I was watching Campbell as Elvis because the character so engrossed me. This is a hard thing for Campbell to pull off, because his charismatic nature usually never lets you forget who you are watching underneath the character. However, this role is the most subtle I have ever seen Campbell — and his performance is brilliant.
Veteran actor Ossie Davis ("The Stand," Malcom X), as JFK, was another excellent casting decision. The fact that JFK is alive — and black — is set aside because, like Campbell, Davis delivers an amazing performance. Sure JFK is dead, but if he were alive, I'm convinced he would be a black man living in a retirement home in Texas. With sand in his head.
Ella Joyce, the nurse who takes care of Elvis' "problem," brings humor to the screen every time she shows up. Her sassy, no-nonsense attitude is exactly what you would expect to find from a nurse in Texas. Throw in a cameo by Don Coscarelli favorite Reggie Bannister (Phantasm), and this is an all-around wonderful cast.
Complementing the acting of Davis and Campbell is the bond their onscreen characters form. Forced together to fight evil, Elvis and Kennedy form a touching — and sometimes poignant — relationship. One of the best scenes in the movie is when Kennedy tells Elvis he believes he is Elvis. No one else believes he is really Elvis, but Kennedy does. Elvis may not necessarily believe JFK is a black man, but Kennedy's belief is enough to solidify their friendship.
Ho-tep is a solid movie, but it's the relationships between the characters that really shine. It is so much more than a monster movie because it displays such a wealth of human emotion, not often seen in movies centered around evil. If the actors involved were of any lesser caliber, the movie would not nearly be the powerhouse it is. More than a story of two men going up against a mummy; this is a tale of two men who, despite differences, bond together for friendship and companionship — and battle a common enemy.
Video and Audio:
A startlingly good picture, especially considering Ho-tep was not a "blockbuster." Colors are natural and the video is sharp. At times, there seems to be an intentional softness, perhaps representing the age and vulnerability of the characters.
A great score by Brian Tyler is a perfect fit for this movie. With its rockabilly/country beat, Tyler's sound really adds to the vibe of the movie — much like his scores in Six-String Samurai and Vampires: Los Muertos.
In addition to the score, the rest of the movie sounds great in 5.1. Dialogue is crisp and clear and, at times, there is a good use of the rears — particularly when things get a little "buggy."
English, Spanish and French sub-titles are also offered.
Special Features:
The DVD offers a slew of special features, including two commentaries, four featurettes, deleted scenes and more.
The "Elvis" commentary is a must listen — if you are a Campbell fan. If you are not, it is still enjoyable, but not as much. At least I think it's Campbell. It could very well be Elvis. The commentary is either Campbell in character, or Elvis himself, nitpicking the movie. Whoever it is, he spends 20 percent of the time complaining about the movie's inaccuracies regarding him, 30 percent of the time complaining about the movie itself, 40 percent of the time talking about the movies he was in and who he worked with and 10 percent of the time on his cell phone. Absolutely brilliant.
The commentary with Campbell (the real one) and Coscarelli (Phantasm) is filled with tidbits on the making of the movie — including why there are no Elvis songs heard in a movie whose main character is, well, Elvis. Campbell does a fantastic job not only keeping the commentary on track, but asking Coscarelli the right questions to keep the information rolling.
Four featurettes can be played either as one feature, or separately. Running at about 47 minutes (with the "play all" option), the end result is informative and entertaining.
"The Making of Bubba Ho-tep" is the meat of the featurettes, clocking in at about 25 minutes. It is informative and thorough, without becoming fluff. There are statements from most of the cast and crew covering things from how the movie got off the ground to Elvis to the dangers of setting someone on fire. This is one of the better featurettes I've seen and I highly recommend it.
The next featurette, "To Make a Mummy," is just over six minutes and is a short piece on the creation of the costume.
"Fit for a King" clocks in at just under eight minutes and concentrates on the costumes worn by Campbell as Elvis. Interestingly enough, the filmmakers managed to use the only jumpsuit company that made them for Elvis.
The last featurette is "Rock Like an Egyptian," which is almost 13 minutes long and covers the score. It mainly consists of Coscarelli interviewing Brian Tyler, the composer, intertwined with clips from the movie.
The deleted scenes (with optional commentary by Campbell and Coscarelli) are hit or miss. They are good cuts from the film. By themselves, they are just average deleted scenes and not particularly entertaining — although one of the scenes has a voiceover by Joe Lansdale, author of the novella "Bubba Ho-tep," and he has a great reading voice. But with the optional commentaries, the scenes become much more interesting — either through the information provided by Campbell and Coscarelli, or through the rapport they naturally share.
Also included is a Tyler's music video of the main theme, a photo gallery of more than 65 behind-the-scenes pictures, the trailer, TV spot, and seven other teasers and trailers of other MGM releases.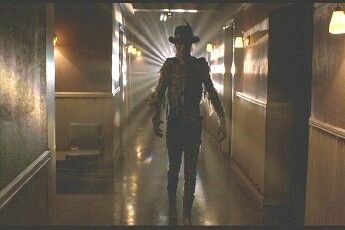 Grades:

Movie:
Video:
Audio:
Features:
Overall:
This page includes affiliate links where Horror DNA may receive a small commission at no extra cost to you.