Bullets of Justice Movie Review
Written by Joel Harley
Directed by Valeri Milev
Written by Valeri Milev and Timur Turisbekov
2019, 76 minutes, Not Yet Rated
FrightFest European premiere on 23rd August 2019
Starring:
Timur Turisbekov as Rob Justice
Doroteya Toleva as Raksha
Danny Trejo as Grave-Digger
Dessy Slavova as Lena
Review:
In the apocalyptic wastelands of our near future, a pair of badass siblings battle humanoid man-eating pigs in a last-ditch fight for human survival. If they can find 'The Mother', Rob and Raksha Justice can stop their enemies from breeding, which might give humanity a fighting chance. That is, if director Valeri Milev's budget doesn't run out first.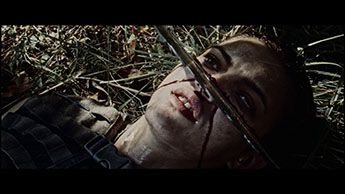 Making a genuinely good 'bad' film is no easy feat; for every Garth Marenghi's Darkplace or Iron Sky, there's a Sharknado or Machete. One's mileage may vary (Sharknado has its fans, to say the least), but too often, shit-on-purpose winds up just being plain, well, shit. Without the misplaced earnestness of early Tommy Wiseau, one is left with a cross between James Franco and our postmodern mugging-for-YouTube Tommy Wiseau.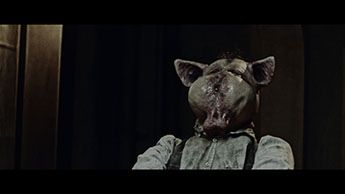 Milev and co-writer slash star Timur Turisbekov's vulgar, absurdist screenplay amuses too. Beauty is in the eye of the beholder, and some viewers may be less impressed by a girl with a moustache and such recurring jokes as a character being named… Benedict Asshole (and speaking entirely in fart noises) but it tickled this genre fan's funnybone nevertheless. Danny Trejo, too, is well cast in his obligatory Danny Trejo cameo, digging graves and wearing a top hat.
But every joke has its limit, and that proves very true for Bullets of Justice. Once the initial shock value ebbs away and the action dies down, the Justice siblings begin to wear out their welcome, fast. Milev blows his load during the first half of the film, leaving only rapidly diminishing recurring gags (oh hey, it's Benedict Asshole again), incest jokes and that one Family Guy trick of having things take a really long time. Bullets of Justice is only 76 minutes long, but at least three of those minutes are dedicated to Rob Justice opening a plastic bag at a breakfast table. That's 4% of the movie's runtime.But for 50% of it, Bullets of Justice is one of the most impressive gonzo action movies you'll see today. There's very little of worth past the first half (certainly not its middle finger of an ending) but its action sequences are so good that it's worth powering through everything else just for that. If you can stomach it, that is.
That its one joke can't be sustained for the entirety of the movie is a sad thing, but its first half is truly special.
This page includes affiliate links where Horror DNA may receive a small commission at no extra cost to you.