Burke & Hare Blu-ray Review

Written by Daniel Benson

Blu-ray released by Entertainment in Video
Directed by John Landis
Written by Piers Ashworth and Nick Moorcroft
2010, Region B (PAL), 91 minutes, Rated 15 (UK)
Blu-ray released on 21st February 2011

Starring:
Simon Pegg as William Burke
Andy Serkis as William Hare
Isla Fisher as Ginny
Christopher Lee as Old Joseph
Tim Curry as Dr. Monroe
Tom Wilkinson as Dr. Knox
Hugh Bonneville as Lord Harrington
Jessica Hynes as Lucky
Bill Bailey as Angus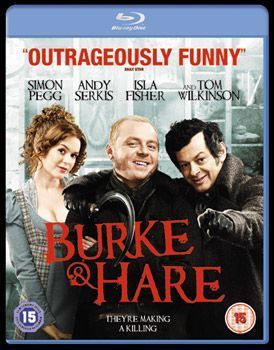 Review:
Whenever a film is even loosely based on a true story, the filmmakers usually make a point of telling you this in the opening credits. Not so with John Landis' retelling of a 19th century serial murder case, Burke & Hare. The story has a film history stretching back to the 1940s and sees Landis return to feature-film direction after a twelve-year hiatus.

It's 1828 and two rival Edinburgh medical schools are making their own advances in understanding human anatomy. To achieve this they need a steady supply of cadavers to dissect and their only legal source is the bodies of the recently executed. These are in very short supply so the schools turn a blind eye to the source, if any enterprising individuals can provide them.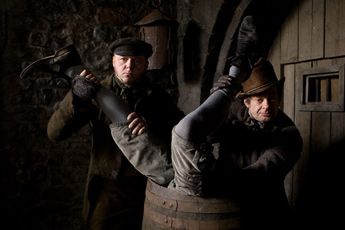 Enter William Burke (Simon Pegg) and William Hare (Andy Serkis), two Irish chancers who are always looking to make a living, regardless of how.  When their elderly lodger dies of old age and they are tasked with disposing of the body, they chance upon the opportunity to supply the remains to Dr. Knox of the Edinburgh Medical College. Paying them a handsome sum for the corpse, Knox comments that if they happen across any more specimens they can expect similar recompense. And so the seed is planted in the pair's collective mind.

The film is a new release from the recently revitalised Ealing Studios, and very much captures the essence of Ealing in its caper scenario, as well as a prominent nod to Hammer Studios' gothic approach to classic horror. The story lends itself well to various scenes of splatstick gore, as the medical schools' specimens get chopped up for a live audience, in addition to nefarious deeds that go catastrophically wrong for the hapless titular couple.
Pegg and Serkis complement each other well, and the addition of Isla Fisher as the love interest adds some pleasant eye-candy, but also drags the story off-track when it doesn't need to be. There is a massive ensemble cast of faces that will be familiar to most Brits for their TV work and, while it's fun celebrity spotting, it does sometimes take your eye off the frequent gags.

It's a mildly amusing romp through 19th century Edinburgh that delivers a fair few chuckles, but little in the way of real laughs. It was never going to be an outrageously funny comedy, given the dark tone of the subject matter, but I would have expected a little better from Landis after such an extended spell in the wilderness.
Video and Audio:
A slightly subdued colour palette gives an overall miserable tone to the film, which is perfect for the era in which it is set. 19th century Edinburgh probably never looked this damn impressive, but the Blu-ray image makes it look like somewhere you'd want to spend a day or two. The DTS-HD Master Audio complements the picture perfectly, bringing the crowded streets and dank back alleys to life.
Special Features:
The bulk of the extras consists of interviews with cast and crew, which are interesting for a single viewing. Some deleted scenes, a bunch of outtakes and a trailer make up the rest of the extras.
Grades:

 

Movie:
Video:
Audio:
Features:
Overall:
*Note: The screenshots on this page are publicity images and not a reflection of the Blu-ray image.*
© 2011 Horror DNA.com. No use of this review is permitted without expressed permission from Horror DNA.com.