Calvaire Movie Review
Written by Daniel Benson
DVD released by Palm Pictures
Directed by Fabriz Du Welz
Written by Fabriz Du Welz and Romain Protat
2004, Region 1 (NTSC), 87 minutes, Not Rated
DVD released on October 3rd, 2006
Starring:
Laurent Lucas as Marc Stevens
Jackie Berroyer as Bartel
Philippe Nahon as Robert Orton
Jean-Luc Couchard as Boris
Brigitte Lahaie as Mademoiselle Vicky
Gigi Coursigni as Madame Langhoff
Philippe Grand'Henry as Thomas Orton
Jo Prestia as Mylène
Marc Lefebvre as Lucien
Alfred David as Roland
Alain Delaunois as Giant
Vincent Cahay as Stan the Piano Player
Johan Meys as Rosto
Movie:
Marc Stevens is a singer, albeit a pretty cheesy one. He makes a living performing in his local nursing home, where he's lusted after by both the residents and the staff. During a cross-country Christmas trip to an audition, his van breaks down and he seeks shelter at the nearby Bartel's Inn.
As horror fans know, breaking down in the middle of nowhere and heading to the nearest inn staffed by an eccentric, middle-aged man — where you're the only guest — rarely results in a happy ending. True to form, Bartel's initial goodwill turns to a psychotic rage as he begins to suffer the delusion that Marc is actually the innkeeper's wife, returned to play happy families after several years of abscondment.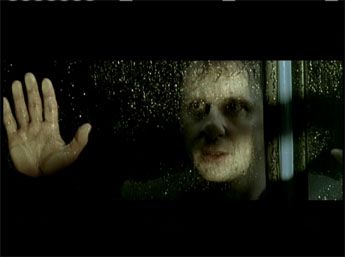 Review:
On paper, Fabriz Du Welz's debut feature Calvaire looks to have everything to satisfy the discerning horror aficionado. Mixing elements of The Texas Chain Saw Massacre and Deliverance in a French backwater village seems like the potential for a minor classic. But, while Calvaire has an overwhelmingly tense and uncomfortable atmosphere for its entirety, it left me feeling somewhat empty.
Make no mistake, the film is extremely polished with some excellent shot composition and fantastic direction and pacing. There is an overall dull green tinge to the sallow colour palette that perfectly matches the downbeat feeling you get from watching this film. One of the most unusual aspects of the movie is that there is absolutely no music score whatsoever. This makes for an extremely subdued feeling and, if anything, hurts the movie.
Although Calvaire is literally translated as "The Ordeal", its meaning runs much deeper than that. A Calvaire is the journey a person must make to be crucified, certainly an ordeal, but so much more than that word can convey. In this respect the title is a little misleading, I would have liked to have seen a whole lot more suffering on Marc's part to make this a truly chilling movie. While Laurent Lucas, as the kidnapped Marc, spends most of the movie sobbing at the hands of the maniacal Bartel (Jackie Berroyer), all he's really suffered is the indignity of a shaven head and being forced to wear a dress. And then there's the sodomy by one of the livestock buggering, local rednecks, but that doesn't happen until right at the end.
The movie's most cruel twist comes at the finale, as the innkeeper gets his just desserts from the locals, and Marc sees his salvation in the most unlikely group one could imagine. I would be unfair to reveal exactly what happens, but lets just say it could have ended a whole lot better for Mr Stevens.
Video, Audio and Special Features:
Not graded, as this was a screener copy.
Grades:

Movie:
Video:
n/a
Audio:
n/a
Features:
n/a
Overall:
This page includes affiliate links where Horror DNA may receive a small commission at no extra cost to you.