Cherry Bomb Blu-ray Review

Written by TGM

Blu-ray released by Well Go USA
Directed by Kyle Day
Written by Garrett Hargrove and Kyle Day
2011, Region A, 82 minutes, Not Rated
Blu-ray released on July 10th, 2012

Starring:
Julin as Cherry Bomb 
Nick Manning as Ian Benedict 
John Gabriel Rodriquez as Brandon  
Allen Hackley as Bull 
Jeremy James Douglas Norton as Adam Berry
Review:
There can never be too many abused-stripper-turned-vigilante movies in the world.  Unfortunately, Cherry Bomb just isn't one of the better contributions to this particularly delicious exploitative sub-genre.  Apparently disregarding the "No Gang Rape in the Campaign Room" sign, a group of rowdy bachelors pay off the bouncer to look the other way during a private lap-dance so that they can get their freak on with the talent.  They will all find out soon enough that nothing good can come out of leaving a vengeful battered, bruised, and violated pole-dancer alive.  Like Granddad always said, if you rape that shit, you gotta bury it son.

Cherry Bomb's failure rests primarily on the lackluster performance of the lead.  Sure, she physically fits the bill, but she comes across about as devastated from the rape as one would be if they found out that their car got keyed.  Actually, less.  Her blasé attitude about the whole situation insures that you never fully get invested into the character and her plight.   Not only is she unsympathetic, she's also a downright bitch, most evident during the scenes where she interacts with her brother, a forlorn shlub who just wants to help out.  

Unfortunately it's not just the main character that is lacking, as the two primary heavies in the movie are about as threatening as a tranquilized baby seal pup.  The slimy strip club manager, played by male pornstar Nick Manning, is a poor man's Jean-Claude Van Damme, delivering lines like he's ringside at some Thursday night WWE event while the unkempt-afro'd silent assassin comes across as borderline retarded, rather than a bad-ass motherfucker.  Think less Jules Winnfield, and more Lennie from Steinbeck's Of Mice and Men.

Cherry Bomb simply never commits to exactly what type of movie it wants to be.  It's far too goofy to be considered true grind-house, it's not gory enough to be torture porn, it's not funny enough to be outright parody, and it's simply not good enough to be worth much of your time.
Video and Audio:
The video is plagued by intermittent moments of softness, blurriness, unintentional grain, and artifacting, especially in the darker scenes.  Cherry Bomb is not a reference disc to justify your expensive home theater setup.  The audio contribution fares much better, with decent dialogue isolation and surprisingly good contributions from your surrounds.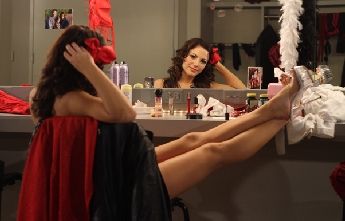 Special Features:
The special features aren't too shabby, with deleted scenes best kept that way, an alternate ending, and obligatory trailers.  The highlight, however, is the director's commentary track, which sheds good light into the process of no-budget film making.  The fact that this film was funded primarily through Kickstarter is a testament to the dedication and ingenuity of the creators of the film.
Grades:

 

Movie:
Video:
Audio:
Features:
Overall:
*Note: The screenshots on this page are not a reflection of the Blu-ray image. They are promotional pictures.*
This page includes affiliate links where Horror DNA may receive a small commission at no extra cost to you.