Child's Play Collector's Edition Blu-ray Review
Written by Robert Gold
Blu-ray released by Scream Factory
Directed by Tom Holland
Written by Don Mancini, John Lafia and Tom Holland
1988, 87 minutes, Rated R
Released on October 18th, 2016
Starring:
Catherine Hicks as Karen Barclay
Chris Sarandon as Mike Norris
Alex Vincent as Andy Barclay
Brad Dourif as Charles Lee Ray/ Chucky
Dinah Manoff as Maggie Peterson
Tommy Swerdlow as Jack Santos
Neil Giuntoli as Eddie Caputo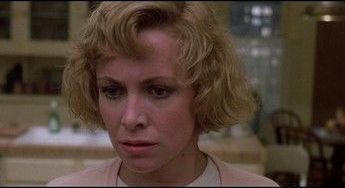 Review:
Chicago's notorious serial killer, Charles Lee Ray (aka the Lakeshore Strangler), finds himself cornered in a toy store, mortally wounded in a gunfight with Det. Mike Norris. Ray has one last nasty trick up his sleeve, as he uses a voodoo rite to transfer his soul into a nearby toy doll named Chucky. Ray dies and the doll ends up in the hands of a back alley peddler who in turn sells it to Karen Barclay, a single mom on a budget trying to give her six-year-old son, Andy, the best birthday possible. The boy is elated and carries Chucky wherever he goes, but trouble follows and soon a new string of murders begins.
Following a grisly incident at home, Andy tells mom that his new toy is responsible. Det. Norris is assigned to the case and suspects the kid is involved. He grows more convinced when the boy turns up at a second crime scene. Andy insists his doll is alive and of course no one believes him, but the alternative is too upsetting for Karen to consider. Chucky continues his vengeful quest undetected and learns that in order to escape the permanent confines of the doll, he must transfer his soul into the body of the first person he revealed his identity to, Andy. It is only a matter of time before his secret gets out and Chucky turns his murderous rage towards Karen and Norris, but can they stop him before his final act of evil?
Some people are terrified of clowns while others panic at the sight of a spider. Another popular fear is the idea of an inanimate object coming to life with malicious intent. Hollywood has long catered to society's numerous phobias and one that returns time and again is the fear of dolls. Some of the more memorable depictions include Hugo the dummy in Dead of Night (1945); Talking Tina, from the Twilight Zone episode "Living Doll" (1963),]; the unstoppable Zuni fetish doll in Trilogy of Terror (1975); Fats the dummy in Magic (1978) and the dreaded clown doll in Poltergeist (1982). Each of these characters left a lasting impression that caused viewers many sleepless nights.
Inspired in part by the mass merchandising of children's toys in the 1980s like the wildly popular Cabbage Patch Kids and Teddy Ruxpin dolls, screenwriter Don Mancini came up with the idea for Child's Play – What if one of these trendy dolls came to life and tried to kill you? In a classic "boy who cried wolf" scenario, nobody heeds the panicked claims of a child with an overactive imagination. While inhabiting the body of a doll, the murderer is able to hide in plain sight above suspicion while adults begin questioning the sanity of his young companion. Additional writing duties fell to John Lafia (Man's Best Friend) and director Tom Holland (Fright Night). It is Holland who added the central elements of Charles Lee Ray and the voodoo angle of soul transference.
With a lean script and accomplished director at the helm, Child's Play is further blessed with a strong cast of richly drawn characters who interact in a believable manner before facing the stark reality that a doll is running around killing people. Catherine Hicks (Death Valley) stars as Karen Barclay, a working class mom struggling with growing questions of her son's sanity. Determined to believe him, she uncovers the horrifying truth about Chucky, putting herself in harm's way. Hicks shines in the role and delivers an emotionally charged performance that drives the final act. She works well with young Alex Vincent (House Guest Massacre) as Andy and the two appear natural as mother and son. Chris Sarandon (Tales from the Crypt: Bordello of Blood) co-stars as Det. Norris, the seasoned cop reluctant to believe the demented fantasies of a child, and keeps things grounded for much of the running time. The standout performance however is the always reliable Brad Dourif (Exorcist III) who appears in the prologue as Charles Lee Ray and provides the voice of Chucky for the rest of the film. He is intense and terrifying and fills the character with unbridled rage.
The real star of the show is special effects artist Kevin Yagher and his team behind Chucky's creation. In Yagher's talented hands, the doll comes to life and poses an immediate threat. The film hinges on the believability that a kid's toy can be menacing; a challenge easily met and surpassed. The artists and technicians assembled on this project deliver on all fronts. Using a variety of techniques including animatronics and puppets and employing the work of a little person acting as a stunt double for certain shots, Chucky becomes a living thing. His facial features gradually change to a more human look as the character evolves.
Child's Play was a hit at the box office and Chucky became a horror icon. The film has spawned six sequels to date, plus a remake and an upcoming television series. The franchise has been going strong for over thirty years now and the latter entries employ a generous dose of black comedy similar to the tone taken by the A Nightmare on Elm Street series. While most of the sequels are pretty entertaining, the original film remains the most effective with its suspenseful moments, dynamic visual style and dark tone. Chucky's legacy spans generations and has become part of the pop culture lexicon with the films frequently referred to as "Chucky movies". If you only know the character as a wisecracking anti-hero, you should step back and check out the first movie that laid the groundwork so beautifully.
Video and Audio:
MGM has released Child's Play several times on Blu-ray, all featuring the same transfer dating back to 2009. For this new Collector's Edition, Scream Factory provides a new 2K scan and restoration of the original film elements presented in the 1.85:1 aspect ratio. The image is a tad sharper and flesh tones are more consistent and natural throughout. Color reproduction is solid and black levels are spot on.
A DTS-HD MA 5.1 and DTS-HD MA 2.0 stereo mix are on hand with the expanded track edging out as the winner. Surround channels are active with the pitter-patter of doll feet and other spooky sound effects. Music cues are prominent without drowning out the dialogue, which remains clean and free from distortion.
Optional English subtitles are included for anyone in need.
Special Features:
Disc 1:
Kicking things off is a newly-recorded audio commentary with director Tom Holland. This is something of a treat for longtime fans, as his input has been absent from all previous releases. Holland carries on a thoughtful discussion with the moderator who prompts him with questions and allows him the time to answer in full. There is an overview of his career as a filmmaker and he easily fills the track with colorful anecdotes. Some of the many topics covered include the writing process, casting, working with special effects and fending off studio pressure during filming. This is an excellent track that is well worth the wait.
The second commentary is a holdover from the 2009 Blu-ray, featuring actors Catherine Hicks and Alex Vincent and Chucky designer Kevin Yagher. Vincent shares memories of his childhood experiences on set and reveals some of the more challenging scenes. Hicks and Yagher met on this film and quickly became an item. She talks about her approach to the character and filming in Chicago during the winter. Yagher explains what went into bringing Chucky to life and manages to speak to the technical details of the work without getting bogged down in the weeds. Yagher and Hicks remain married to this day and their conversation is easy going and filled with great memories. Vincent's comments were recorded separately and spliced into their discussion.
In the third commentary, also recorded in 2009, producer David Kirschner and screenwriter Don Mancini provide a lively discussion tracing the history of the production and sharing many entertaining behind-the-scenes tales. They talk about the numerous changes to the script, the film's visual style, the music and impressive special effects work as well as Chucky's enduring popularity. This is the most fun track of the lot, but all are worth a listen.
A shorter, scene-specific audio commentary from Chucky himself (Brad Dourif in character) provides a humorous look at some of the grislier moments. The track is uneven and frequently silent until the third act when Chucky is joined by Don Mancini for the finale – at which point the discussion becomes highly enjoyable.
Disc 2:
Viewers get a rare look behind-the-scenes at the work of Kevin Yagher and his team designing Chucky with an hour of video shot during production in 1988. We see several development stages of the various puppets and animatronics as well as tests and rehearsal footage. Various team members offer casual interviews from the workshop and we see them at work on set.
In Howard Berger: Your Special Effects Friend Til the End (2016, 41 minutes), the veteran artist reflects on one of his first big studio gigs working for Yagher. He is quick to name his fellow collaborators and offer due credit while detailing the tasks he performed in the shop. Berger has some highly entertaining production stories and appears more than happy to share them.
Actor Ed Gale (Howard the Duck) stepped into the costume and performed as Chucky for select shots the puppet was unable to easily perform. In Life Behind the Mask: Being Chucky (2016, 40 minutes), Gale talks about his time on set and the challenges of the role all while stressing the talents of the special effects crew.
The vintage featurette Evil Comes in Small Packages (2009, 25 minutes) celebrates the film's twentieth anniversary with interviews from cast members Hicks, Sarandon, Dourif and Vincent plus screenwriters Mancini and Lafia, f/x artist Yagher and producer Kirschner – sadly nothing from Tom Holland. There is some nice behind-the-scenes footage throughout.
Chucky: Building a Nightmare (2009, 10 minutes) is another carryover featuring Yagher, Kirschner and Mancini discussing the creation of Chucky with behind-the-scenes footage showing the process. Joining the group are interviews with fellow make-up artists who didn't work on the film but are fans.
Actors Alex Vincent, Catharine Hicks and Chris Sarandon reunited for a panel discussion at a Monster Mania convention in 2007. Highlights are presented in the segment A Monster Convention (2009, 5 minutes).
Introducing Chucky: The Making of Child's Play (1988, 6 minutes) is a standard EPK promotional piece featuring brief interviews with Tom Holland, David Kirschner and Chris Sarandon. Behind-the-scenes footage is mixed with clips from the finished film.
A vintage featurette (1988, 5 minutes) offers another short look at the development of Chucky.
The theatrical trailer and a TV spot are also included.
Two photo galleries play as slideshows; the first is a collection of behind-the-scenes images (3 minutes) and the other is a look at international poster art and lobby cards (2 minutes).
Grades:

Movie:


Video:
Audio:
Features:
Overall:
This page includes affiliate links where Horror DNA may receive a small commission at no extra cost to you.