Chop Shop Movie Review
Written by Eric Strauss
DVD released by Maverick Entertainment
Written and directed by Simuel Denell Rankins
2003, Region 1, 90 minutes, Not Rated
Starring:
Rob Rose as Joe
Mark Schell as Billy
Michelle Lozano as Frankie
Yayao Hsueh as Ling
Martina Marie as the narrator
Shannon Michaels as Lisa Stewart
Review:
Chop Shop is a low-rent version of I Spit on Your Grave, a grindhouse rape-and-revenge flick with racial overtones that pits a young black woman against a trio of redneck mechanics and their token Asian.
Unfortunately, there's a whole lot of buildup to not a lot of payoff, unless a grimy mechanic dancing in his tighty-whities at gunpoint is your idea of a money shot.
The repeated rapes of Lisa Stewart, while certainly reprehensible and violent, are hardly graphic or gratuitous, and the vengeance sequence doesn't even fill the final third of the movie.
Meanwhile, Chop Shop is betrayed at every turn by its low budget, causing rampant problems with lighting and volume levels that render sights unseen and words unheard.
That's not to say there aren't some strong points to the film. Writer/director Simuel Denell Rankins takes every opportunity to shoot lead Shannon Michaels' long legs from any possible angle. And Michaels is more than just a nice body, playing a maniac with gusto, even if her transformation from victim to violator takes too long and the script fails to flesh out her character enough to provide any empathy.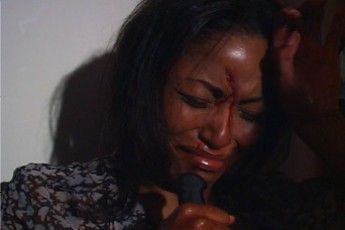 There are a couple of interesting twists, one involving Michelle Lozano's body-shop secretary Frankie — Stewart's last, best hope for salvation from her rapists — and the other at the very end (of course).
Other than that, however, the script really fails the film. There's almost no setup or character development, and several angles are introduced but never pay off.
There's a journal, which Stewart carries everywhere — even while jogging; even while jogging angry.
There's a documentary-style presentation, including an ongoing interview of another young woman.
And of course, there's the racial element (Chop Shop is distributed under the Maverick Urban label), which manifests itself in Southern accents and a random Confederate flag license plate.
All of them might have meant something. None of them wind up meaning anything.
That's really the trouble with Chop Shop. Outside of some decent gore and not-unimaginative kills at the end, there's really nothing for it to hang its hat on.
Watching Chop Shop was a frustrating experience, and not just because of the constant need to adjust the volume. The rape sequence takes up half the film but, surprisingly, little action occurs. Then the "transformation of Lisa" sequence takes another 20 minutes, and, not surprisingly, little action occurs. When the vengeance finally comes down on the rapists in the last 25 minutes, there's finally some life to the film, but by then, it was tough to care.
This page includes affiliate links where Horror DNA may receive a small commission at no extra cost to you.