Page 2 of 6
Chucky: The Complete Collection - Child's Play 2 Blu-ray Review
Written by James Ferguson
Blu-ray released by Universal Studios
Directed by John Lafia
Written by Don Mancini
1990, Region A, 84 minutes, Rated R
Blu-ray released on October 8th, 2013
Starring:
Alex Vincent as Andy Barclay
Jenny Agutter as Joanne Simpson
Gerrit Graham as Phil Simpson
Christine Elise as Kyle
Brad Dourif as Chucky
Review:
In a move that will surely go down as one of the best business decisions ever made, the big wigs over at Play Pals Inc (creators of the Good Guy dolls) get their hands on the remnants of the toy involved in a series of gruesome murders. No explanation is given as to how this wasn't locked up tight in an evidence locker somewhere, but you figure that if some executive tosses enough cash around, he can get what he wants. Instead of throwing it out or destroying it, these guys decide to rebuild the doll. Watching this opening scene in which the charred rubber flesh is scraped off of the metal skull of Chucky is both infuriating and confusing. Why would anyone do this?!
Anyway, something goes wrong when the finishing touches are being put on and a factory worker is electrocuted and dies. Of course, this means that the soul of Charles Lee Ray is alive and well inside the body of the doll. As a result of this resurrection, Chucky's clock has reset. He now has to track down young Andy Barclay (Alex Vincent) and takeover his body. Otherwise he's stuck in the doll for good. So a weird choice by a (presumably) multi-million dollar toy company leads to a bit of a rehash of the plot of the first film for Child's Play 2.
Life hasn't been easy for Andy since the events of Child's Play. His mother was committed to a mental hospital, so he's being put into foster care. At first I thought this was because actress Catherine Hicks couldn't or wouldn't return for this film, but it turns out the original script had an opening scene in a courtroom that dealt with the wrap-up of the previous movie. Unfortunately, this was cut before filming began, so Hicks is relegated to a one-line mention. Anyway, Andy ends up in the care of two average people that have fostered a number of kids over the years. He's not alone though. With him is a troubled teenage girl named Kyle (Christine Elise). The two become fast friends, so at least Andy has a buddy when dealing with the inevitable return of Chucky.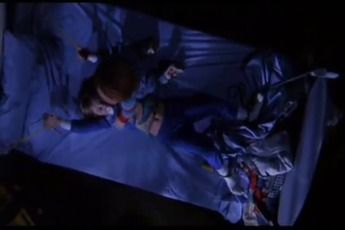 Child's Play 2 delves into themes of loss and abandonment. It's bad enough that Andy went through such a horrible experience at a young age with a psychotic doll killing a number of people around him while trying to steal his body, but now his mom is in the loony bin and he's living with strangers. He's dealing with some serious post-traumatic stress and practically jumps out of his skin at the mere mention of a Good Guy doll. Of course, one of the dolls is hidden amongst the toys at the foster home, so Andy's new life is off to a great start. Kyle is in a similar situation, but without all the murder. This is why the two of them bond so quickly. They have no one else. Plus, fighting a serial killer in a rubber doll is a great team building exercise.
As with the first film, there are elements of the story that, when viewed in a certain light, cast doubts on Andy's sanity. His new foster parents are already a little cautious around him, but there's no evidence to support his claims that Chucky has returned. It's actually quite brilliant on Chucky's part. I'm sure he enjoys screwing with this kid's life, but ultimately, he's on a tight schedule. Time forces the killer's little rubber hands and he has to escalate his plans to take over Andy's body.
The climax of the film takes place within the Good Guy factory. It's here that Kyle and Andy make their final stand against Chucky, surrounded by the lifeless parts of other Good Guy dolls as the machines grind away, assembling hundreds of new toys. This adds a new element of terror to Child's Play 2 as the pair has to watch out for not only a murderous rubber toy, but a machine that could crush, melt, or stab them if they approach it the wrong way. There's a particularly gruesome shot as Chucky gets his hand ripped off and replaces it with a blade shoved right into his stump. He really took lemons and made lemonade with that one.
Child's Play 2 loses a bit of the charm and novelty that the first film has in making children afraid of their own toys. It has an undercurrent commentary on capitalism that feels somewhat out of place. The entire opening scene is just crazy when you think about it. No company in the world would want anything to do with a toy that was in any way connected to a series of murders. They'd distance themselves from it entirely and probably pay Andy and his mother a nice sum of money to keep quiet. Of course, if this happened, we wouldn't have the first of several resurrections for Chucky.
Video and Audio:
As with Child's Play, the film looks and sounds great. Not much else to add here, really.
Special Features:
Unfortunately the only special feature on this disc is a trailer for the film. Granted, there weren't any features included on the previous DVD releases either, but for such a great set, I was hoping to see at least a commentary or some behind-the-scenes footage.
Grades:

Movie:




Video:
Audio:
Features:
Overall:
This page includes affiliate links where Horror DNA may receive a small commission at no extra cost to you.
Want to comment? You can leave one at the end of the review or head over to the Horror DNA Review Forum.