Closer to God Movie Review
Written by Richelle Charkot
Released by Uncork'd Entertainment and Breaking Glass Pictures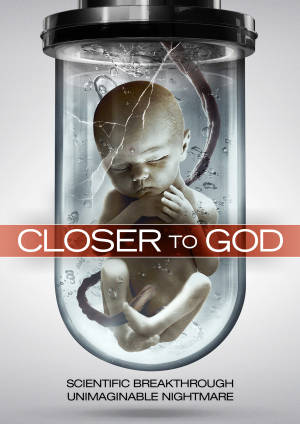 Written and directed by Billy Senese
2014, 81 minutes, Not Rated
Released on VOD on July 3rd, 2015
Starring:
Jeremy Childs as Victor
Shelean Newman as Mary
Shannon Hoppe as Claire
David Alford as Richard
Review:
For some reason, the last couple of things that I've had to review have been really tired mad scientist stories. So, imagine my surprise when I finished Closer to God, yet another story about a Dr. Frankenstein character, and found that not only is it a unique and interesting story, but it has a relevant and interesting message for its viewers. This air-tight plot is paired with dark and subtle cinematography, and although it is no easy viewing for someone who is looking for something to passively watch, it is entertaining and undeniably eerie.
Dr. Victor Reed is a geneticist who has created the first human clone using part of his DNA, a precious baby named Elizabeth. Although the experiment seems to have gone off without a hitch, Reed insists that Elizabeth be kept a secret from the public for at least a month, so that he can finish testing and make sure that she is safe once she is out of a controlled environment. News leaks of her existence and the hospital quickly becomes a dangerous place for her to stay, so Reed moves his 'daughter' to his home, where he is confronted with the fact that he has been ignoring his own family and all of the glaring issues in that dynamic, such as his depressed and lonely wife. Religious protestors begin to flock around the residence, and toppled onto the mountain of the doctor's problems is that his caretaker Mary can't bare another moment taking care of Reed's failed secret experiment before Elizabeth, a mutated and angry clone named Ethan.
Using everything that is in his arsenal as a filmmaker, writer/director Billy Senese has created a realistic depiction of what might happen if someone created a human clone. The script is equipped with believable dialogue and understandable motives from each character, whether they be a primary, secondary or tertiary inclusion. Also, the actors are brilliantly cast and not too 'Hollywood' for their roles, specifically Jeremy Childs as Victor, as he looks exactly like what one would expect from an obsessive geneticist.
Closer to God manages to accomplish a lot by showing very little - specifically, the amount of discomfort that's inflicted from the scenes featuring Ethan. Only in the last few moments is he fully seen on camera (and even then he's immersed in shadows), but before that, all that the film gives you is a glimpse of his hunched shoulder or an elusive peek at what his face might look like, but for the most part he is not seen whatsoever and his high-pitched and grating screams are only heard. The choice to not depend on makeup and prosthetics and instead allow the viewers minds to run wild with what he might look like suits the tone of this film beautifully, because it isn't a monster movie, it's much more psychological.
This page includes affiliate links where Horror DNA may receive a small commission at no extra cost to you.