Color Out of Space Movie Review
Written by Stuart D. Monroe
Released by RLJE Films
Directed by Richard Stanley
Written by H.P. Lovecraft (Short story), Richard Stanley (Screenplay)
2020, 110 minutes, Not Rated
Released on January 24th, 2020
Starring:
Nicolas Cage as Nathan Gardner
Joely Richardson as Theresa Gardner
Madeleine Arthur as Lavinia Gardner
Julian Hilliard as Jack Gardner
Brendan Meyer as Benny Gardner
Elliot Knight as Ward Phillips
Tommy Chong as Ezra the Squatter
Review:
There may be no trickier beast to tackle in all of film than a big screen adaptation of the works of H.P. Lovecraft. His work is laden with the idea that the universe is an ugly, cold, desolate place full of wrath and evil that we can't begin to grasp. His central theme has kept generation after generation coming back for more. Hordes of writers ape his style (imperfect as it was). I myself have had a Lovecraft pastiche published, a short story about crab fishing that summons up more than just crabs in the Bering Sea.
Lovecraft is also one of the most controversial figures in literary history. An elitist, anti-Semite, and all around racist, he filled his stories with connections between the "lesser races" and the good old white folks trying to keep their influence at bay ("The Horror at Red Hook", anyone?). While that discussion is an article in and of itself for another day, the power and scope of his work is undeniable.
Beloved writer/director Richard Stanley (Hardware, The Island of Dr. Moreau) has taken one of the true "biggies" in his bibliography, "The Colour Out of Space", and crafted a film that must be seen to be believed and etched his name alongside Stuart Gordon (Re-Animator, From Beyond, Castle Freak, Dagon) as one of the few who truly gets Lovecraft's work.
Nathan Gardner (Nicolas Cage; Mandy, Face-Off) has the life he always wanted but never thought he'd have. He lives on ancestral land in the old family farm outside of Arkham, Massachusetts. He's supremely happy with his wife, Theresa (Joely Richardson; Event Horizon), and their three children: Wiccan teen daughter Lavinia (Madeleine Arthur; Grace: The Possession); pothead son Benny (Brendan Meyer; The Guest); and adorable youngest son Jack (Julian Hilliard; The Haunting of Hill House). He even has a lovable old squatter on his land named Ezra (Tommy Chong; Cheech and Chong's Up in Smoke)! In one moment, however, his idyllic existence is thrown into cosmic chaos when a meteorite crashes in his front yard. The meteorite is a funny color, you see, atmospherically hot and seemingly alive. Before the reporters can even arrive to cover the story, it disappears, leaving a crater and a mystery. Soon, vibrant vegetation of a color never seen on this planet is growing, and iridescent insects fill the air. Theresa is acting strangely, and Jack is obsessed with the well. He's carrying on a relationship with someone (or something) that he feels lives inside the well since the meteorite came down. As madness descends upon the Gardner family, their land becomes a riot of hideous color and inexplicable horror from beyond the stars.
As is always the case with literary adaptations, there are differences from the source material. Stanley has set the tale firmly in the modern day and eschewed the narrative of telling the story from the perspective of the hydrologist who's surveying the area before it's flooded for a reservoir. In Stanley's adaptation, there is no Blasted Heath; instead he tells the story of the cosmic tragedy that ruins the area in the first place. It's a similar take to what was done with The Haunting of Hill House, and it works beautifully. There's no need for the feel of an extended flashback when you can simply make it current and clean, giving more weight to the events that unfold.
The entire cast deserves heavy kudos for portraying a family that feels natural and unforced, but special recognition must go to Nicolas Cage and Joely Richardson for crafting a marriage that feels like an honest to goodness love story. Without their chemistry, the absolutely horrific shit that follows wouldn't have the impact that it does.
Of course, Nicolas Cage gives a thoroughly batshit standalone performance to rival what he treated us with in Mandy. If he's not careful, he's going to be branded as the go-to nutjob across the genre. His facial expressions, twitchy mannerisms, insane babbling, and histrionics are pure H.P. Lovecraft. Here is a man who truly cannot begin to deal with the sheer insanity of an indifferent universe. I know it's clichéd, but I can't see anyone except Cage playing this part at this level.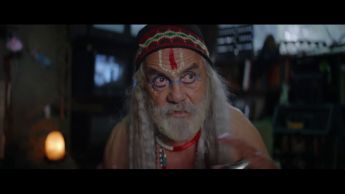 In both the VFX and the SFX, Color Out of Space is a legitimate masterpiece. The short story always gave me a little chuckle at the thought of colors being sinister and terrifying; I'm not chuckling anymore. There's also patience in getting to some of the best practical makeup work I've seen in a damn long time. The final third of the film goes straight into territory formerly occupied by John Carpenter's The Thing…and it's on that same level!
Yes, I realize the gravity of what I just said. I'll stand by this statement and die on this hill if necessary. It's that good.
Would it have been better as a period piece from the late 1800s, as the story of Nahum Gardner is in the original text? I doubt it. There is a litany of little moments in Color Out of Space where the touch of modern adds to the proceedings. Also, the inclusion of Tommy Chong as Ezra (pseudo replacing the story's narrator and ubiquitous old loony, Ammi Pierce) wouldn't work all that well in that time frame.
Color Out of Space is a deft stroke of filmmaking, a marriage of all the complexities and confliction of H.P. Lovecraft's singular voice and themes with the technical wonders available to filmmakers in the 21st century. It's gorgeous. It's grotesque. It's even heartbreaking. I'm sure H.P. Lovecraft's better nature would appreciate the beauty inherent in this gem of cosmic horror.
This page includes affiliate links where Horror DNA may receive a small commission at no extra cost to you.