Color Out of Space Movie Review
Written by Joel Harley
Released by RLJE Films
Directed by Richard Stanley
Written by Scarlett Aramis, Richard Stanley, H.P. Lovecraft (based on the short story by)
2019, 111 minutes, Rated TBA
Rleased on January 24th 2020 (US)
Starring:
Nicolas Cage as Nathan Gardner
Joely Richardson as Theresa Gardner
Tommy Chong as Ezra
Madeline Arthur as Lavinia Gardner
Review:
Nicolas Cage does H.P. Lovecraft! Collaborating with visionary director Richard Stanley, Cage stars in this adaptation of The Color Out of Space. When a meteorite comes crashing down onto the isolated Alpaca farm of Nathan Gardner (Cage) and his family, the alien menace inside wastes little time infecting the Earth with its otherworldly plague.
Bearing a cosmic new colour (suck it, US spelling) previously never seen before by human eyes, the thing seeps into the earth, infecting everything and everyone it touches with insidious alien mutation. This gives Nicolas Cage the chance to reprise his Manic Dad act from Mom and Dad, quickly spinning out from mild-mannered Alpaca farmer to Lovecraftian Jack Torrance. This time, Cage is joined by Joely Richardson as Mom of the piece, with Madeline Arthur as the pair's wiccan daughter.
Color Out of Space combines the trippy surrealism of Mandy with the brutal family warfare of Mom and Dad, delivering the best of modern Nic Cage's sensibilities. Once again, he's more supporting actor than the film's lead, allowing young miss Arthur room to fend off his Cage-isms and her increasingly perilous environment. Stanley's vision of mutated rural Americana is like a cross between From Beyond and Annihilation, mashing together sci-fi surrealism with gloopy body horror. As a result, it's the best Lovecraft adaptation since the 1980s; a worthy successor to Stuart Gordon and his Re-Animator.
By the standards of Lovecraft adaptation, this one is relatively faithful, keeping the concept and spirit of the story alive, and adding modern character beats and mobile phones. While the colour palette never truly feels otherworldly (it's essentially just purple), Stanley's visuals are incredible, building to a breathtaking showdown between man and colour. Likewise, while its horrors never really scare, they are astonishingly realised and delightfully slimy. The human element is particularly disturbing, and at its most tense when it concerns a stressed-out mom and a chopping board.
Like previous adaptations of Lovecraft's work, it's never truly scary, and Stanley tends to lean too heavily on Cage's scenery-chewing and, uh, Alpacas as a punchline. But as a spaced-out sci-fi body horror film, it's magnificent. As such, Tommy Chong is perfectly at home as the stoned weirdo in the woods, stealing scenes from even the mighty Cage.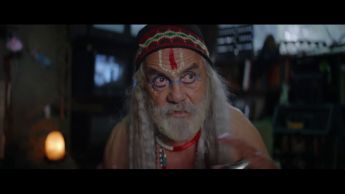 A welcome return from one of genre cinema's most exciting, unusual directors, Color out of Space is one of the best H.P. Lovecraft adaptations ever seen, and a storming addition to the filmography of Nicolas Cage. Like its eponymous cosmic colour, this film is like nothing we've ever seen before.
This page includes affiliate links where Horror DNA may receive a small commission at no extra cost to you.