Combat Shock (aka American Nightmares) DVD Review
Written by Robert Gold

Written and Directed by Buddy Giovinazzo
1984/1986, Region 0 (NTSC), 100 minutes/ 92 minutes, Unrated
DVD released on July 28
th
, 2009
Starring:
Rick Giovinazzo as Frankie Dunlan
Veronica Stork as Cathy Dunlan
Mitch Maglio as Paco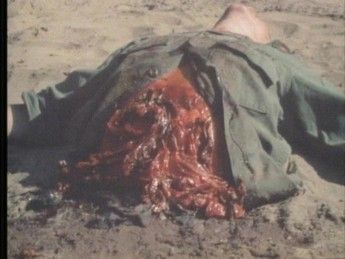 Review:
Life after Vietnam is not everything Frankie Dunlan (Rick Giovinazzo) had hoped for. In fact, there is nothing for this poor bastard to look forward to except the gentle reprieve of death. The best thing that happens to Frankie on a daily basis is that he wakes up and has to endure another 24 hours of what he calls life. Every single moment of his existence is one hardship after another until Frankie finally makes a stand and rescues himself and his family from a nightmare of squalor.
Frankie is haunted by the atrocities of the war and is trying to do the right thing, but he cannot catch a break. The unemployment line stretches around the building and the local gangs and junkies rob each other for whatever meager possessions they can claim. His family life is not any better as his wife, Cathy (Veronica Stork), is confined to the loneliest apartment in New York, tethered to their infant child who constantly cries in pain from numerous birth defects.
Jesus Christ, I don't know where to begin as this is seriously one of the most uncomfortable films I could highly recommend. Every corner is filled with grime and misery, from his shitty apartment to the rat-infested neighborhood. Frankie has no way out and yet he continues to fight long after everyone else, including God, has given up on him.
It is difficult to see that this bleak nightmare ultimately has a happy ending, but I cannot imagine a more satisfying resolution to the problems presented for these characters. The film is deliberately paced in a funereal drudge that forces the audience to endure the hopelessness that Frankie faces. Combat Shock has been described as a bizarre hybrid of films like
Taxi Driver
and
Eraserhead
, and this is painfully appropriate as we witness the isolation and loneliness growing in our protagonist.
In addition to starring as Frankie, Rick Giovinazzo provided the music for
Combat Shock
. Although this is the only film he acted in, Rick has gone on to become a successful orchestrator for several Hollywood blockbusters including
Transformers
,
Austin Powers
,
Madagascar
and
X-Men 2
. Director Buddy Giovinazzo moved to Berlin where he continues to make films including
No Way Home
and
The Unscarred
. In 1989, he made the short film
Mr. Robbie
(a.k.a.
Maniac 2
) with Joe Spinell, but was unable to raise the funds to expand it into a feature before Spinell died.
Originally shot in 1984 as
American Nightmares
, the film was picked up for distribution by Troma and cut by eight minutes for release in 1986 under the new title
Combat Shock
. Given an ad campaign that made the film look like a Rambo style action flick, audiences expecting empty muscle-bound vengeance were instead taken into hell. Director Giovinazzo discusses his reactions to the changes on his commentary track and appears generally agreeable to the final result. The original cut is presented for the first time on this DVD and the footage in question is largely character development (cut for pacing) and a bit more violence that adds to the horrors of the finale.
Video and Audio:
The DVD opens with a notice that although the transfer came from original source material, some elements are not as strong and picture quality may vary.
Combat Shock
was shot on 16mm film with an original aspect ratio of 1:33:1. The transfer here is pretty fantastic and much stronger than the earlier Troma release.
American Nightmares
, previously available only on bootleg videos, is given the strongest presentation it has ever received and fans will be thankful. Although the colors are deliberately muted and grimy, they have never looked better.
A basic 2-channel stereo mix is all you need, and this track delivers.
Special Features:
Troma continues to impress with the supplements on this latest entry to the Tromasterpiece collection. There are two versions of the film, the shorter of which includes a commentary track featuring Buddy Giovinazzo with fellow filmmaker Jorg Butgereit (
Nekromantik
).
Also on the disc is a 30-minute retrospective piece titled "Post-Traumatic: An American Nightmare" featuring interviews with a variety of directors including Richard Stanley, Jim VanBebber, and William Lustig discussing the impact of Combat Shock. There are a handful of new interviews with the director as well as the first interview with lead actor Rick Giovinazzo.
The locations in this film are simply unbelievable-a featurette reveals that many remain unchanged after 25 years-in this tale of poverty and desperation.
A collection of short films, music videos and trailers round out this impressive DVD package.
Grades:
| | |
| --- | --- |
| Movie: | |
| Video: | |
| Audio: | |
| Features: | |
| Overall: | |
Conclusion:

Combat Shock is a perfectly-presented experiment in nihilism. The new DVD grants the film a proper introduction to the world with fantastic artwork, a brilliant set of special features and a chance to see the original version of the director's vision. Although tough to sit through, Combat Shock is a film that refuses to flinch. Highly recommended.
© 2009 Horror DNA.com. No use of this review is permitted without expressed permission from Horror DNA.com.