Confessions (aka Kokuhaku) Movie Review
Written by TGM
DVD released by Third Window Films

Directed by Tetsuya Nakashima
Written by Kanae Minato & Tetsuya Nakashima
2010, 106 minutes, Rated 15 (UK)
DVD released on April 24th, 2011

Starring:
Takako Matsu as Yuko Moriguchi
Yoshino Kimura as Yuko Shimomura (Naoki's mother)
Masaki Okada as Yoshiteru Terada
Yukito Nishii as Shuya Watanabe
Kaoru Fujiwara as Naoki Shimomura
Ai Hashimoto as Mizuki Kitahara
Review:

I have a confession of my own to make. I am not usually a fan of Japanese horror, and more specifically Japanese horror that revolves around some object, location, or event that agitates a pale, dead pre-teen with a proclivity for scurrying in dark corners and screeching with crooked mouths all agape. So when I was asked to review Confessions, my eyes glazed over upon seeing the cover and learning that it was a movie involving the suspicious death of a young girl. Fearing the worst, I reluctantly began watching, and was pleasantly surprised with the thoroughly engrossing, slick, smartly stylized revenge movie that began to unfold in front of me.
The opening scene of Confessions is so effectively simplistic and eerily fascinating as a young teacher describes the circumstances surrounding the recent death of her four year old daughter to her group of middle school students. Investigated by the authorities, and incorrectly determined to be accidental, she weaves a tale of how her daughter was not only murdered, but done so at the hands of one or more of the adolescents in her own class. The calmness and deliberateness of her delivery sucks you in almost immediately. The rest of the movie pales in comparison to that initial opening monologue, but that is more a testament to the minimalist perfection of that particular scene than an indictment on the rest of the film.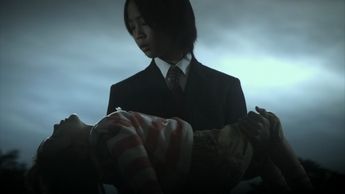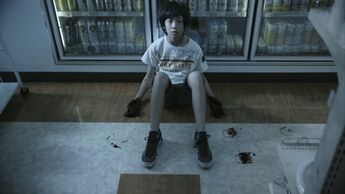 Confessions takes on a Roshomon-esque stance as it fleshes out the details of the crime from the varying point of view of each character involved. Thankfully, it is done in such a way that does not feel at all derivative or blatantly redundant. Mercifully, there is no supernatural component to the proceedings, and what we are rewarded with is a taut, intense, and at times morbidly humorous tale of revenge as the teacher lays out an intricate plan to muck with the heads and lives of those responsible for her loss. The soundtrack, filled with universally loathed atmospheric experimental Japanese rock bands (oh, and Radiohead) actually fits in perfectly with the tone and tenure of the film. Director Tetsuya Nakashima's style, at least here, is as if David Fincher and the remaining Wachowski brother simultaneously impregnated Catherine Hardwicke and the subsequent offspring decided to tackle the pre-pubescent revenge genre by way of a prolonged 106 minute moody music video. Of course I mean that as a complete and utter compliment.
The fact that this all plays out with middle school students is just so god-damned awesome, it's almost beyond words. In the inevitable castrated American remake, the middle-schoolers will be replaced by high school students played by the likes of 20- and 30-something year old mannequins like Megan Fox and Channing Tatum. The teacher will be Sandra Bullock, the accompanying soundtrack by Katy Perry, and the revenge won't taste anywhere near as sweet.
Confessions is all at once dark, cool, cruel, satisfying, bleak, refreshing, and grim with an opening that is as engrossing as any movie you'll ever see and a final line of dialogue that is so succinctly perfect that you will likely squeal in wicked delight. Don't let the subtitles or any potential distaste for Japanese horror scare you away from this one.
Video, Audio and Special Features:
As this was a screener, audio and video will not be reviewed. The subsequent two-disc release will consist of a 70 minute featurette Final Confession by director Tetsuya Nakashima, something called Real Confessions by Students, an interview with Tetsuya Nakashima, and a theatrical trailer.
Grades:

Movie:
Video:
n/a
Audio:
n/a
Features:
n/a
Overall:
© 2011 Horror DNA.com. No use of this review is permitted without expressed permission from Horror DNA.com.