Dawning Movie Review
Written by Charlotte Stear

DVD released by Breaking Glass Pictures

Directed by Gregg Holtgrewe
Written by Gregg Holtgrewe and Matthew Wilkins
2009, 81 minutes, Not Rated
DVD released on June 28th, 2011

Starring:
David Coral as Richard
Jonas Goslow as Chris
Christine Kellogg-Darrin as Laura
Najarra Townsend as Aurora
Danny Jay Salmen as The Man
Review:
"Independent filmmaker makes suspenseful horror movie set in a cabin in the middle of nowhere". Hmm, so the plot doesn't sound particularly original, but new indie horror film Dawning has a few tricks up its sleeve to try and set it apart from ones before it.

The film surrounds a family that has been damaged by divorce and has grown apart. Brother and sister, Chris (Jonas Goslow) and Aurora (Najarra Townsend), are on their way to their father's (David Coral) log cabin in North Minnesota where he lives with new wife Laura (Christine Kellogg- Darrin). When they get to the cabin the tension between the daughter and step mum is unbearable and the father and son try to help bring everyone together. Aurora is told to leave her dog outside the cabin, but it isn't long before the animal goes missing. The family goes looking for it in the middle of the night, only to find it mauled and dying. This is only the start of horrifying thing to happen. Not long after, a stranger intrudes into the cabin claiming they are all going to die; but he is there to save them. The family now has to figure out who to trust and how to survive.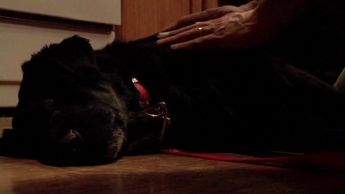 Dawning has opened to a lot of praise and positive acclaim, especially at film festivals over the past year. It won the Silver Ace award at the Las Vegas Film Festival and best picture award at the 2009 Rhode Island Horror Film Festival. So going in I had a lot of expectations which I generally hate having, but when a DVD poster is blazoned with quotes from reviews and film festival badges, it's hard not to get hyped over it.

After it finished one thing was clear, it is less a horror film and more a psychological thriller than anything else. While it does have horror elements to it, it goes far deeper than that. The whole movie is atmospheric as the story revolves around a broken family at its weakest point during a time of crisis, which is intriguing and gripping to watch. There isn't much gore…if any really, it's all about the suspense and mystery surrounding the stranger and the evil that lurks in the surrounding woods.

The acting was really good for such a low budget film and I also really enjoyed the dialogue as there is a lot of chat at the beginning to get us established with the characters. One of the things that makes it stand out is the style it achieved; the use of different camera angels gives various different perspectives around the small cabin and created a real sense of claustrophobia which was fitting for the hysteria that ensues in the film.
But I did have a few problems with the film. A horror film set in an isolated cabin has been done before and, sadly, it's been done better. There isn't much to set it apart from its predecessors. I'm all for giving a new spin on an old tale, but Dawning doesn't achieve that. I can get past this, though, as it would be pretty damn hard to surpass other cabin based horrors like Evil Dead, but my biggest gripe was the ending. The entire movie feels like it is leading up to something that is never fully realised. I even thought to myself, "Oh that can't be the end." And then boom, the credits started to roll. In a way the unanswered questions is a nice idea as you will think about it for a while after watching it. But then there are people like me that will feel just a tad short changed.

It's going to be a film that divides people. You'll either love it for its suspense and psychological games, or you'll be disappointed in what it ultimately delivers. It's a gamble worth taking, though.
Video, Audio and Special features:

Although this was a screener, the special features that come with the DVD look to be rather impressive. Along with the film you get a commentary from the writer and director, a cast audio commentary, an hour long behind the scenes featurette, interviews with the cast and deleted scenes.
Grades:

 



Movie:
Video:
n/a
Audio:
n/a
Features:
n/a
Overall:
This page includes affiliate links where Horror DNA may receive a small commission at no extra cost to you.