Deaden Movie Review
Written by Eric Strauss
DVD released by Critical Mass Releasing
Directed by Christian Viel
Written by John Fallon
2006, 78 minutes, Not rated
Starring:
John Fallon as Rane
Deke Richards as Kersey
Claudia Jurt as Park
Neil Napier as Samuel
Anna Jaeger as Jamie
Carmen Echeverria as Tina
Kevin Kelsall as Remy
Marcello Bezina as Ballsy
John Topor as James
Review:
Canadian actor John Fallon may be better known for his "Arrow in the Head" Internet reviews than his bit parts in movies like Recon 2020.
He's probably hoping that will change with Deaden, the latest film from Recon director Christian Viel, which Fallon wrote and stars in.
Fallon plays Rane, an undercover cop who quits the force after he has to kill someone, in an apparent moment of conscience, but stays in the biker gang he's infiltrated, in an apparent relapse of said conscience.
Of course, that only leads to disaster. With his wife, Jamie, very, very pregnant, he decides to quit the gang, too.
Bad move.
She gets gang-raped and her fetus aborted from the outside in, switchblade-style.
He takes a shot to the skull from a crossbow that — despite an explanation by a guy who plays a doctor on TV — seems impossible to survive.
(An "arrow in the head"… get it?)
Okay, when I was a kid in school, we saw a film about a railroad worker who took a rail spike through the noggin and survived as a much bigger jerk than he had been.
Perhaps that, plus the wife/baby thing, explains how Rane — who quit the police over a murder, remember? — manages to walk out of the hospital, plagued by flashbacks, high on painkillers and cocaine, and hell-bent on beating or killing any and everyone in sight.
Of course, the logic gets left in the E.R., starting with Rane's escape, when a security guard actually brawls with a patient in a hospital hallway. So Deaden's out of hand from Jump Street, and truth to tell, it never really gets back in hand.
But that's okay.
Fallon's built to brawl, big and tough with a shaved head and goatee, and he sports an impressive forehead scar from the exit wound. Dressed in black trenchcoat and skullcap, he looks the part to a T, though his voice and accent don't quite match his look. Fallon's not a great actor, but he plays a tough guy with relish, and as screenwriter, he makes sure he gets a few chances to do more than brawl.
On the downside, Rane isn't especially likable, and the supporting cast — besides the veteran pro Neil Napier ($la$her$) as the villain, Samuel, and the cute Anna Jaeger as the late Jamie — is nondescript.
Still, as star vehicles go, I've certainly seen worse.
I've never hidden that I like Christian Viel. He's a good guy and he makes enjoyable movies like Recon and Samhain. Even a straight-up vigilante pic like Deaden has a distinctive style in his hands. The camera tricks are aggressive, the violence is cartoonish and there's only a tiny bit of pretentious nihilism.
If it's not quite Tony Scott's Domino, it's Domino lite. That's meant as a compliment.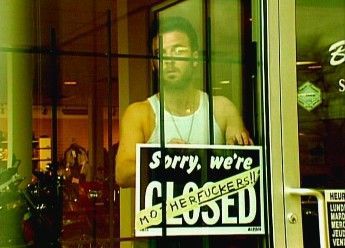 Video and Audio:
Audio and video quality will not be graded, as this is a screener disc.
| | |
| --- | --- |
| Grades: | |
| Movie: | |
| Video: | n/a |
| Audio: | n/a |
| Features: | n/a |
| Overall: | |
Conclusion:
As a reviewer, John Fallon seems to have a soft spot for films that entertain and show some boobs, regardless of any other merits or lack thereof. Say this for him and Christian Viel, they made a film that entertains and shows some boobs. The other merits may be debatable, but Viel has the style and track record to get Fallon and his film a little notice in the crowded indie field.