Deadly Virtues: Love. Honour. Obey. Movie Review
Written by Ali Chappell
Released by Artsploitation Films
Directed by Ate de Jong
Written by Mark Rogers
2017, 87 minutes, Not Rated
Released on VOD on February 7th, 2017
Starring:
Edward Akrout as Aaron
Matt Barber as Tom
Megan Mackzo as Alison
Review:
Deadly Virtues: Love. Honour. Obey. was directed by Ate de Jong, a Netherlands director best known for his works Drop Dead Fred and Highway to Hell. The story was penned by Mark Rogers, as his debut into feature film writing. I normally wouldn't pick a movie like this to review. However, based on the trailer alone, I knew this wouldn't be your average run-of-the-mill home invasion-rape film.
The movie revolves around a man named Aaron (Edward Akrout) who breaks into a house while a couple are having sex. He proceeds to beat the husband and leave him tied up in the bathtub. He also bounds the wife in the kitchen. Both acts of restraint are performed using the BSDM method of Japanese bondage involving thick rope and intricate knot tying. While he removes a few fingers and performs some water torture on the husband, Tom (Matt Barber), he tells the wife, Alison (Megan Maczko), that if she submits, the weekend will be great. He wants to make her want him. A lot of scenes in the first half of this movie are what I want to call "rape foreplay", where you think at any minute he is going to harm her, yet he pulls away. There is the buildup but never a full move, making it that much more terrifying for her psychologically.
During the weekend, Aaron chooses what Allison wears, what she eats, he takes pictures of her. At first, it is terrifying, yet as the film goes on you start to like him. This was where you begin to see the turn of emotions. Aaron takes you an adventure of exploring this couple's intimate secrets. Including the fact that they lost their child, that the husband is abusive and that he is also having an affair, which makes Aaron want to show her a perfect weekend even more and subject Tom to more torture.
Deadly Virtues is very middle of the road. I wanted there to be more. I wanted there to be a prior connection with Aaron and Alison. I wanted to discuss more about the affair Tom is having. While the scenes where Alison confides to Aaron about their past is heartbreakingly beautiful, they just aren't enough. You are left to wonder if they knew each other before this amazing weekend, yet they didn't. Just one brief encounter when she got a new key cut. Overall, I wanted more from this flick.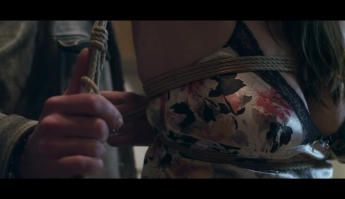 I must say the music that plays through out each scene is weirdly calming for the most part. It has the essence of what you might hear in a romantic comedy. It plays nicely against the overall tone of the movie. Especially in the beginning, when Aaron first enters. The music isn't leading you to believe that something bad is about to happen, yet that's exactly what happens.
Edward Akrout's acting is fantastic. He plays Aaron in such a way that while you are horrified by him, you also somehow feel safe. While he is the worst nightmare to Tom (Chinese water torture, pulling teeth, cutting off fingers), he treats Alison the way she deserves to be treated. He plays this role perfectly, where he is creepy yet violent yet caring. He cooks her dinner, they dance by candle light, they spend the afternoon reading. Honestly, that sounds like a great day and he is a perfect gentleman. He's the kind of guy I would like to date (minus, literally everything else that is happening in this film).
Alison is a strong character. She quickly catches on to what behaviour she must display to survive. You can see her thought process and often wonder if Aaron can see it too. In the scene where she drugs his wine, and he keeps resisting the urge to drink, you assume he knows. Maybe he does, but they both play off each other so well that it turns into a weird game of chicken. Who will ruin the perfect evening first? Another thing intriguing about her character is that in the beginning it is clear she is not enjoying sex with her husband. After Aaron becomes part of the picture, she never (overly) screams for help or runs for the door, which isn't barricaded. Even after you find out Tom is abusive and cheats on her, she won't leave because of him.
Deadly Virtues: Love. Honour. Obey. leaves you wondering, was this messed up home invasion a wakeup call for Alison to finally leave her husband? Was this strange man breaking into her house, torturing her husband and forcing her to play the role of perfect wife so he wouldn't hurt her the wake up call she needed? A bit of an extreme way to be woken up to your own life. I enjoyed the new take on the home invasion trope that it produces. It is an interesting watch. It is not for everyone. There are plenty of trigger warnings buried within it, so be careful. It was not the film I was expecting to view based on how every other home invasion movie goes, but I was glad I took the leap. Now I feel like I need to go talk to someone professional about my new-found crush on Aaron's character.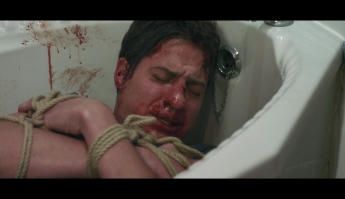 This page includes affiliate links where Horror DNA may receive a small commission at no extra cost to you.