Debauchery (aka Ryôshoku) DVD Review

Written by Gabino Iglesias

DVD released by Impulse Pictures
Written and directed by Hidehiro Ito
1983, 91 minutes, Not Rated
DVD released on April 10th, 2012

Starring:
Ryoko Watanabe as Ami
Review:
Impulse Pictures has just started a series of Japanese classic erotic/sexploitation movies called the Nikkatsu Erotic Films Collection. The first release, Hidehiro Ito's Debauchery, originally released in 1983, stars Ryoko Watanabe and truly pushes some boundaries. The title will probably satisfy most sexploitation fans, but there are a few things that could be done better in the future of the series in order to turn it into a complete success.

In Debauchery, Watanabe plays Ami, a bored Japanese housewife who's tired of not being satisfied by her husband, a doctor who's constantly traveling. One day, after finishing a game of racquetball with her husband's boss, Ami and one of her girlfriends go out for a few drinks. The friend tells Ami about how many unfulfilled, unattended wives turn to prostitution in order to bring some excitement and sex into their lives. The husband's boss overhears the conversation and tells Ami about a place where she could indulge in such a pastime: Madame Machiko's Society Club. Ami decides to give it a try. Instead of a regular whorehouse, what she finds is a palace of depravity, kinkiness, and sadism. After her first client, a frequent visitor who enjoys brutality, Ami looks at a fellow lady of the night and, instead of running away in fear and shame, says: "I've never felt like that before, it's like I was being torn in half!" From then on, things only get more depraved.
The film's premise is not great, but sexploitation movies are not precisely known for their great scripts or unique arguments. In fact, Ami's encounter with her husband's boss and the mayhem that follows put Debauchery over many other films in the same genre. What the movie does achieve is showcasing how twisted Japanese erotic cinema was back in the early '80s. Although relatively tame by today's standards, there are scenes that would still would make many people uncomfortable today. Well, at least if they were dumb enough to get an erotic film when they know they find it offensive.

Debauchery is fun for all the wrong reasons. However, with that title and it's genre, those reasons are right on the money. Throughout the movie, Ami is flogged, squeezed, tied, bitten, left to hang from a beam, penetrated with various objects, beaten into unconsciousness, forced into a threesome, gang-raped by a group of hobos and much more. In other words, the "erotic" here goes beyond what your typical Russ Meyer or Tinto Brass movie brings to the table. If you're a fan of the genre, I suggest you watch this and then keep your eyes open for whatever they release next.
Video and Audio:
Technically speaking, Debauchery is a strange beast because it brings together the best and the worst. On the positive side, the image quality is outstanding. Yes, the film is a tad blurry, but it's also probably one of the best early '80s film-to-DVD conversions I've seen. The only downfall would be the grey, shaky cloud that covers everything in two scenes. This, while more disturbing than whatever is going on underneath, is part of Japanese cinema and at least only appears twice.

While the visuals are excellent, the audio is the opposite. It's clear and loud, but someone tweaked it way too much. Instead of low, unclear noise, the film suffers from overdone sound. For example, forceful insertion of anal beads sounds like someone punching hamburger meat while simultaneously tearing a piece of paper. Also, and this was the absolute worst, Ami's continuous heavy breathing/whimpering/moaning/gasping repeatedly made me think of a small wounded animal suffering an asthma attack. In a few instances you can even hear it when her mouth is closed.
Special Features:
There are only two features, a trailer and Liner Notes from Japanese film scholar Jasper Sharp, but how much is really out there for a movie such as this.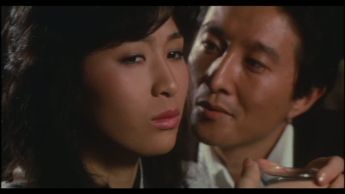 Grades:

 



Movie:
Video:
Audio:
Features:
Overall:
This page includes affiliate links where Horror DNA may receive a small commission at no extra cost to you.